Habs Wrap: Gallagher Questions Refs, Prospect Rankings, Xhekaj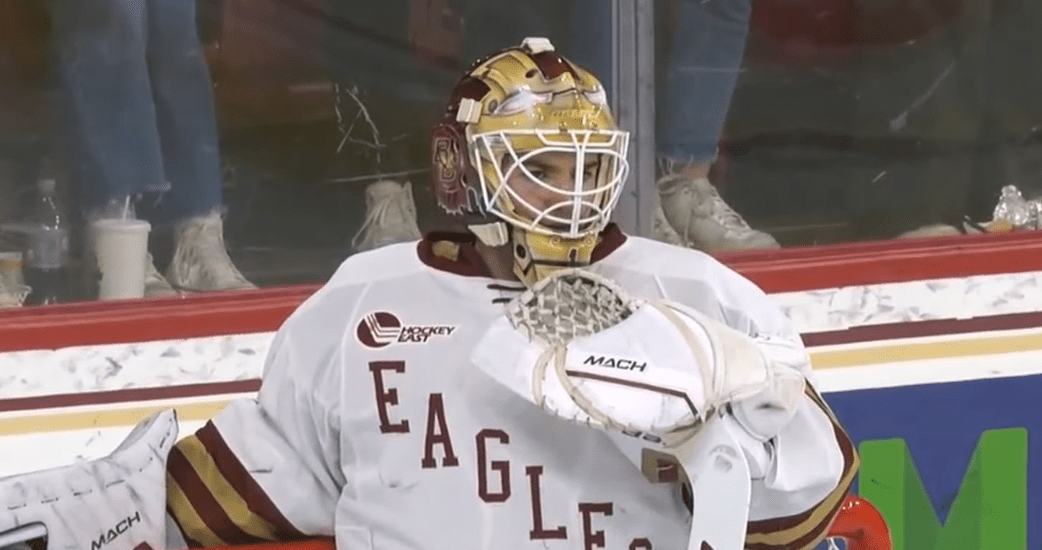 MONTREAL — Habs fans know all too well there's never a dull moment when it comes to the Montreal Canadiens, but it's not always possible to keep up to date with every story.
That's why we will recap the most exciting and relevant NHL news stories that you may have missed throughout the week every Sunday.
Monday
Your daily roundup of all the latest Montreal Canadiens stories, news, events, and highlights.
Habs News
ICYMI: Arber Xhekaj's reputation as one of the toughest players in the NHL should lead to fewer fights, and that's good news for the Montreal Canadiens. They're a better team whenever Xhekaj is on the ice. [Canadiens: Xhekaj's Reputation Should Keep Opponents At Bay]
Kaiden Guhle had one of the best games of his young career on Saturday night against the Boston Bruins. Not only did he score the overtime-winning goal, but he also had a dominant game in all three zones. [Suzuki, Gallagher, And Guhle Score In Exciting Win Vs. The Bruins]
Habs fans went all out on Saturday night, and I have to say, that's EXACTLY what sports are for. You'll inevitably receive a lot of "cringe" comments from people who somehow don't understand that sports were designed so large groups of people could get excited or saddened by the same event, but this is what makes Canadiens fans the best in the league. Also, it should be said, this would be considered a normal sight at most European sports events, even during the regular season. For the most part, North American fans are simply boring compared to their European counterparts.
I love Montréal pic.twitter.com/T6um1wD8jb

— 🏌🏽‍♀️ (@bgalIy) November 12, 2023
The Vancouver Canucks beat the Habs 5-2 on Sunday night, though it should be said the scoreline was unflattering to the home team. Speaking of silver linings, Juraj Slafkovsky set a career record with 10 shots on net, an encouraging sign given that he has hesitated to shoot throughout his career. [Juraj Slafkovsky Plays Best Game Of Season In Loss To Canucks]
Tuesday
Montreal Canadiens defenceman Kaiden Guhle is off to a great start to his sophomore season. The 21-year-old defenceman is currently the team's best defenceman, and he's quickly closing in on some of the elite defencemen in the NHL. The only player to produce more primary assists per 60 than Guhle in the last two years is the current Norris Trophy winner, Erik Karlsson.[Analysis: Canadiens Kaiden Guhle's Grand Evolution Into A Top Defenceman]
The NHL's goaltending market is bound to open up, at least that's what Kent Hughes is hoping will happen. While the Canadiens general manager waits for his opportunity, it appears the team is interested in signing Samuel Montembeault to a contract extension.  [Canadiens Playing Goaltender Market, Weighing Options]
Xavier Simoneau (2G), Joshua Roy (1G 1A) and Sean Farrell (1G 2A) had a great afternoon for the Laval Rocket in their 5-2 win over the Manitoba Moose.
JOSHUA ROY TO SEAN FARRELL AGAIN!

Rocket up 5-2! pic.twitter.com/VH8YFP54r0

— Scott Matla (@scottmatla) November 13, 2023
Prospect Jayden Struble was suspended for 3 games for his actions following Friday evening's game against the Moose. Struble left the bench to jump into the fray.
Final moments and aftermath of the Rocket/Moose game.

Tomorrow's game will likely be feisty pic.twitter.com/uzdaAlTFi7

— Scott Matla (@scottmatla) November 12, 2023
Wednesday
The Laval Rocket are yet to find their rhythm as a team this season, but two prospects in particular are showing great chemistry: Joshua Roy and Sean Farrell. Logan Mailloux is shooting a lot, which is always a good sign for the chaotic defender. That and more in the latest prospect report. [Canadiens Prospect Report: Roy and Farrell Continue To Build Chemistry]
The Montreal Canadiens started Samuel Montembeault versus the Calgary Flames. They also decided to use Jesse Ylonen instead of Michael Pezzetta, and Jordan Harris sat to make way for Gustav Lindstrom. [Lineup Changes Ahead Of Flames Game]
Lindstrom ended up scoring the lone Habs goal in their 2-1 loss to the Flames, though it should be noted that both Christian Dvorak and Juraj Slafkovsky played an important role in the scoring play. [Canadiens Offence Stalls In Frustrating Loss To Flames]
ICMYI: Josh Anderson came VERY close to ending his scoring drought, but rang one of his many great scoring chances off the crossbar.
Another great play by Nick Suzuki. He sets up Josh Anderson with a perfect scoring chance, but Anderson hits the crossbar.

Came *this* close to ending his scoring drought. pic.twitter.com/VGhy2V8DbH

— Marc Dumont (@MarcPDumont) November 15, 2023
In what can only be described as a ridiculous decision, the Quebec government decided to pay up to $7 million to host a pair of NHL preseason games at the Centre Videotron in Quebec City. [Government To Pay $7M To Host Preseason Games In Quebec City]
If you think that's bad, and let's be honest, spending that much on a meaningless sports event is essentially impossible to defend, you'll hate the Montreal Canadiens angle to this story. It turns out the Habs offered to play at the Centre Videotron. For free. But the Quebec government decided it would rather spend tax-payers money to pay foreign teams to visit. [La Presse (FR)]
Thursday
The Montreal Canadiens are reportedly interested in signing goaltender Samuel Montembeault to a contract extension. But how much should they offer him? We take a look at some of the relevant contracts the team may use in negotiations. [Canadiens Contract Comparables In Montembeault Negotiations]
Rafael Harvey-Pinard, Jordan Harris, and Mike Matheson were held out of practice on Wednesday. But more importantly, the entire team, including Juraj Slafkovsky, worked on their shooting. Let's just say that Habs fans probably won't complain if the team decides to spend more practice working on their accuracy. [Habs Practice Notes: Slafkovsky Works On Shot With Nicholas]
Brendan Gallagher was not happy with the poor officiating in Tuesday night's game against the Calgary Flames. Listen, I tend to hate it when people blame referees, but Gallagher has a point. Not only was the call on him terrible, but the make-up call shortly after was also rather questionable. It directly impacted the game, and that's exactly what referees should avoid.  [Canadiens Gallagher Calls Out Referee For Questionable Decision]
Some unfortunate news: Karl Tremblay, the lead singer of Les Cowboys Fringants and a big Habs fan, has unfortunately passed after being diagnosed with prostate cancer in 2022. RIP Karl.
Les Canadiens de Montréal sont en deuil suite au décès de Karl Tremblay. Le chanteur des Cowboys Fringants aura marqué à tout jamais la scène musicale québécoise, faisant vibrer l'identité de notre belle province.

Nos pensées accompagnent ses proches en cette période difficile. pic.twitter.com/lWOWI9u78Q

— Canadiens Montréal (@CanadiensMTL) November 15, 2023
Friday
It's time for a new Montreal Canadiens Prospect Power Rankings! In the initial list following the fan vote, several players dropped significantly, including David Reinbacher, whereas other players made a drastic jump into the top 5, including Jacobv Fowler and Filip Mesar. [Canadiens Prospect Power Rankings: Mesar and Fowler Shine]
Goaltender Cayden Primeau was given his third start of the season by head coach Martin St-Louis. It's a difficult challenge, but if Primeau is to eventually land with a new team he'll need to prove he can string together wins [Canadiens Game 17: Primeau To Start, RHP Not Skating]
Primeau started off strong, keeping the Habs in the game despite Vegas controlling the play early, but it was all for naught as the Canadiens played one of their worst games of the year on Thursday. Fortunately, Jesse Ylonen scored twice, but unfortunately, Arber Xhekaj had to leave the game after absorbing a big hit in his own zone.  [Canadiens Xhekaj Injured, Ylonen Scores Twice In Loss To Vegas]
The Habs invited their fathers to join them for a couple of games. There was no doubt as to which dad would wear a C on their jersey if it were to be handed out.
Kaiden Guhle when asked who would wear the 'C' on the #Habs Dad's Team: "it's gotta be Nick [Suzuki]'s dad. I actually met Nick's dad a little bit this summer & got to spend some time with him; very similar personalities & really down-to-earth people so I'd give it to him"

— Priyanta Emrith (@HabsInHighHeels) November 16, 2023
Saturday
There was some good news from practice on Friday. Or, at the very least, we can consider it good news since we're discussing the Montreal Canadiens. Defenceman Arber Xhekaj was not present, however, the team only listed him as day-to-day with an upper-body injury. Forward Rafael Harvey-Pinard was also nowhere to be found at the team's practice in Brossard. [Canadiens Practice Notes: Arber Xhekaj Injury Update]
The practice was held ahead of the team's trip to Boston. Josh Anderson practiced on the team's top line alongside Nick Suzuki, which indicates he's heading toward more premium ice time without producing results. At first, the strategy was sound, but we've reached a point of diminishing returns when it comes to head coach Martin St-Louis' generosity. It's time to stop forcing the square peg into a round hole. [Habs Canadiens Must Address Mounting Anderson Problem]
Goaltender Samuel Montembeault's new mask is quite nice. It honours one of the team's greatest goalies of all time, Jacques Plante.
🔵⚪️🔴 SAMUEL MONTEMBEAULT 2023-24 @canadiensmtl
📸 @wegSebastien

Honouring Habs legend Jacques Plante & the "Sainte Flanelle" in a knitting style. 🧶
On the other side, the Montreal Habs torch that past generations in a high detailed realistic style. pic.twitter.com/EQVaCT1Iia

— Sylvie Marsolais & Alexandre Mathys (@Sylabrush) November 17, 2023
If you're looking for more Lane Hutson footage, you're in for a treat. Chris Peters produced a short video about Hutson, which includes some comments from his Team USA teammates. It's well worth a watch.
Money talks, and in Mike Hoffman's case, it sang a sweet tune of seduction with a French-Canadian twist. It turns out the reason Hoffman chose the Habs over the St-Louis Blues is that they offered more money. It's hard to blame him. But it's easy to blame former general manager Marc Bergevin.
Hoffman sent me the most honest text message I've ever received from a professional athlete.

Me: Did the Blues show interest?
Hoffman: Yes
Me: Why did you sign with Montreal?
Hoffman: More money

That was a 3-year, $13.5 mil deal with the Canadiens. He was dealt to SJ last Aug.

— Jeremy Rutherford (@jprutherford) November 17, 2023
Speaking of Hoffman, after an incredibly slow start to the season the former Hab has scored in back-to-back games.
Mike Hoffman (@MHoffy68) has goals in back-to-back games! 🦈 pic.twitter.com/6TjlOUtPUH

— NHL (@NHL) November 17, 2023