Canadiens Gallagher Calls Out Referee For Questionable Decision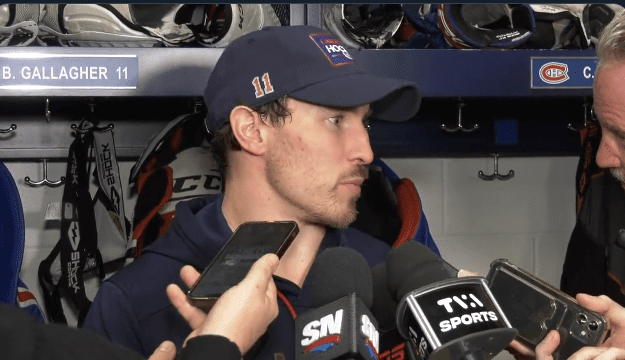 Montreal Canadiens forward Brendan Gallagher was not happy following the team's 2-1 loss to the Calgary Flames.
The veteran took exception with one of the worst calls of the game, which took place with just a few minutes remaining in the third period.
Referee Pierre Lambert, who was the furthest official from the play, decided to penalize Gallagher for tripping. The referee who had a clear view of the incident, however, opted not to blow his whistle.
You can take a look at the play and decide for yourself.
But from the replay, it was clear the Flames player tripped on the net unless he somehow managed to defy Newton's third law of gravity. That being said, Lambert assumed Gallagher is not bound by the laws of physics, and sent him to the penalty box.
The Gallagher penalty. The referee in the zone didn't call it, but the one behind the play did.

It's probably a trip, right? Maybe. Sorta. pic.twitter.com/tphOBviucN

— Marc Dumont (@MarcPDumont) November 15, 2023
A few moments later, the Flames were also penalized, on what can only be called the most evident example of a make-up call.
Montreal Canadiens defenceman Mike Matheson did receive a cross-check, but he also added a little mustard to his flourish to make sure the referees noticed. They immediately obliged.
Personally, I hate blaming referees when things go wrong, but once in a while, some accountability is necessary.  This was a clear case of an official making a bad call, and then making another questionable call to erase his mistake.
Technically speaking, it evened out the calls, but it's also true that the initial poor call directly impacted the game, something referees have a long history of doing in the NHL.
hahaha

Matheson adds some mustard and the referees do not hesitate to call the make-up penalty.

In an ideal NHL, neither calls happen, but anyhow… pic.twitter.com/9RTeQBlUfv

— Marc Dumont (@MarcPDumont) November 15, 2023
"It can't happen," said Gallagher after the game. "It's a terrible call. You can't make that mistake, simple as that. His partner was right there. Let him call it. The reason he called it is that the [Flames] bench makes some noise, and he reacts to it. It can't happen.
"He can't make that mistake. It's obviously a really important part of the game, he's in the neutral zone, and his partner is right there looking at it, he didn't make a call, then the bench reacts and he makes a reactionary call. It can't happen at this level, and he knows that."
#Habs Brendan Gallagher on the tripping penalty referee Pierre Lambert handed out late in the 3rd period ⤵ pic.twitter.com/bE9UyaeBt5

— Priyanta Emrith (@HabsInHighHeels) November 15, 2023