Canadiens Offence Stalls In Frustrating Loss To Flames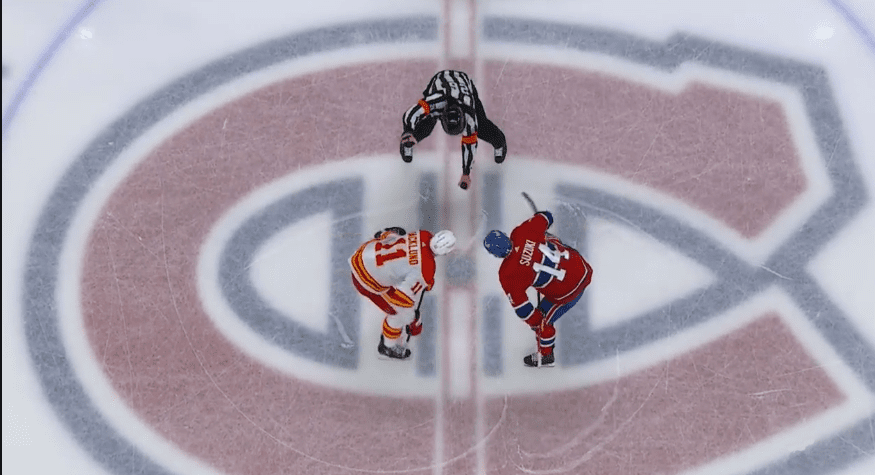 The struggling Calgary Flames were at the Bell Centre on Tuesday night to face the middling Montreal Canadiens.
It was a hard-fought game, with both teams producing their fair share of high-danger chances.
Samuel Montembeault played well for the Canadiens, and Cole Caufield had several great opportunities to tie the game, but the Flames eventually emerged with a 2-1 win.
If you're still looking to talk puck after reading this recap, don't forget to join us for a fun post-game chat with a great Habs fan community. Here's the link to join Game Over: Montreal – Calgary. I will be hosting tonight, alongside one of my colleagues from Calgary.
Alright, let's dive right into the highlights.
First Period Assessment
The Habs haven't made a habit of scoring early in games, but there has been a significant improvement in the last two games. Instead of immediately allowing their opponents to score during the first shift, they've done a much better job of pushing the play 200 feet away from their goaltender.
And just like on Sunday versus the Canucks, it was the third line that was doing most of the early pushing. It should also be noted that Kaiden Guhle, who is playing some of the best hockey of his career, is the reason the Canadiens spent the bulk of the first three minutes of the game in the Flames' zone.
The Voltaren line almost scores again.

Gallagher comes close to converting Pearson's pass. pic.twitter.com/rwZSjy6bI6

— Marc Dumont (@MarcPDumont) November 15, 2023
Habs Strike Back
The Habs allowed Nazem Kadri to open the scoring, but they responded less than twenty seconds later thanks to a smart player by Juraj Slafkovsky, who created time and space for his teammates, and Christian Dvorak, who delivered one of the nicest passes I've seen in a while.
He lifted the puck over the night with a perfect pass to Gustav Lindstrom, who had great timing on his decision to pinch.
It was Lindstrom's first goal of the year, and it came with his family in attendance, always a nice touch.
Gustav Lindstrom answers for the #GoHabsGo

His first goal with the Habs. Great work by Slafkovsky and Dvorak to create time and space. That pass by Dvorak was particularly nice. Over the back of the net. pic.twitter.com/3TrD4oSgVZ

— Marc Dumont (@MarcPDumont) November 15, 2023
Scary Sight
I don't want to dwell on this topic too long, because it has somehow become politicized, and that's one of the most nauseating and disgusting things that could happen when we're discussing safety.
But this play in the second period which could have ended in disaster is a good reminder that the NHL can do much more to protect its employees, and that includes life-saving neck guards.
Those who are old enough will remember a certain member of the Montreal Canadiens bleeding out as he left the ice in Buffalo back in 2008. Luckily for Richard Zednik, a former medic who had served in the Vietnam War happened to work for the Sabres at the time.
His name is Jim Pizzutelli, and due to his grizzly past, he knew he had to immediately put pressure on the wound to prevent any more blood loss.
Pizzutelli is also the same person who saved Clint Malarchuk's life almost 20 years earlier after yet another incident that could have easily resulted in disaster.
The next time an NHL player needs their war-like wounds attended to, there's no guarantee a veteran will be standing by.
The NHL needs to mandate neck guards.
End of story.
Kaiden Guhle leaves the ice after an incident with a skate blade.

It could have been much, much worse.

Let's get neckguards on everyone, asap. pic.twitter.com/BYB9dTEZiJ

— Marc Dumont (@MarcPDumont) November 15, 2023
Guhle was shaken up, but thankfully he did come back to the bench a few minutes later. And it was a good thing he did, as he immediately turned a high-danger scoring chance from the Flames into an easy save for Samuel Montembeault.
Kaiden Guhle does a great job forcing the shot from the outside even though he had to cover the wrong side and was flat-footed to start the play. pic.twitter.com/RZjpcfmKDy

— Marc Dumont (@MarcPDumont) November 15, 2023
I know I've been singing Guhle's praises a lot lately, but it's hard to ignore just how impactful he's been this season for the Canadiens.
His leadership is yet another feather in his cap.
Small detail, but you're seeing Guhle set the battle orders before faceoffs a lot more often this season.

Won't be long before he gets a letter on his jersey. pic.twitter.com/oq6l2PnF7z

— Marc Dumont (@MarcPDumont) November 15, 2023
Mister Anderson
No, Josh Anderson did not score, but he did have a few great chances, and he came incredibly close to getting off the schneid.
I understand some fans have had it with his lack of goals, but at the very least, he's taking shots.
The goals will come.
I mean, the goals should come.
Eventually.
Another great play by Nick Suzuki. He sets up Josh Anderson with a perfect scoring chance, but Anderson hits the crossbar.

Came *this* close to ending his scoring drought. pic.twitter.com/VGhy2V8DbH

— Marc Dumont (@MarcPDumont) November 15, 2023
Nick Suzuki could have finished the game with a couple of points, but his excellent offensive awareness and great playmaking were unrewarded by his teammates.
The Montreal Canadiens will be back in action on Thursday as they host the Vegas Golden Knights at the Bell Centre. The puck drop is scheduled for 7 pm ET.
---
All Montreal Canadiens statistics are 5v5 unless otherwise noted. Via Natural Stat Trick.