Canadiens Kaiden Guhle's Grand Evolution Into A Top Defenceman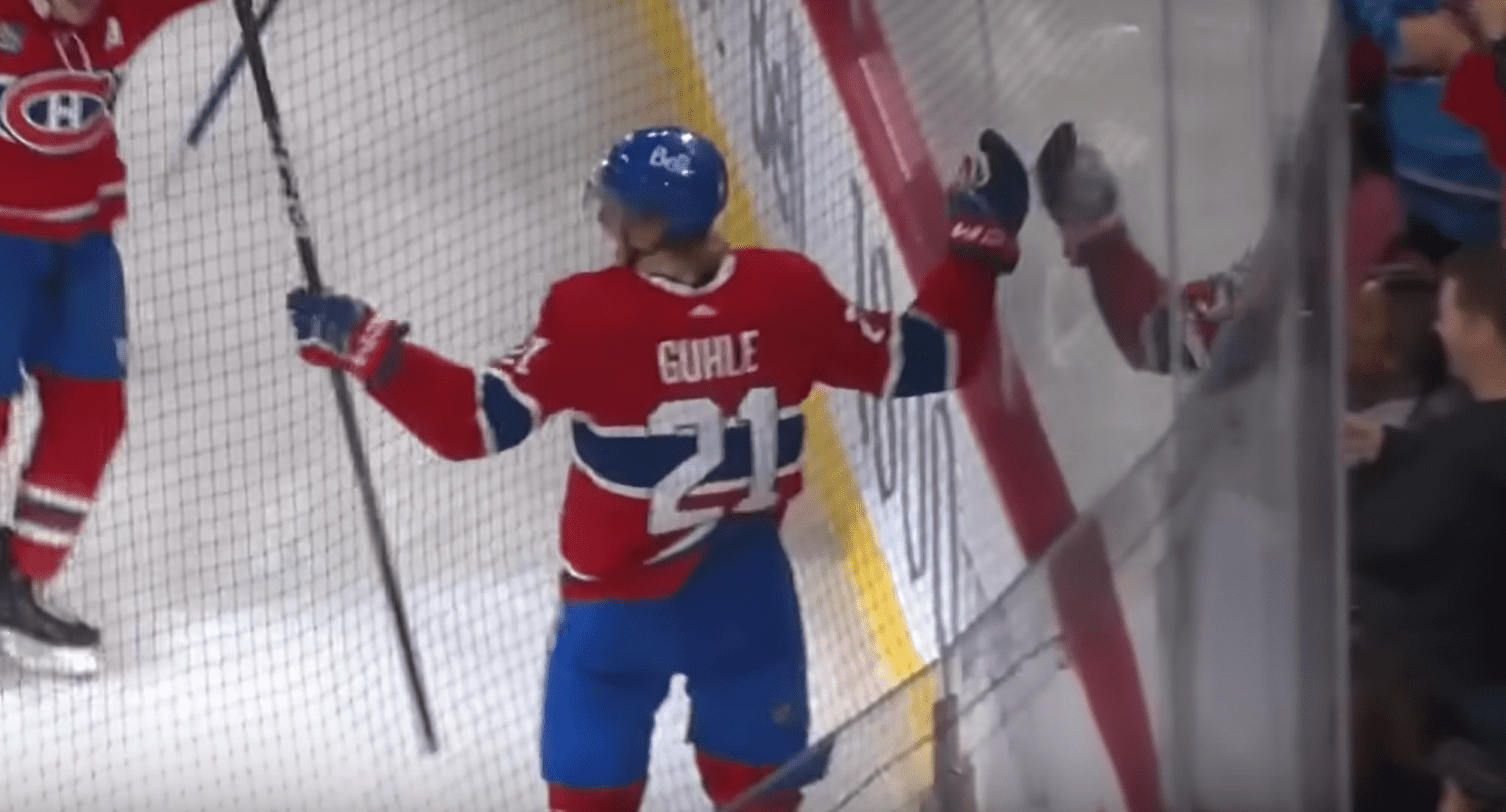 Few things went well for the Montreal Canadiens last season.
From a defensive standpoint, the team was a disaster.
The Kaiden Guhle – David Savard/Joel Edmundson pairings struggled, to say the least. But with all due respect to the veterans Guhle was playing alongside, it was rather apparent the rookie defenceman was not the issue.
Simply put, whenever Guhle played with a veteran his numbers suffered, but when he played alongside one of his fellow rookies his numbers surged. It's the main reason we felt comfortable saying Guhle was poised to flourish in 2023-24, despite the poor underlying numbers.
In this article, we will explore Guhle's numbers this year, as well as the reasons why he's managed to take the next step in his career by using game footage — a crucial aspect when it comes to proper hockey analysis.
Strong Start
Guhle's ascension as the team's best defenceman was on full display Saturday against the Boston Bruins. Not only did he score the game-winning goal in overtime, but he also had one of his most dominant games from an analytical standpoint.
It's worth noting that Guhle didn't simply jump onto the ice to score and clinch the win. He was the defenceman who started the play with a clean, controlled exit.
Kaiden Guhle takes advantage of a good bounce to give the #Habs a 3-2 win over the Bruins!!! pic.twitter.com/gZfD4RYNIa

— Marc Dumont (@MarcPDumont) November 12, 2023
Guhle's penchant for taking matters into his own hands on the breakout has been quite apparent this season. He's not just generating controlled breakouts, he's also one of the few defencemen in the lineup who can generate controlled entries into the offensive zone.
Why does that matter?
When a player generates a controlled zone entry, his team will usually produce twice as many unblocked shots as a player that started with an uncontrolled entry like a dump-in.
More shots lead to more goals, and consequently, more wins.
A nice controlled entry by Guhle gives Tanner Pearson all the time he needs to snipe a goal.

2-0 #Habs
Love to see it for Pearson. He was pumped. pic.twitter.com/a3bWTRyaeT

— Marc Dumont (@MarcPDumont) October 15, 2023
Without Kirby Dach in the lineup, the Montreal Canadiens struggle in transition. Having a player like Guhle on the back end who can not only shut down the rush but also drive the play up the ice with control of the puck, is a significant boon for Martin St-Louis' team.
Of course, a team's ability to control the play in transition relies on more than just defencemen starting the rush. Forwards must drop down into the defensive zone to provide their defencemen with outlet options, as we saw from Brendan Gallagher on a few occasions this season.
But a strong forecheck can thwart outlet options, and that's where Guhle's high-end decision-making, silky-smooth skating, and vision come into play.
Montreal Canadiens Defensive Partners
As previously mentioned, the biggest factor holding Guhle back during his rookie season was his defensive partners.
Unsurprisingly, now that he's paired with defencemen who are more mobile, have better defensive awareness, and know how to start the rush when need be, things have improved significantly.
To give you an idea of how much a defensive partner can impact underlying numbers, we can simply compare Guhle's results in the last two seasons.
Last year, while Guhle was on the ice the Canadiens controlled just 43 percent of the shots (CF%), 40 percent of the goals (GF%), 41 percent of the expected goals (xGF%), and 39 percent of the high-danger chances (HDCF%).
But during Guhle's shifts this season the Habs have managed to control over 50 percent of the shots, 66.7 percent of the goals, 58.4 percent of the expected goals, and 55.2 percent of the high-danger chances.
It's not just an amazing improvement. It's an eye-opening reminder that some boats can surprise you with their speed once you lift their anchor.
To put a fine point on his results, Guhle has posted excellent numbers alongside both Johnathan Kovacevic (62.9 xGF%) and Justin Barron (58.7 xGF%), his two most common defensive partners.
Offensive Impact
The biggest change in his numbers is not his defensive impact. Overall, he's improved slightly in that regard, going from 59.7 shots against per 60 minutes of ice time to 58.9 shots per 60 this season.
Guhle shuts down the Connor scoring chance with a good active stick.

He's having a great game. pic.twitter.com/kWL6kMifDg

— Marc Dumont (@MarcPDumont) October 29, 2023
However, the real improvement can be found in the Canadiens' ability to generate offence while Guhle is on the ice.
Last season, the Habs were taking a little over 45 shots per 60 at 5v5 during his shifts.
This season that number has risen all the way to 59 shots per 60.
The same can be said about his impact on high-danger chances.
Compared to 2022-23 the Canadiens are allowing 24 percent fewer quality chances with Guhle on the ice, and that's great, but it's nothing compared to the astounding 48 percent increase in high-danger chances.
In other words, when Guhle is on the ice, the Canadiens are spending much more time in areas of the ice that are the most conducive to scoring.
We should also note that he's been impressive from a production standpoint.
Last season he was on pace for a 34-point season before his unfortunate injury. This year, he's on pace for more than 40 points. Any defenceman who can hold his own in the defensive zone while earning more than 40 points is a godsend, but a defenceman who doesn't get many opportunities on the powerplay and scores all his points at even strength while playing well in his own zone is the type result you rarely see in the NHL.
Since 2023-23, Guhle ranks 14th in points per 60 (1.37) scored by NHL defencemen at 5v5 (min. 500 minutes). As it stands, he's currently tied with former Norris-trophy winner Roman Josi, and ahead of players such as Adam Fox.
And remember how we mentioned his penchant for setting up the play?
Only Erik Karlsson, the current Norris Trophy winner, has produced more primary assists per 60 than Guhle in the last two seasons.
Joel Armia has scored in 100% of his games this season.

Look at the great controlled entry by Kaiden Guhle. That's the good stuff. pic.twitter.com/eYS8O62bAp

— Marc Dumont (@MarcPDumont) October 29, 2023
Brass Tacks
This is the part of the article in which I pump the brakes a little after shovelling an unreasonable amount of coal into the Guhle hype train.
He's only played 11 games this season, therefore we're dealing with a relatively small sample size.
And then there's the health issue.
Guhle missed a few games earlier this year, and when we consider his rookie season was put to an end early due to a season-ending shoulder injury, he will have to maintain his health if he's to become an All-Star.
But there's no denying it, Guhle hasn't just improved his numbers this year, he's pushed them into the realm of the elite NHL defencemen.
A look at the #GoHabsGo D-men 5v5 performance, relative to the NHL.

it's always interesting to compare the underlying numbers (plot) versus the actuals (in script).

👀 Guhle's putting up some fantastic numbers, no matter what metric you look at. pic.twitter.com/sJq2FR1qyr

— Jason Paul 🥥 (@WaveIntel) November 13, 2023
Considering he only has 55 games of experience under his belt, most of which took place beside questionable defensive partners, his emergence this season isn't necessarily a surprise, but it is a very encouraging sign.
At just 21 years old, Guhle is quickly building a strong case to be considered a great defenceman to watch in the NHL, and given that he's still a few years away from hitting his prime, the sky is the limit.
But for now, we can safely say he's already taken the crown as the best defenceman on the Montreal Canadiens roster.
---
All Montreal Canadiens statistics are 5v5 unless otherwise noted. Via Natural Stat Trick.