Habs Practice Notes: Slafkovsky Works On Shot With Nicholas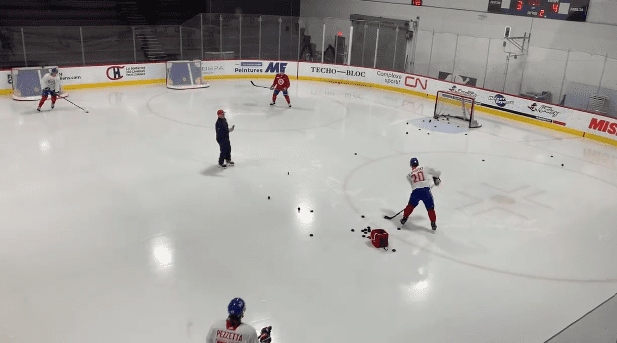 The Montreal Canadiens have been much luckier from a health standpoint this season.
Yes, that includes losing Kirby Dach to a lower-body injury just two games into the season, but relative to 2022-23, the team is yet to lose half its lineup to the infirmary, which is a good sign.
With that in mind, the Canadiens announced Jordan Harris, Rafael Harvey-Pinard, and Mike Matheson were held out of practice on Wednesday morning. They're listed as having a 'therapy day', which essentially means they're spending time with the massage therapist and athletic trainers rather than running drills on the ice.
It's a preventative measure, one that Canadiens fans are sure to endorse given the team's history.
Shotkovsky
2022 first-round pick Juraj Slafkovsky, who had a nice assist on Tuesday night against the Calgary Flames, was spotted working on his shot with the Canadiens' Director Of Hockey Development, Adam Nicholas.
Slafkovsky has an underrated shot, but he has been hesitant to use it in NHL games. It's common for younger players to defer to their veteran linemates, but at one point the younger player must take the bull by the horns and start taking advantage of scoring chances.
That's where Slafkovsky is at in his development.
He's creating chances, but he needs to shoot more often.
On Sunday night, he whiffed on a great scoring chance by attempting to force a pass to Cole Caufield on a 2 on 1, it essentially epitomized Slafkovsky's shooting hesitancy.
But he returned from the first intermission as a man on a mission and eventually took 10 shots at 5v5, a career-high for the 19-year-old forward.
He's shooting 5.5 times per 60 minutes of ice time at 5v5, which is slightly more than the 4.9 shots per 60 he took last season, but still not enough to significantly improve his odds of scoring.
On Wednesday morning Slafkovsky was busy working on his snap-shot release, with Nicholas recording the entire process so he could evaluate the mechanics and help his student improve his overall form.
Adam Nicholas, the #Habs director of hockey development, using his cell phone to videotape Juraj Slafkovsky shooting pucks before start of practice in Brossard #HabsIO pic.twitter.com/2CdvUJiTyn

— Stu Cowan (@StuCowan1) November 15, 2023
Slafkovsky was not the only member of the Canadiens who took time to practice his shot. The entire team worked on their shooting prowess, which is never a bad idea, especially for a club that lacks shooting talent in the lineup.
#Habs working on shooting drills at practice today ⤵️ pic.twitter.com/7UeGcqNO7A

— Priyanta Emrith (@HabsInHighHeels) November 15, 2023
---
All Montreal Canadiens statistics are 5v5 unless otherwise noted. Via Natural Stat Trick.