Canadiens Contract Comparables In Montembeault Negotiations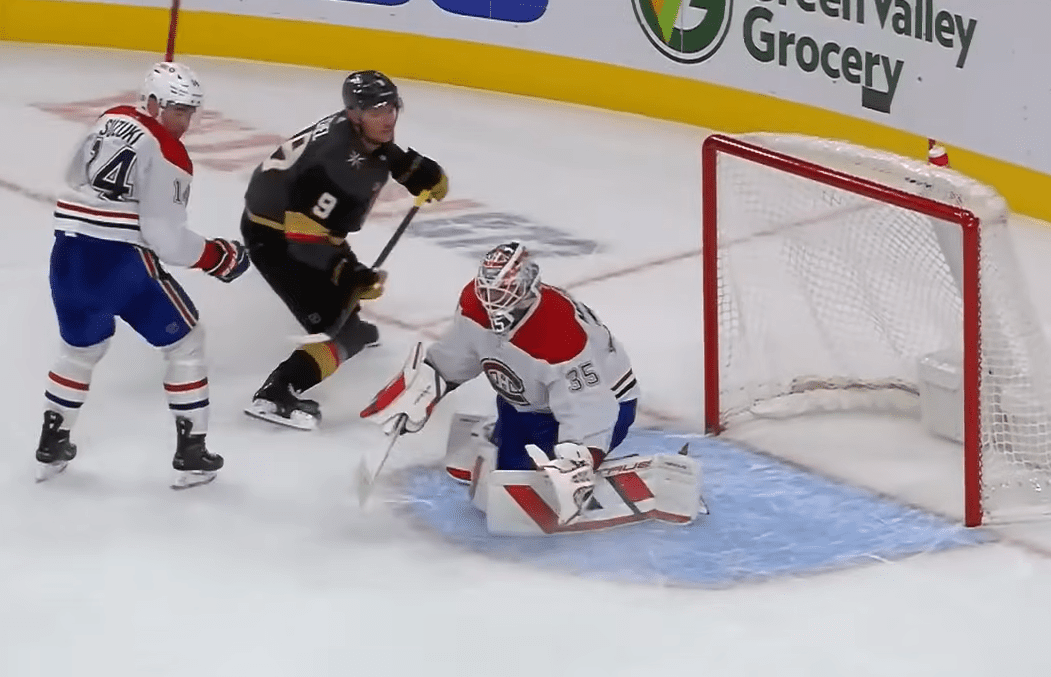 The Montreal Canadiens are in the midst of contract negotiations with goaltender Samuel Montembeault, and existing contract comparables could give us an idea of where the extension could be headed.
It's a very difficult situation for the Canadiens, as they currently have a three-goalie setup in Montreal with Montembault, veteran Jake Allen and rookie Cayden Primeau tending the nets.
After acquiring the pending free-agent on waivers from the Florida Panthers back in 2021, Montembeault has quickly become a fan favourite due to his impressive performances and combative style.
The 27-year-old is set to be an unrestricted free agent for the first time in his career, but hasn't yet established himself as a true # 1 goaltender in the NHL of yet; making the negotiation a little more complex than usual.
However, Montembeault has put up pockets of exceptional performances playing behind a young defensive brigade that have many NHL betting odds predicting a bottom-10 finish for the Canadiens this season.
In fact, it can be argued that the goaltending prowess of Montembeault (and Allen) have made Canadiens look much better than they actually are, and that usually comes with a handsome raise.
So let's take a look at some comparable goaltenders across the NHL to see what Montembeault's extension could look like.
Vitek Vanecek – New Jersey Devils
Vitek Vanecek is a strong comparable for Samuel Montembeault and the Montreal Canadiens, as he too had to bide his time and found success in his mid twenties when opportunity rang.
Spending over four years in the Capitals' minor-league system before being afforded a chance in 2020-2021, Vanecek proved to be a dependable option in goal and asserted himself in the NHL at the age of 24.
After two seasons with the Washington Capitals sharing goal with Ilya Samsonov, Vanecek was traded to the New Jersey Devils and immediately signed to a three-year contract worth .4M per season.
The Devils' afforded the young goaltender 4.12% of their total cap space, after he posted a 41-22-10 record with the Capitals, sporting a 0.908 save percentage and a 2.68 GAA
Filip Gustavsson – Minnesota Wild
Filip Gustavsson was initially drafted by the Pittsburgh Penguins, but was quickly traded to the Ottawa Senators, where he would spent the next five seasons.
Working his way up from the Sens' minor-league club, the Belleville Senators, Gustavsson's numbers continue to improve, but seemingly coldn't get a fair shake with the Ottawa Senators.
The youngster was eventually traded to the Minnesota Wild before the 2022-2023 season, given the role as backup to future NHL Hall of Famer, Marc-André Fleury.
Instead, it was Gustavsson that ultimately won the starter's net for the Wild, putting up an impressive 0.931 save percentage and 2.10 GAA in 39 games.
It was a great showing for a 24-year-old who was set to become a restricted free-agent, and he was able to utilize his breakout season to bag a three-year contract with an annual value of $3.75M.
Alexandar Georgiev – Colorado Avalanche
Alexandar Georgiev was another exceptional find for the New York Rangers, who have made a habit of producing top NHL goaltenders over the years.
The undrafted goaltender made his debut with the New York Rangers during the 2017-2018 season and played in over 120 games in a backup role until 2022.
For a long time, he was seen as the replacement for Hall of Famer, Henrik Lundqvist, but was ultimately dethroned by current goaltending star, Igor Shesterkin.
The Rangers eventually traded him to the Colorado Avalanche, who were in the market for a young starter option in goal. Despite a less-than-stellar final year with the Rangers during the 2021-2022 season, Georgiev had some strong stats with the Rangers and looked like he needed a new opportunity elsewhere.
The Avalanche immediately signed their new #1 goaltender to a three-year contract worth 3.4M, locking down the position for the foreseeable future, without giving up too much money on an unproven player.
Tristan Jarry – Pittsburgh Penguins
Tristan Jarry was a highly touted prospect for the Pittsburgh Penguins since his selection in the 2013 NHL Draft. After a strong junior career, Jarry spent some time marinating in the minors before getting an extended NHL look in 2017-2018 after the loss Marc-André Fleury to Vegas.
He performed admirably for a 23-year-old, but would only truly get his moment to shine a few years later during the 2019-2020 season when he overtook Matt Murray for the starter's role with some strong performances for the Penguins.
His breakout season say Jarry record a 0.921 save percentage, a 2.43 GAA while sporting a 20-12-1 record in the process; a solid showing for a 25-year-old on an expiring deal.
Having firmly established himself as the club's starting goaltender, the Penguins quickly re-signed Jarry to a three-year deal worth $3.5M per annum; affording him 4.29% of their cap space in the process.
Jarry had superior numbers to Montembeault in their respective contracts years, but Jarry was a restricted free-agent at the time, which explains why the deal was so team-friendly.
Verdict
Samuel Montembeault has been stellar for the Montreal Canadiens, but also somewhat inconsistent; a symptom of an inexperienced goalie playing behind a very young team.
At the age of 27, Montembeault is already statistically in his prime and has spent the last year near the top of the league in terms of expected goals saved above expected, so signing him to richer deal than the goaltenders mentioned above would be a noteworthy risk for the Canadiens.
The other risk is that Montembeault hasn't played more than 40 games in a single season, something that is unlikely to change this year as well as he shares the net with Allen and Primeau.
Given the goaltenders were in the same age range of 24-27 and hadn't yet taken on the role of starter yet in the NHL, it would stand to reason that Montembeault's next deal shouldn't be too costly.
It would be major shift in course to see Montreal Canadiens general manager Kent Hughes throw significant money and term toward an unproven player at this stage, given his desire to free up cap space and keep the club flexible for bigger deals.
We have seen costly contracts to unproven goaltenders sink clubs when it came time to competing, like those handed out to the likes of Jack Campbell, Cal Petersen, Matt Murray.
Which is why it would be shocking for the club, who still has Carey Price's $10.5M in LTIR on the books, throw big money and term at Montembeault just yet.
A short-to-mid-term deal in the range of $3.5 and $3.8M would put Montembeault exactly in the same category of the players mentioned above, and would be a just middle-point for both sides.
*For more NHL betting lines and futures, head over to FanDuel.