Canadiens Prospect Report: Xhekaj Thriving, Reinbacher's Situation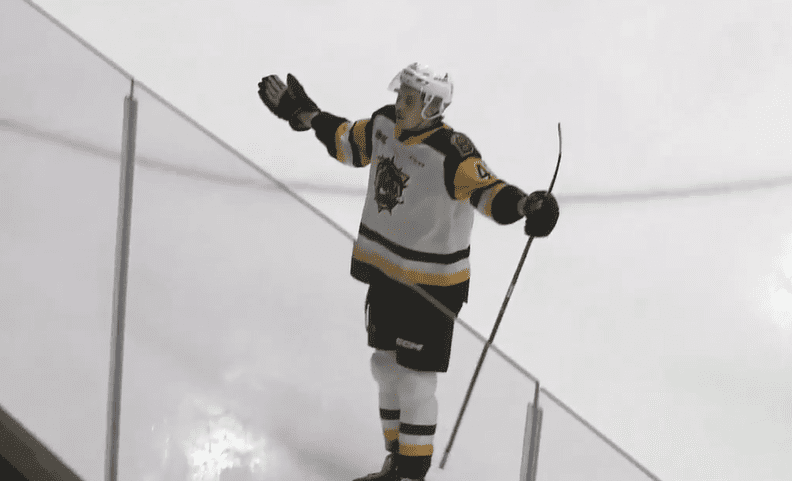 Some raised an eyebrow when the Montreal Canadiens selected Florian Xhekaj in the fourth round of the 2023 NHL Entry Draft.
It was understandable, given that Xhekaj was a little older than most of his counterparts, and his 13 goals and 12 assists in 68 games were far from exciting.
But they forgot one very important lesson. Never underestimate a member of the Xhekaj family.
Admittedly, I was also caught by surprise when the Canadiens picked Florian, but I learned my lesson about making broad statements when it comes to the Hamilton-based family.
MUST READ: What I got wrong about Montreal Canadiens defenceman Arber Xhekaj
Fast forward a few months later, and it's quite clear that Xhekaj's Draft+1 season is going to eclipse his Draft season by a significant margin.
Florian has almost maintained a point-per-game pace with the Brantford Bulldogs, leading to 10 goals and seven assists in 18 games. That puts him on pace for a 37-goal, 26-assist, pro-rated 66-game season.
Of course, it's a little easier to score in the OHL versus a professional league, so we have to take the production with a certain grain of salt, but it's definitely worth noting that from a raw totals perspective, Xhekaj is currently one of the Canadiens' most productive prospects.
We also need to recognize that despite his rough-and-tumble reputation, which is well-deserved, Xhekaj has been scoring some very nice goals.
From one end to the other, with the short side snipe to finish it. Thats pretty Cool! #GoHabsGo #BFD https://t.co/kCnSQ93lqz pic.twitter.com/QlPIlhd0rb

— Brantford Bulldogs (@BulldogsOHL) November 19, 2023
He has been particularly impressive of late, with six goals and three assists in the last six games, including a pair of two-goal efforts against the Niagara Ice Dogs and the Ottawa 67's. He also took upward of 20 shots in those six games, a significant uptick when it comes to how many times he puts the puck on net.
For the record, he scored both of Brantford's goals in their 2-1 win versus Ottawa. They weren't highlight-reel goals like his end-to-end rush versus the Kingston Frontenacs, but that's absolutely fine.
He's using his size and strength to reach high-danger scoring areas, which allows him to capitalize on rebound opportunities.
#GoHabsGo Florian Xhekaj's two-goal game versus the Ottawa 67's on November 17.

He scored both his team's goals in a 2-1 win. Good net presence. pic.twitter.com/N5n7gyZhOD

— Marc Dumont (@MarcPDumont) November 19, 2023
Canadiens Prospect Mea Culpa
Unfortunately, I haven't had a chance to watch more than two of his games, and I was also keeping a close eye on other CHL games in both of those instances, which is why I'm somewhat tentative when it comes to describing Xhekaj's strengths and weaknesses.
I usually like to watch at least five or six recent games from a player before I feel comfortable making any type of statement.
This season, I've mostly focused on games that take place in the NCAA, the AHL, and in Europe (Liiga, NL, KHL), leaving me with very little time to watch CHL games on top of my regular NHL-based duties.
There are only so many hours in the day, but I will do my best to analyze more of his games going forward, and hopefully, I can provide a clear picture of his potential.
But for now, we can safely say he's enjoying a very good year, especially compared to the post-draft expectations.
Another fun thing we're paying attention to is gambling statistics for Canadians. Canadian casinos have achieved unprecedented growth over the last few years. Experts have been able to link this massive growth to the favorable gambling laws in Canada and the increased acceptance of gambling activities in the country. 
#GoHabsGo prospect Florian Xhekaj's two-goal game from Nov. 10 vs the Niagara Ice Dogs:

Very nice shot selection on the second goal. pic.twitter.com/WoGYcobd72

— Marc Dumont (@MarcPDumont) November 19, 2023
David Reinbacher Situation
Reinbacher's EHC Kloten faced the Langnau Tigers on Saturday afternoon, and if you think the Canadiens have been a mess in recent games, you'll want to look away.
Kloten has a very weak team, and it's a drag on Reinbacher's development.
To give you an idea of how bad it is, Nathan Beaulieu, who signed with the team last week, jumped into the lineup and immediately eclipsed Reinbacher's ice time. It also led to fewer powerplay opportunities for the Habs prospect, as well as no shifts on the penalty kill.
I'm not trying to say Beaulieu does not merit the ice time, but it's almost always a bad sign when a team signs a defenceman in the middle of the season and the defenceman instantly becomes the most-used player.
I mentioned this on Twitter, and of course, some took it as an excuse for Reinbacher's play, but if you remove emotion from the conversation, it's simply the truth.
If you need any more evidence to convince you that Kloten is struggling, they fired their head coach following the embarrassing loss to Langnau.
Gerry Fleming, a student of former Canadiens head coach Michel Therrien, had only managed to coach his team to seven wins in 23 games this season. Consequently, Kloten is heading for the NL playout.
With that in mind, I wouldn't be surprised if Reinbacher was recalled to North America the moment Kloten's season is over.
In the meantime, Canadiens fans can take some solace in knowing the coaching change should lead to an uptick in Reinbacher's results, which are far from poor despite the lack of production.
📊🏒About David Reinbacher.
We tracked all his games before tonight at @NLIceData.

He's fine. Impact on his team's offensive build-up improved to the 94th percentile in the league.
Exits and Entries improved as well.

Better structured team will only make things better. https://t.co/LNlvuYDUGV pic.twitter.com/c7hVAbBeTn

— Thibaud Chatel (@Thibaud_Chatel) November 19, 2023
Game Play
As for how Reinbacher played against the Tigers, I'd say it wasn't overwhelming, or underwhelming.
He was just okay.
He started very slow, which has been a common theme since he returned from his knee injury. His breakout passes were good, and when he was on the ice Kloten enjoyed a better share of the puck possession, but he was also quite tentative when it came to making plays in crucial situations.
He was better in the third period and was one of the main reasons Kloten managed to outshoot their opponent. It was much too little and much too late, and Reinbacher was involved in an unfortunate play that directly led to an empty-net goal by the Tigers, but overall, I'd argue his play in the third period was quite good.
let's try this again.

A good recovery by Reinbacher after his teammate gave up the puck at the blue line. pic.twitter.com/T0h8fCBdnk

— Marc Dumont (@MarcPDumont) November 18, 2023
We tend to look at hockey development as a black-and-white situation, and that fits perfectly on a social media site like Twitter, where people get entrenched in their arguments without using any semblance of nuance, but it's not very useful when analyzing players.
When I post a clip of Reinbacher struggling, some fans get upset at the mere fact that I dare suggest he's not perfect, and others take it as a reason to bash him,
But those clips are just raindrops in the developmental bucket. What matters most is his overall play, not individual highlights.
And according to the microstats, Reinbacher is playing well.
Now, in the interest of honesty, I've only watched five of his games, and two of them took place after his injury. But I do have to say I'm yet to see the elite aspects of Reinbacher's game that others have noticed in the past.
Given that he still hasn't settled in after his injury, for now, when it comes to his long-term potential, I will continue to defer to the experts who had a chance to watch more of his footage from last season.
But I do feel comfortable saying Reinbacher needs to improve his decision-making with the puck on his blade, and he'll have to improve his defensive positioning when it comes to defending the rush, which is perfectly normal for a 19-year-old prospect playing in a professional league.
I'd also suggest a healthy dose of patience is required when discussing his potential, regardless of whether you think he was a good pick or not. He's just seven games into his D1 + season, after all.