Canadiens Slafkovsky Scores In Embarrassing Loss To Bruins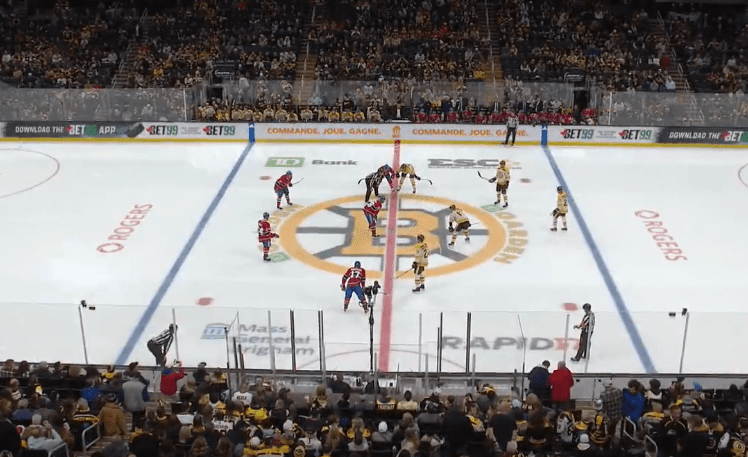 The Montreal Canadiens were in Boston on Saturday night for a rematch with the talented Bruins.
Head coach Martin St-Louis decided to switch things up among his forward lines, with Alex Newhook joining Nick Suzuki and Cole Caufield on the top line, Josh Anderson shifting to the second line with Brendan Gallagher and Christian Dvorak, Sean Monahan centering the third line for Juraj Slafkovsky and Jesse Ylonen.
The last time these two met the Habs played one of their best games of the season, culminating with an overtime goal by defenceman Kaiden Guhle.
However, Saturday night was a different story.
The Bruins were eager to avenge their loss, and consequently, Boston took control of the game early and did not let up, emerging with a well-deserved 5-2 win.
If you're looking to discuss the game once you finish reading the recap, we would like to invite you to join Game Over, a podcast discussing all things Habs following every game.
Now let's dive into the highlights!
Lack Of Preparation
Stop me if you've heard this one before, but the Habs were outplayed in the first period by a wide margin. In total, at 5v5 the Bruins took 27 shots, 16 of which were on the net, including six high-danger chances.
Jake Allen held the fort for the Canadiens, who are starting to have a well-deserved reputation as one of the worst-prepared teams in the league due to their awful play in the first periods.
Boston went to the first intermission with a 2-0 lead, but it could have been much worse if not for Allen.
Good save by Jake Allen on Heinen. pic.twitter.com/BxfCaE4LZb

— Marc Dumont (@MarcPDumont) November 19, 2023
A quick look at the 5v5 heatmap tells the tale. Not only was Boston taking more shots, but they were also taking shots from high-danger scoring areas.
The worst part isn't necessarily that they were outplayed so badly. Fans expect the Habs to lose more games than they win this year, but at the very least they want to see an honest effort, and you'd be hard-pressed to find it during the first 20 minutes of games this season.
Slight Push Back
The Habs only found another gear once the Bruins built up a 3-0 lead.
The good news is a Habs player scored. The bad news is that it was on his own goaltender with a deflection. pic.twitter.com/ERwbgKSqpj

— Marc Dumont (@MarcPDumont) November 19, 2023
Captain Nick Suzuki sent a perfect saucer pass to Juraj Slafkovsky, who had made his way to a high-danger area. Slafkovsky did not hesitate to take the shot, a rather encouraging sign for a player who is a little gun-shy.
Trent Frederick scored his second goal of the game shortly afterward, and it wasn't exactly the best display of defence by Slafkovsky (or Allen), but at the very least, we're seeing signs of life in the offensive zone.
Nick Suzuki finds Juraj Slafkovsky with a great pass, and Slafkovsky makes no mistake.

His second goal of the year. #GoHabsGo pic.twitter.com/h9tq9BR6NW

— Marc Dumont (@MarcPDumont) November 19, 2023
Toned Down
Despite featuring two teams that understand the value of a good old-fashioned rivalry, there was not much physical play between the Habs and the Bruins.
Gustav Lindstrom did hit Matt Poitras with a big hit, but that was about it for memorable rough stuff.
A big hit by Lindstrom on Poitras. #GoHabsGo pic.twitter.com/apauUwZeg0

— Marc Dumont (@MarcPDumont) November 19, 2023
Stats Pack
None of the new lines played particularly well. The numbers don't bear repeating, but let's just say it did not work out as planned.
The Monahan line was outshot significantly, the Dvorak line was outchanced by a wide margin, and while the top line played better than the rest of the team, Caufield continued to struggle to find the back of the net. Caufield now only has one goal in his last 10 games.
To make matters worse, in previous games, the Habs also started poorly, but they did manage to put up some semblance of a pushback. Against Boston, that pushback lasted roughly three shifts.
It should also be noted the Habs had the discipline of a drunken panda bear in a bamboo flooring factory, but that's not new. Nor are their struggles on the penalty kill.
Bruins fans even managed a sarcastic 'olé, olé, olé' chant midway through the third period, which tells you all you need to know about which team controlled the game.
It was an awful outing, for all concerned, including St-Louis.
Johnathan Kovacevic did manage to score in back-to-back games, but at that point, the game was already well out of reach.
Goals in back to back games for Kovacevic! pic.twitter.com/eN8EuyuKGF

— Scott Matla (@scottmatla) November 19, 2023
The Montreal Canadiens are back in action on Wednesday when they visit California to take on the Anaheim Ducks. The puck drop is scheduled for 10 pm ET.
---
All Montreal Canadiens statistics are 5v5 unless otherwise noted. Via Natural Stat Trick.