Canadiens Prospect Lane Hutson's Dominant Night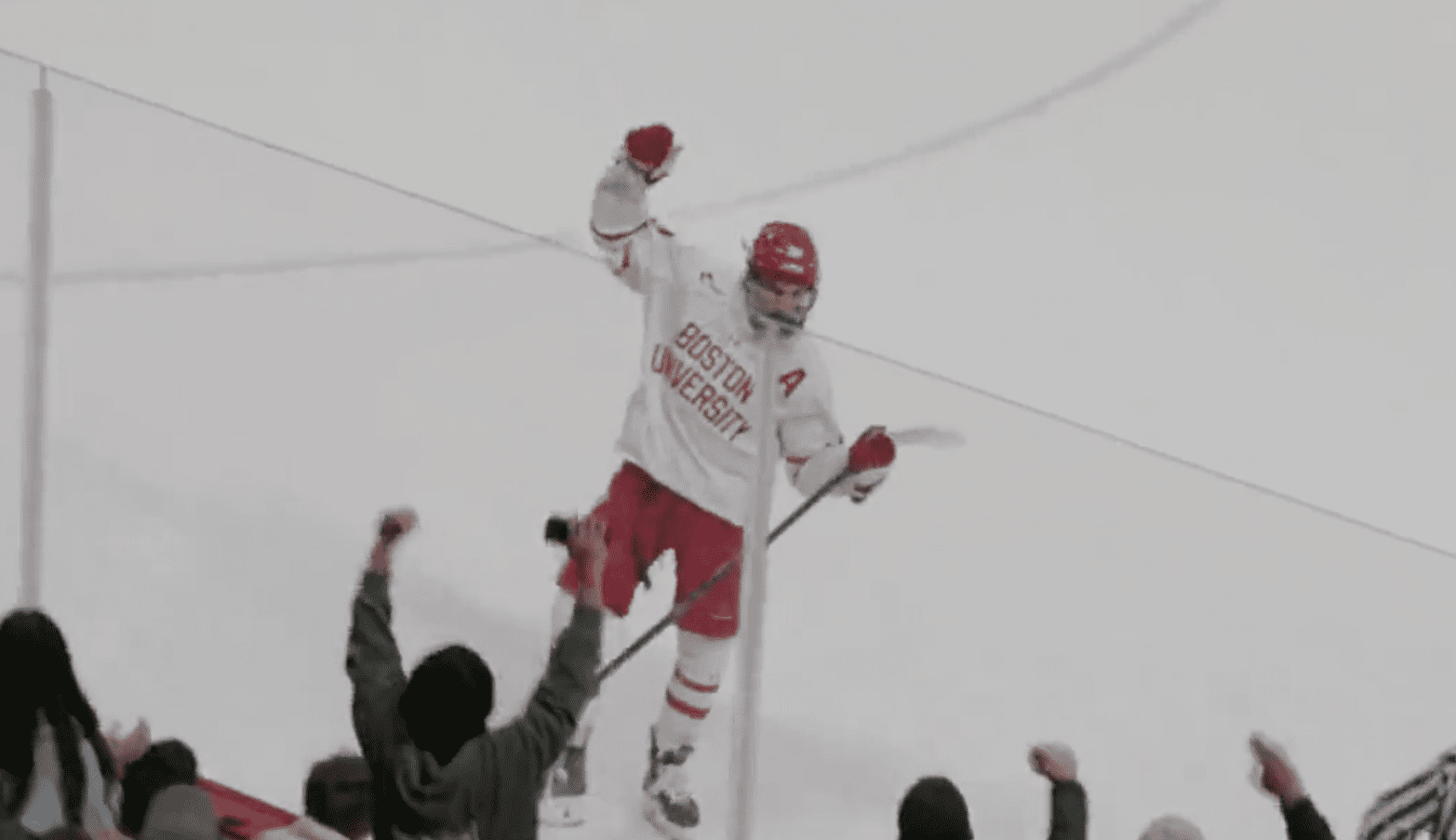 This is going to shock Montreal Canadiens fans, but phenom Lane Hutson had yet another great performance for Boston University.
The sophomore defenceman may have broken a bevy of records last season, but he had yet to score a hat trick for the Terriers. That changed on Saturday night against the North Dakota Fighting Hawks.
Hutson kept his team in the game long enough to force overtime, however, the Terriers, who are yet to find their rhythm this season, ultimately lost 5-4.
Hutson's first hat trick of his young NCAA career was also his sixth goal of the year, pushing his season tally to nine points in seven games.
Look, we don't want to sound too arrogant, but the engraver for the Hobey Baker Award may want to start practicing their Ls and Hs.
Lane Hutson Hat Trick Performance
The Habs' elite prospect tied the game in the first period with yet another classic Hutsonian play. He walked the blueline, deeked the pants off an opposing player, and then quickly unleashed his wrist shot.
On top of creating time and space for his teammates, Hutson also has a penchant for creating space for himself, which he almost always puts to good use.
We're heading into the intermission tied at 1-1 thanks to Lane Hutson doing Lane Hutson Things™️

Watch on ESPN+: https://t.co/B1hxme65Cu @hockey_east | @espn pic.twitter.com/bVXld0EvJW

— BU Men's Hockey (@TerrierHockey) November 4, 2023
We then witnessed the budding chemistry between Hutson and the top prospect for the 2024 NHL Entry Draft, Macklin Celebrini. After finding Celebrini down low, Hutson activated, driving directly to the net in time to capitalize on his teammate's perfect pass.
I know what you're thinking, Habs fans.
But it's unlikely the Canadiens end up having the opportunity to call Celebrini's name once they take to the podium for the first time in Las Vegas.
That being said, there's nothing wrong with a little dreaming.
did the math (and tweeted the right clip this time) and 71+20 equals 💯 now.

Watch on ESPN+: https://t.co/B1hxme5xMW @hockey_east | @espn pic.twitter.com/A0CW7n1euA

— BU Men's Hockey (@TerrierHockey) November 5, 2023
Hutson's hat-trick goal tied the game heading into the second intermission, while also putting his underrated accuracy on display.
On top of great accuracy, Hutson has a sneaky release. It's not particularly quick, but it is deceptive, and goalies rarely anticipate where the puck will end up.
Boston University, the top-ranked team heading into the season, may be failing to meet expectations with their 3-2-2 record, but it's the polar opposite situation for their alternate captain.
Your score after two periods is Lane Hutson 3, North Dakota 3!

Watch on ESPN+: https://t.co/B1hxme5xMW @hockey_east | @espn pic.twitter.com/ZLmsqnH7h0

— BU Men's Hockey (@TerrierHockey) November 5, 2023