Montreal Canadiens Prospect Lane Hutson Poised For Big Year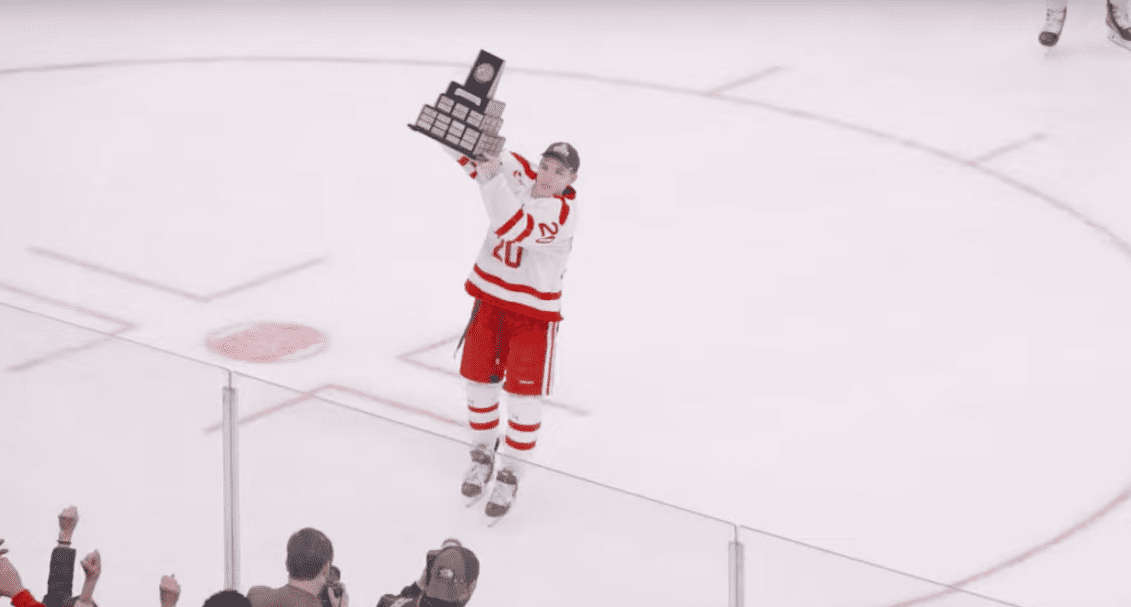 By now Montreal Canadiens fans are well aware of what phenom Lane Hutson represents in their prospect pool.
He's one of the few, perhaps even the only elite prospect who projects as a game-changing player once he ascends to the NHL.
With 15 goals and 33 assists in just 39 games, Hutson became the first defenceman to lead the Hockey East Conference scoring race. It's an impressive achievement, but in Hutson's case, it was just the tip of the accolade mountain.
Hutson was also named to the Hockey East All-Rookie Team and First All-Star Team, on his way to becoming the Rookie of the Year, as well as the Hockey East Tournament MVP, which led to Hutson's Boston University Terriers emerging as conference champions.
Lane Hutson scores the overtime winner to make Boston University the Hockey-East Champions.

What a season for the rookie defenceman. #GoHabsGo pic.twitter.com/zrOFrO6n3n

— Hadi Kalakeche (@HadiK_Scouting) March 19, 2023
He also broke a bevy of longstanding records, including the scoring pace set by Hall of Fame defenceman Brian Leetch.
Simply put, Hutson was a dominant force during his freshman season.
He'd go on to score six points in nine games for Team USA at the World Championship, though the bulk of the attention sent his way focused on one play in which he actually defended fairly well, but was let down when Casey DeSmith failed to make an easy save.
Lane Hutson just chose VIOLENCE…
pic.twitter.com/Om5p1ex3SJ

— Nathan "Grav" (@NathanGraviteh) May 9, 2023
In a sense, the criticism was a good sign.
The last time a Habs prospect was scrutinized as closely as Hutson by opposing fans was Cole Caufield, and we all know how that turned out.
In other words, whenever you see someone contribute a pizza-cutter opinion (all edge, no point) about Hutson, just know that the reason why they're grasping at straws is that they know Hutson represents the type of talent that all NHL teams are desperate to add to their lineup, and there's a clear sense of envy at play.
Lane Hutson is special. pic.twitter.com/qrleB1d4ej

— Scott Wheeler (@scottcwheeler) August 1, 2023
Usage
Despite having a great rookie season in the NCAA, Hutson was not given the benefit of starting every powerplay or even featuring on Boston University's top pairing during every game.
That's par for the course when discussing any 18-year-old defenceman in the NCAA.
And it also opens the door to the possibility that Hutson will not just eclipse his rookie numbers, he may end up obliterating them.
A few clips from Lane Hutson's last four games. pic.twitter.com/dnzPOcU6xJ

— Mitchell Brown (@MitchLBrown) January 18, 2023
Top powerplay usage will be key, as will his defensive partner.
Hutson is expected to play with Vancouver Canucks first-round draft pick Tom Willander, who played two games last season with Habs prospect Adam Engstrom on Rogle's blue line.
On top of the fresh face on his defensive pairing, it should be noted that Hutson will serve as an alternate captain for the Terriers, quite the honour for a player who was not even guaranteed to earn a roster spot in the NCAA last season.
Newcomers
On top of Willander, the Terriers are adding one of the most promising prospects in the NCAA to their roster this season, Macklin Celebrini.
As it stands, Celebrini is expected to be the No.1 pick at the 2024 NHL Entry Draft, and though there are low odds the Montreal Canadiens will win the draft lottery next year, Celebrini is still a prospect worth monitoring.
The Canadiens lack offensive firepower in their prospect pool, and a player like Celebrini would quickly flip the script.
Macklin Celebrini wins it for Canada.

What a game! What a tournament for the 16-year-old.

Hockey! pic.twitter.com/C65qIN0KSV

— /Cam Robinson/ (@Hockey_Robinson) April 30, 2023
Remember, it's very difficult to find high-end offensive talent in free agency. As explained by Jeff Gorton, the best way to add game-changing talent to your lineup is through the draft.
Additionally, Boston will receive reinforcements in the form of Jack Hughes, the son of Canadiens general manager Kent Hughes, and Buffalo Sabres prospect Gavin McCarthy.
Hobey Baker Possibility
Considered to be an early favourite for the Hobey Baker Award by NCAA specialist Chris Peters, there are healthy odds that Hutson once again collects enough awards to keep a carpenter on staff full time to expand his award display case.
Of course, there are no guarantees in life, and there's always the chance that Hutson will suffer a downtick in results, removing himself from the running for the Hobey Baker Award.
But if history is any indication, this is setting up to be yet another excellent season for the most important prospect in the Montreal Canadiens organization.
Lane Hutson is going to be a problem. Short King SZN pic.twitter.com/Aw2h9oiMrB

— Pete Blackburn (@PeteBlackburn) May 17, 2023
Despite dealing with an unreasonable amount of criticism throughout his career, Hutson he has established himself as a player with an unquenchable thirst for success. Whether it was the USHL, the NCAA, or playing against much older players at the World Championship, Hutson has shone every step of the way.
Expect much of the same in 2023-24, with a strong possibility that his excellent production will be propelled to the next level.
A level that only Hutson has the ability to unlock.