Habs Stats Pack: Dach, Slafkovsky, and Newhook Excel In Game 1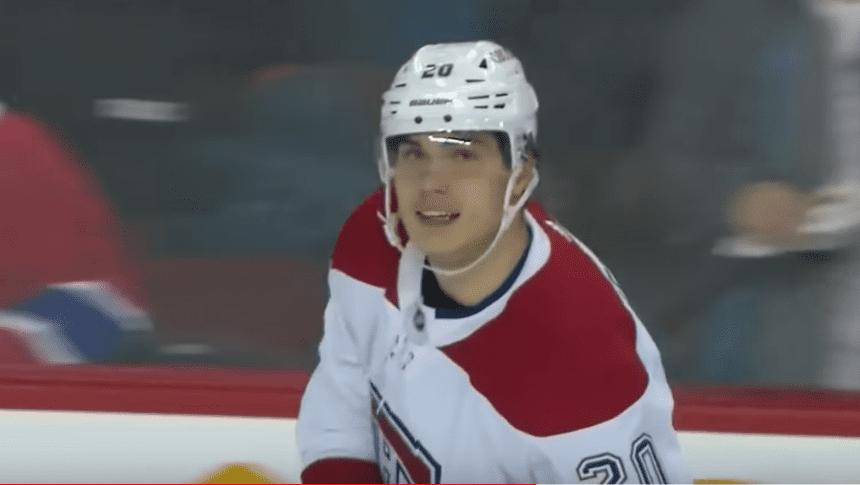 With the exciting season-opener now in the books, we can take a look back at which players performed best for the Montreal Canadiens against the Toronto Maple Leafs.
We're dealing with a very small sample size when it comes to the available data which means we're not at the point where we can use them to project future results, at least not accurately, but there are still some very interesting results to examine when discussing Game 1 of the regular season.
We will be leaning heavily on NaturalStatTrick, a fantastic website that everyone should bookmark if they're interested in doing in-depth analysis.
Team Results at 5v5
The Leafs held an edge when it came to shots (48-40, 54.5%), however, the Canadiens actually generated more high-danger chances (9-7, 56.3%).
This is notable because the Canadiens struggled to control the high-danger shots last season, especially against talented teams such as the Maple Leafs.
It's also worth pointing out that the Canadiens outscored the Leafs at 5v5 to the tune of 4-1, with most of their goals coming from high-scoring areas on the ice.
Individual Results
When it came to individual performances, we can safely say that Juraj Slafkovsky and Arber Xhekaj enjoyed a great start to their season.
Slafkovsky led all forwards with a nice 69 percent shot share, as well as an equally nice 69 percent expected goals share.
As for the defencemen, Arber Xhekaj wasn't just busy tossing Ryan Reaves around, he also produced the best shot share numbers on the blueline (70 percent). Kaiden Guhle did not control as many shots as Xhekaj while he was on the ice, but he did end up doing better when it came to high-danger chances.
Jonathan Kovacevic had a very solid game as well, but that's not surprising. He always produces great numbers and has been the Canadeins' best right-handed defenceman for over a calendar year.
UPDATED Habs card from last night: pic.twitter.com/7DKLS2qniO

— HockeyStatCards (@hockeystatcards) October 12, 2023
Montreal Canadiens Line Stats
It was a tale of two teams last night from an offensive standpoint.
The second line was fantastic, powered by Kirby Dach's excellence in transition, Alex Newhook's fantastic speed, and one of the best games Juraj Slafkovsky has played since he joined the Canadiens.
They led the team in shot share (68.4 percent), expected goals share (65 percent), and high-danger shot share (71.4 percent).
It's too early to declare the Montreal Canadiens have found their ideal second line, but the early results seem to indicate there's a great deal of potential and very encouraging chemistry.
Of course, this isn't surprising seeing as Dach improves his teammates no matter the situation. He's a coaching cheat code, and right now he's being used to push Slafkovsky to the next level, a rather wise use of his talents.
Alex Newhook scores his second goal of the game. Great play by Slafkovsky to keep the play alive and cancel the clearing.

4-3 #Habs lead. pic.twitter.com/B64crv4dq1

— Marc Dumont (@MarcPDumont) October 12, 2023
The top line featured Josh Anderson alongside Nick Suzuki and Cole Caufield. They actually controlled 50 percent of the shots, but as per usual whenever Anderson is on the first line, the trio struggled to generate high-danger chances at 5v5, and fell well below 50 percent in terms of expected goals.
And then things got ugly from a statistical point of view.
The third line, which had Tanner Pearson, Sean Monahan, and Brendan Gallagher on it, generated five shots while allowing 12, which means they only controlled 29 percent of the shots. It's also worth noting they were outchanced significantly in terms of quality scoring chances.
The fourth line, featuring Jesse Ylonen, Jake Evans, and Rafael Harvey-Pinard, also struggled at 5v5 despite both Evans and Ylonen scoring goals. They only controlled 17 percent of the shots.
Montreal Canadiens Defensive Situation
I don't want to hammer David Savard too much and too early, but there's a common theme whenever he's on the ice: the Habs get outshot, by a rather wide margin.
That was the case on Wednesday, even if Savard played with the team's best defenceman, Mike Matheson.4
I understand the value of having veterans in the lineup, but at this point in his career, it's quite clear that Savard is not suited for top-pairing assignments. He may not even be able to handle third-pairing assignments.
Together, Matheson and Savard controlled just 23 percent of the shots, which means the Habs were outshot 13-4 while they were on the ice.
Jordan Harris and Xhekaj did much better, controlling well over 70 percent of the shots, and finishing the game with an expected goals percentage of 63.1.
Guhle and Kovacevic were outshot slightly, but while they were playing the Canadiens enjoyed a significant advantage in quality chances (3-1), which means they finished the game with the highest expected goals percentage of all the defensive pairings (74 xGF%)
Brass Tacks
There was a lot to like from the Canadiens' first game of the season, but the most encouraging aspect had to be Slafkovsky's play on the second line.
It's obviously too early to suggest he'll keep up his level of play, but it's also fair to say that he excelled when he was put in a situation that's conducive to succeeding alongside talented linemates.
He wasn't just keeping up with his teammates, he was anticipating plays, using his body to create time and space, and was incredibly engaged in the play, as evidenced by his individual event map posted below.