Canadiens Using Dach On Slafkovsky Line For Important Reasons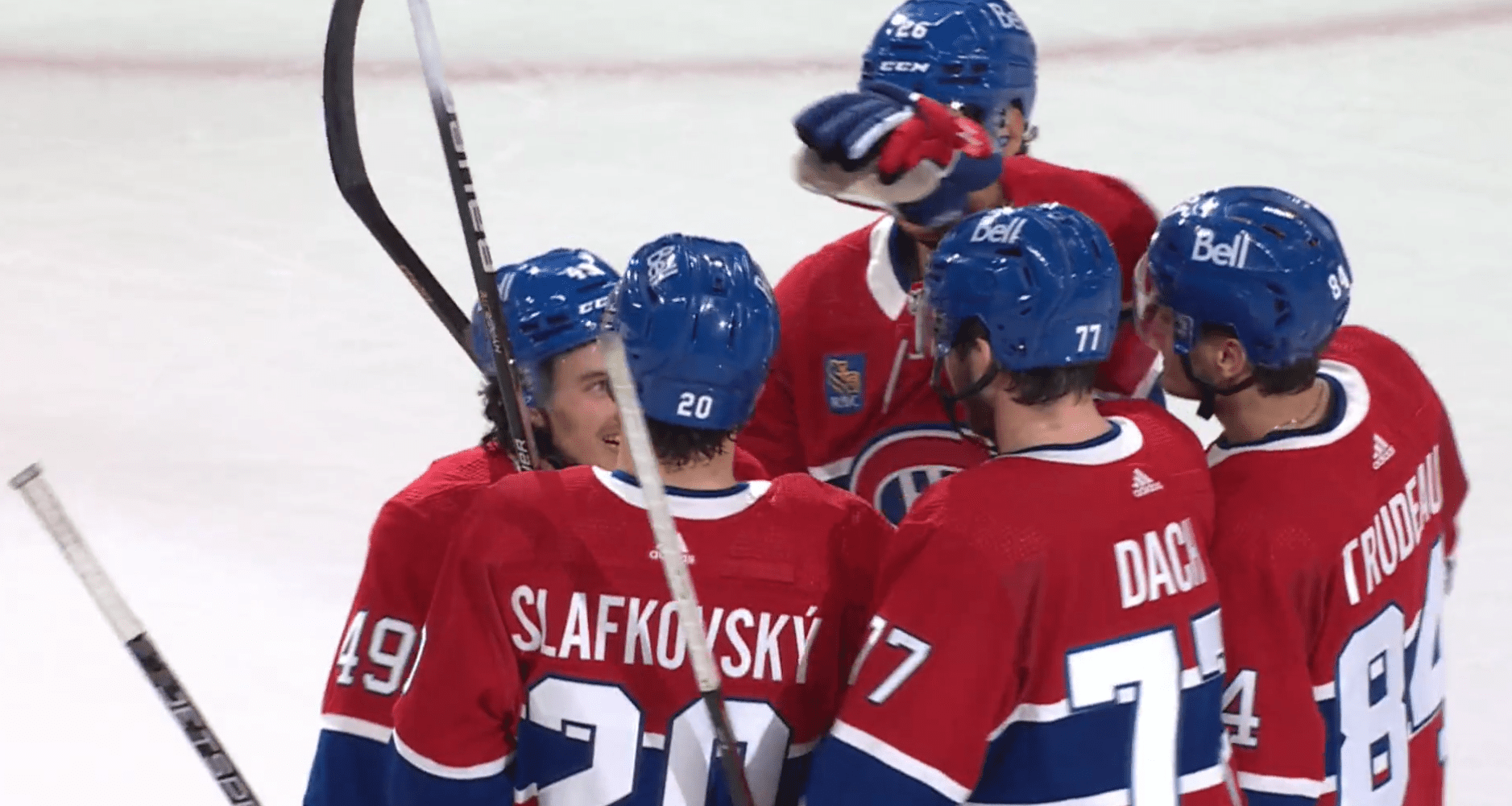 Juraj Slafkovsky has been the most discussed player ever since the Montreal Canadiens opened their training camp this season.
Though to be more accurate, Slafkovsky has dominated the discussion since the Canadiens selected him with the first overall pick at the 2022 NHL Entry Draft.
Those who disliked the pick from the very get-go have only entrenched themselves in their original argument. The same can be said about those preaching patience.
That's almost always how it goes when there are two clear and distinct sides debating a topic.
In Slafkovsky's case, it has led to a discussion that has lacked any semblance of nuance, a much-needed aspect when discussing any type of sport, particularly hockey.
Resetting The Narrative
In a sense, both sides are right.
It's safe to say that almost everyone agrees Slafkovsky's first year in the NHL did not amount to much in terms of long-term development. He dealt with injuries, a suspension, and inconsistent usage, which is enough to derail any rookie season.
I'd also venture to say it's fair that some fans want to see more from a player who was chosen first overall.
It was a very weak draft year, mind you, but the fact of the matter remains that when a team makes the first pick at the draft, fans will (rightfully) expect a high-impact player in the lineup the very next year.
Consequently, we also have to remember the caveats that were attached to the pick, which, again, was made in a weak draft year.
General manager Kent Hughes clearly labelled Slafkovsky as a project.
Now, that doesn't mean that fans cannot expect the project to provide some early returns, and that certainly has not been the case, but given that Slafkovsky is once again slated to be the youngest player in the lineup, the calls for patience do not ring hollow.
However, for Slafkovsky to succeed, he will need to be put in a position to succeed by Canadiens management, which is yet to be the case.
Some may argue that the responsibility to find Slafkovsky ice time falls square on head coach Martin St-Louis' shoulders, and there's something to be said about the fact that he received the lowest ice time among any big-name rookies in the Canadiens lineup over the last two decades,
But it was also quite clear that Slafkovsky was not ready to play in the NHL last season.
There were a few exceptions, but overall, his level of play did not merit an increase in ice time, and thus, St-Louis' tentative use of Slafkovsky is easily explained.
With that in mind, the responsibility to find him an ideal situation is up to Hughes and Jeff Gorton.
If the Montreal Canadiens cannot secure top-six minutes for Slafkovsky on a line that produces encouraging underlying numbers, they should not hesitate to assign him to their AHL affiliate, the Laval Rocket.
Last season, Hughes explained that the team discussed assigning Slafkovsky to the AHL, but opted not to due to the fear that if he struggled, he'd receive an unreasonable amount of criticism.
Damn the torpedoes.
And damn the perception.
Everyone is well aware of the situation.
Slafkovsky needs minutes, and it doesn't matter where gets them.
Besides, if a first-overall pick cannot produce encouraging results in the AHL, there are bigger issues at play than perception.
A New Hope
Fortunately, it's much too early to panic.
When Slafkovsky was playing alongside Josh Anderson and Alex Nehwook, it was quite clear that the line combination did not do him any favours. Being paired with two of the fastest players in the lineup is a good way to make a player like Slafkovsky look out of place.
But something interesting happened the moment that Slafkovsky was used on a line with a centre who excels in transition.
We're dealing with a small sample size, but both games in which Slafkovsky played with Kirby Dach and Rafael Harvey-Pinard resulted in very strong underlying numbers.
Against the Senators, the line controlled 90 percent of the shots and 100 percent of the expected goals. In their game against the Maple Leafs, the numbers weren't as spectacular, but they still managed to finish the matchup by controlling almost 60 percent of the shots and 53 percent of the expected goals.
In other words, for the first time in a very long time, Slafkovsky enjoyed a significant advantage in shots and scoring chances while he was on the ice.
It immediately led to an uptick in confidence, not to mention more high-danger scoring chances. We have to consider that neither the Senators nor the Maple Leafs iced their strongest lineups, but those decisions were out of Slafkovsky's control.
Good work by RHP and Dach to find Slafkovsky. He gets a breakaway, but can't beat Jones, who steps on the puck.

Slafkovsky keeps improving throughout the preseason. pic.twitter.com/B7hljRIXmu

— Marc Dumont (@MarcPDumont) October 1, 2023
Montreal Canadiens Brass Tacks
Dach is the new Brendan Gallagher.
For those who are a little too young to remember Gallagher at his best, for over half a decade he was the player in the lineup who made a significant positive impact regardless of the line on which he was used.
He was the hockey equivalent of a cheat code.
A plug-and-play solution to most of Michel Therrien's forward-lineup problems.
Dach has many of the same qualities. He's yet to produce as much as Gallagher did in his prime, but he's already acting as St-Louis' cheat code, solidifying the roster by immediately improving his linemates, as evidenced by how quickly he improved the underlying numbers of the top line, which featured Nick Suzuki and Cole Caufield.
Of course, most expect a first-overall pick to stand on his own.
And that's not the case for Slafkovsky.
At least not yet.
And perhaps not ever.
But thankfully, the Dach Effect (™) could be exactly what Slafkovsky needs to find his rhythm.
It's much too early to proclaim the Canadiens have two solid lines, but if the Dach-Slafkovsky experiment continues to yield strong results, the entire Montreal Canadiens lineup will be better off.
As will the entirety of the Habs fan base.