Montreal Canadiens Announce First Cuts From Training Camp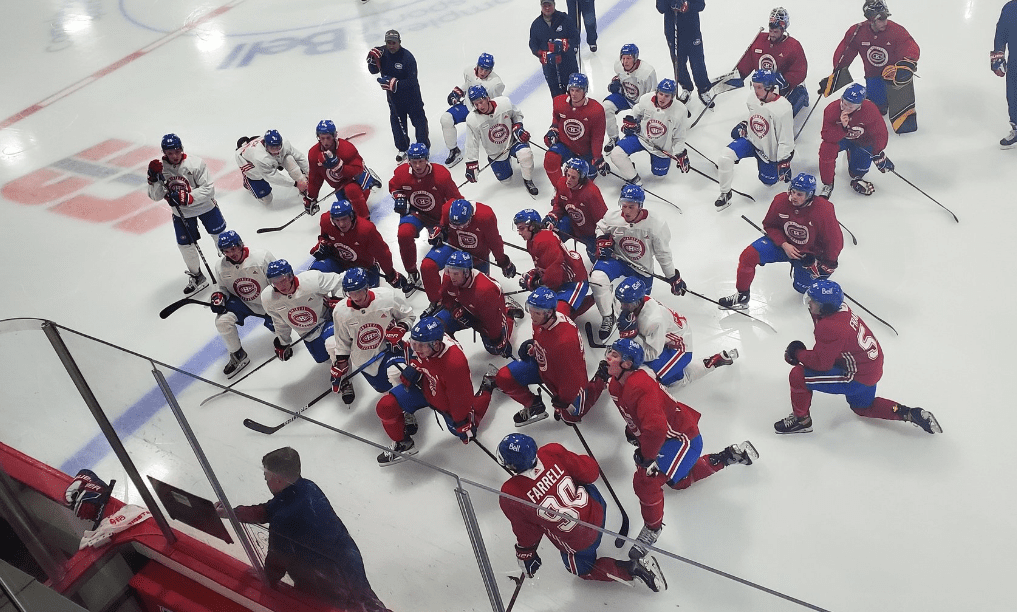 The Montreal Canadiens invited a very long list of players to their 2023-24 training camp.
In total, 72 players attended, which was enough to split the list into four different teams for intra-squad scrimmages. Given that the current roster includes the vast majority of the players that will play for either the Laval Rocket (AHL affiliate) or the Trois-Rivieres Lions (ECHL affiliate), the number itself wasn't surprising, however, the fact that they still have the vast majority of the players at camp is slightly concerning.
The Canadiens have a rather busy preseason schedule, which may explain why they're holding so many bubble players in Montreal.
Fortunately for fans, prospects such as Jared Davidson, William Trudeau, Filip Mesar, and Logan Mailloux have looked very good during the aforementioned scrimmages, an encouraging sign for a team that is about to enter the second full year of their rebuild.
As for the veterans, players like Mike Matheson, Alex Newhook, and Tanner Pearson impressed, not to mention Arber Xhekaj, though it feels a little odd to describe Xhekaj as a veteran given he only has one year of NHL experience under his belt. Regardless, he's played with the confidence of a 10-year veteran throughout training camp.
First Montreal Canadiens Cuts
Now that the preseason is upon us, the team has made its first round of cuts, eliminating four players from the roster.
Forwards Cedrick Guindon (Owen Sound Attack, OHL), Florian Xhekaj (Brantford Bulldogs, OHL), as well as goaltenders Quentin Miller (Quebec Remparts, QMJHL) and Jan Spunar (Portland Winterhawks, WHL) were cut on Sunday afternoon.
Les Canadiens ont renvoyé les attaquants Cédrick Guindon et Florian Xhekaj ainsi que les gardiens Quentin Miller et Jan Spunar à leur club junior respectif.

The Canadiens have assigned forwards Cedrick Guindon and Florian Xhekaj as well as goaltenders Quentin Miller and Jan…

— Canadiens Montréal (@CanadiensMTL) September 24, 2023
Guindon and Miller, in particular, stood out during the team's various scrimmages throughout the week. Guindon will return to Owen Sound, where he is expected to play a big role for the Attack. After a very hot start to the season, Guindon faded down the stretch last year, though you'd be hard-pressed to argue that his 22 goals and 47 assists in 68 games was a poor result for an 18-year-old prospect chosen in the fourth round of the 2022 NHL Entry Draft.
As for Miller, he did not see much action last season while playing as the Quebec Rempart's backup goaltender. He featured in 20 games, earning a 14-4-0 record on his way to an excellent .911 save percentage. The Remparts are the defending Memorial Cup champions, though they're not expected to be among the top teams in the QMJHL next season, which means Miller should have plenty of opportunities to prove his worth. Goaltenders are always difficult to project, but for the most part, they like to face as many shots as possible to find their rhythm.
The four cuts leave 68 players at camp, including several prospects who have done a good job seizing their opportunity during training camp.
There will be some time to kill while they wait for the next game, which means they may want to head to wildz.com for some fun online casino action. The prospects will have more chances to impress as the Montreal Canadiens will begin their preseason calendar on Monday when they face the upstart New Jersey Devils at the Bell Centre. The puck drop is scheduled for 7 p.m. ET. They will then face the Ottawa Senators on Wednesday, as well as back-to-back games against the Toronto Maple Leafs to put an end to their four-game homestand.
After the homestand, the Canadiens will head on the road to face Toronto for their first away game on October 2nd, before heading to Ottawa on October 7 for their final game of the preseason.
Expect several more rounds of cuts as the preseason schedule winds down.
The Canadiens' opening game of the regular schedule is set for October 11. They will face the Maple Leafs in Toronto.