Canadiens Alex Newhook Makes Great First Impression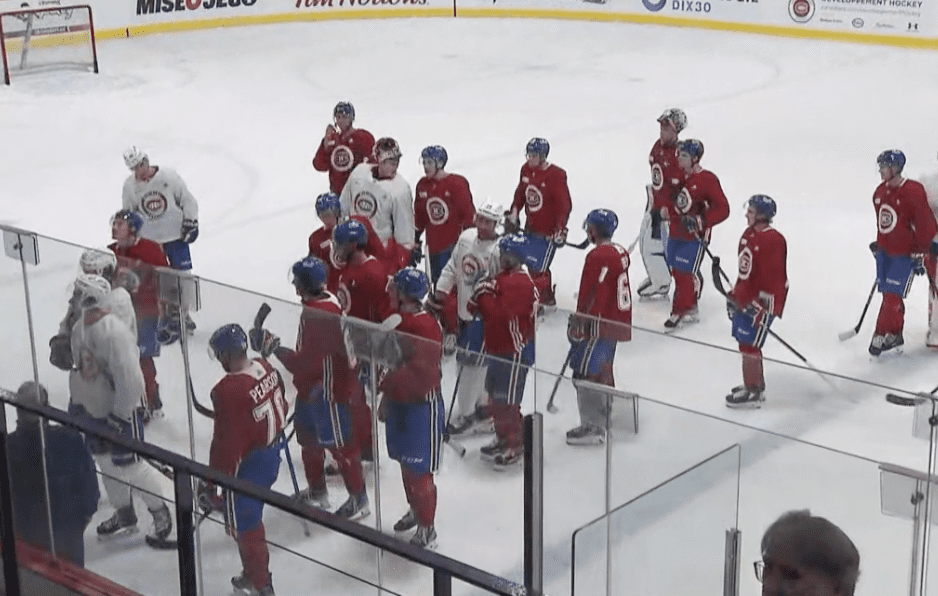 When the Montreal Canadiens acquired Alex Newhook from the Colorado Avalanche, the hope was that he'd develop into a player who could improve their scoring prowess throughout the rebuild.
Habs fans had their first opportunity to watch him in action on Thursday, and the results were rather encouraging.
Newhook was playing on a line with Josh Anderson and Juraj Slafkovsky during the second scrimmage of the day, a line that flat-out dominated for the majority of the game.
Of course, we have to keep in mind that these scrimmages aren't a perfect proxy for game-day situations, however, they do give us an opportunity to evaluate where a player like Newhook may end up in the lineup.
Newhook and Anderson both scored, owing to their instant chemistry and fantastic speed. Newhook, in particular, was great at creating time and space in the offensive zone, which is what led to Anderson's goal.
Newhook and Anderson are showing instant chemistry.

Newhook made space in the offensive zone, Anderson capitalized on the rebound. pic.twitter.com/YNrKkADWn2

— Marc Dumont (@MarcPDumont) September 21, 2023
Slafkovsky, on the other hand, had a very hard time adapting to their speed, which left him a few steps behind on most plays. He did have a few decent breakout passes, but for the most part, the chemistry was only to be found between Newhook and Anderson. Slafkovsky hasn't played a game since January 15, which may explain some of the rust we saw on Thursday.
Newhook goal, Slaf assist pic.twitter.com/sIvbzczLJo

— CommissionerColin (@ColinDorland) September 21, 2023
Other Montreal Canadiens Notes
Tanner Pearson was excellent on the forecheck, an area in his game which he developed once his scoring pace started to slow down. He's excellent defensively, though much like Slafkovsky, it was clear that Pearson hadn't played a game in a very long time. Regardless, he hounded the puck with an impressive level of ferocity.
MUST READ: Evaluating Tanner Pearson's Potential Impact With The Canadiens
A few prospects stood out, including Filip Mesar. That's not to say he was a force out there, but he did make a few nice plays that resulted in good scoring chances. When it comes to a player like Mesar, you want to see him engaged in the play during every shift, and that was the case in the afternoon scrimmage.
Guhle shuts down two passes in a high-danger scoring area.

He's been very good today. pic.twitter.com/HI8r5ncZ9U

— Marc Dumont (@MarcPDumont) September 21, 2023
Prospect Riley Kidney also had a solid performance. He went to high-danger areas, something he shied away from during the prospect tournament in Buffalo.
His effort paid off toward the end of the game when he forced Logan Mailloux to take a hooking penalty. Any penalty results in a penalty shot during these scrimmages, and Kidney made no mistake, scoring an easy goal to finally put his team on the board.
Mailloux gets called for hooking Kidney, it's a penalty shot in these scrimmages.

Nice goal by Kidney. pic.twitter.com/j5j5qU2i99

— Marc Dumont (@MarcPDumont) September 21, 2023
Team White dominated Team Red, though it should be noted that a line composed of Brendan Gallagher, Owen Beck, and Rafael Harvey-Pinard did spend a significant amount of time in the offensive zone due to their relentless work ethic.
As for the defencemen, Kaiden Guhle was hard to ignore.
He jumped into the play at the right times and was great defensively. Unlike the other injured players, Guhle showed absolutely no rust even though he hadn't played a game since mid-March.
Guhle shuts down two passes in a high-danger scoring area.

He's been very good today. pic.twitter.com/HI8r5ncZ9U

— Marc Dumont (@MarcPDumont) September 21, 2023
Speaking of defencemen, two of the youngest players on the blueline had a hard time adapting to the pace of the game: Mailloux and David Reinbacher.
Of course, it's much too early to start criticizing their overall level of play, but it is a good reminder that making the jump from the OHL or the NL is a rather difficult task.
Once they have an opportunity to acclimatize to the speed and skill involved in the game, they should be able to calm the nerves that seem to be impeding their decision-making process.
---
Montreal Canadiens highlights via RDS.