Canadiens Prospects Mailloux And Slafkovsky Stand Out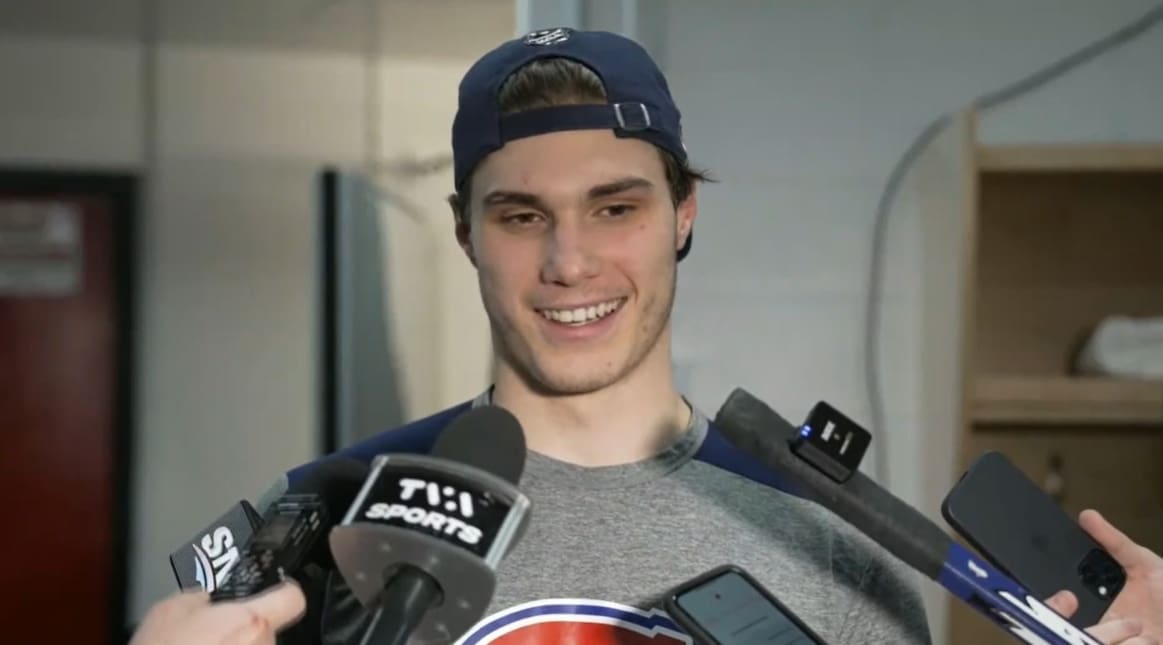 Several key Montreal Canadiens prospects were in action on Friday afternoon, with the bulk of the attention going Logan Mailloux and Juraj Slafkovsky's way, both of whom struggled during their previous outing on Thursday.
As is often the case in hockey, they quickly put their poor performance behind them thanks to an excellent effort against Team Red, resulting in a 6-0 win.
Slafkovsky Resurgence
Slafkovsky was once again playing on a line with Josh Anderson and Alex Newhook, but this time around he did a much better job keeping up with the pace of play.
He drove the net with much more vigour and made several nice passes, an encouraging sign for a player who has not played an NHL game since January 15th.
Slafkovsky finds a streaking Newhook, who creates space and generates a good chance.

Slafkovsky is looking a lot more aware of his situation today. Before any of the GIF police get involved, we're well aware it's not a game-breaking play. pic.twitter.com/UbOBkAeMC3

— Marc Dumont (@MarcPDumont) September 22, 2023
Anderson was once again in the spotlight, showing off his great speed, which is to be expected, and some great playmaking, which was a little more surprising.
His play to set up Slafkovsky's goal was particularly nice, and it also gave us a chance to see the young Slovak forward drive the net, the type of play that head coach Martin St-Louis will surely appreciate.
Josh Anderson out there breaking ankles, then sets up Juraj Slafkovsky for his first goal at camp. pic.twitter.com/w7hSQXp69Q

— Matt Drake (@DrakeMT) September 22, 2023
Slafkovsky's play has been a fiery topic of discussion in the Montreal Canadiens fan community since his draft day, and there's certainly merit to some of the criticism, but let's just say the overbearing negativity regarding his first scrimmage was a little much.
Hopefully, his strong play on Friday will calm some of the anxiety that seems to have gripped a significant part of the fanbase.
I see we're already panicking about Slafkovsky after a grand total of….one (1!) scrimmage.

He was always going to look slow beside Newhook and Anderson, the two fastest players on the team.

I wouldn't lose any sleep over his 15 or so shifts today.

— Marc Dumont (@MarcPDumont) September 21, 2023
Don't Call It A Comeback
Mailloux also bounced back nicely after a rough start, scoring two goals thanks to his penchant for getting pucks to the net.
I know I've mentioned this several times, and I'm sure some roll their eyes when I discuss his ability to find a shooting lane, but it's rather clear that Mailloux has great timing when it comes to taking shots from the blue line.
Logan Mailloux scores his second goal of the scrimmage. Much better outing today for him. pic.twitter.com/q57mMFsKAm

— Marc Dumont (@MarcPDumont) September 22, 2023
As was the case with Slafkovsky, Mailloux received a little help from his friends, as evidenced by Anderson's generosity during the 2 vs. 0 that resulted in his first goal of the game.
Regardless, Mailloux was much more active in the offensive zone, and his shot volume was close to what we were used to seeing in the OHL. That's when he's at his best. Defensively, there's still work to be done, but he also did a much better job protecting his crease compared to the team's first scrimmage.
Mailloux ➡ Anderson ➡ Mailloux = 🚨 pic.twitter.com/UwFQ3o2aKb

— RDS (@RDSca) September 22, 2023
Veteran Presence
Montreal Canadiens defenceman Mike Matheson only has one gear. He could be playing NHL against his 7-year-old nephew on the PS5 and I'm convinced he'd run up the score.
Not because he's a jerk. He's one of the nicest guys in the locker room.
Rather, he only has one goal in life: to win at all costs.
He was great during the first scrimmage, and the same can be said about his performance on Friday afternoon.
Mike Matches🌀n pic.twitter.com/iRw5n8LZ8Z

— RDS (@RDSca) September 22, 2023
Other Montreal Canadiens Notes
Team Red was outmatched significantly, but we did see some nice chemistry between Kirby Dach, Sean Monahan, and Joshua Roy. Roy's excellent playmaking was evident, and it would have led to a goal or two if not for Jakub Dobes making a few great saves.
Joshua Roy a l'air de tout sauf une recrue en compagnie de Kirby Dach et Sean Monahan!

Quelle passe! 🏒 pic.twitter.com/SoJKf6rM9W

— RDS (@RDSca) September 22, 2023
Filip Mesar also had a solid outing, a continuation of the slow, yet steady build-up he's had since the rookie tournament. He's finding a little more open space, and he's not hesitating to drive the net, two things that he'll need to keep doing if he's to play a big role for the Laval Rocket this season.
And finally, we have to give some credit to Jakov Novak. I'll be perfectly honest, he looked lost in Buffalo while facing other NHL teams, but he's flipped the script since returning to Montreal, and he's had a few nice plays that have been noteworthy, including the first goal of Friday's scrimmage.
Novak opens the score for the White Team.

He's been pretty good in these scrimmages. pic.twitter.com/zgp25kLYED

— Marc Dumont (@MarcPDumont) September 22, 2023