Canadiens Approach To Samuel Montembeault Contract Extension
The Montreal Canadiens quickly took care of the vast majority of the pressing issues facing the team this summer.
As is always the case in professional sports, there are still a few questions remaining to be answered, two of which involve goaltenders.
The first is finding a new home for Casey DeSmith. Given the lack of potential trade partners throughout the league, it will be rather difficult to trade the 32-year-old backup.
But the goaltending situation that is garnering the most interest is the contract status of Samuel Montembeault.
He's on the last year of a two-year contract that pays him a very modest $1 million per season.
Due to his low salary cap hit, you could have easily argued that Montembeault was the team's most valuable player last year.
Worth The Risk?
As Marc-Antoine Godin explained a few weeks ago, the Montreal Canadiens are yet to approach Montembeault to initiate contract extension talks.
"There are no negotiations at the moment," tweeted Godin. "But if the issue is not resolved by Christmas and Montembeault maintains his upward trajectory, the price tag will go up."
Hâte de voir comment évoluera la partie de poker entre Samuel Montembeault et le Canadien. Il n'y a pas de négos pour le moment, mais si ça devait déborder sur la saison et que Montembeault poursuivait sa trajectoire positive, la facture ne serait plus la même rendu à Noël.

— Marc Antoine Godin (@MAGodin) August 17, 2023
As per usual, Godin is right.
If Montembeault picks up where he left off, the cost of an extension would surely increase.
And that's perfectly fine.
There's been a little too much hype when discussing Montembeault's performance last year, and we need to re-adjust the narrative.
While most people have used a screenshot from Money Puck to declare that Montembeault is one of the top 15 goaltenders in the league, we need to dig a little bit deeper to figure out exactly what kind of impact he had on the results last year.
Yes, Montembeault saved 13 goals above expected, which is a great result when we consider that his counterpart, Jake Allen, saved -7.2 goals above expected, good for 98th overall in the NHL.
In that sense, Montembeault clearly outplayed Allen and is likely to do it again this upcoming season.
Wins Above Replacement
But what is the true value of saving 13 goals above expected? Many have surmised that those 13 goals are the equivalent of half a dozen wins or more, however, that's simply not how it works. You can't pick and choose which games those saved goals occurred. More often than not, they're spread out over a very long stretch, which means we need to come up with a formula that tells us how many goals saved above expected leads to a win, from a statistical standpoint. That's called wins above replacement.
The answer in this case? Montembeault's 13 goals above expected at 5v5 were worth exactly 2.1 wins above replacement.
The number is actually featured in the exact same table from MoneyPuck that many fans use to suggest Montembeault ruined the Canadiens' chances at picking in the top 3 last year, but you have to scroll to the right to see the answer.
In otherwords, Montembeault's play led to four extra points in the standings.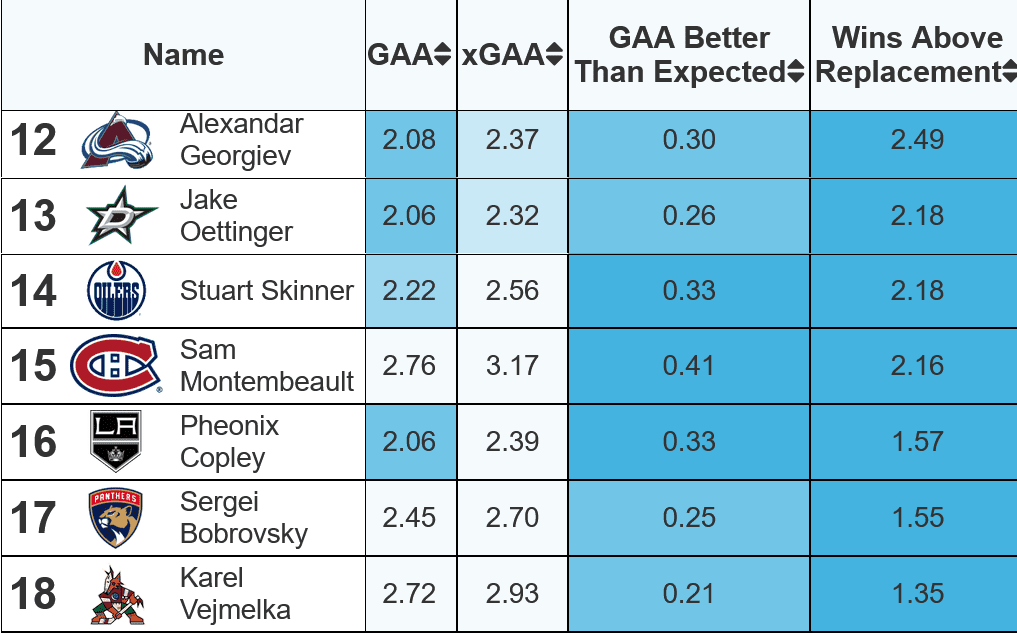 Brass Tacks
He did not 'ruin the tank' as some have suggested, nor did he have the type of season that should lead teams to rush into contract negotiations.
At 26 years old, Montembeault finally produced the first season in which he was not a significant drag on his team's results.
It was encouraging, and it also speaks to the fact that goaltenders take longer to develop.
But it was far from franchise-altering, and given his numbers in every season prior to 2022-23, it does not justify offering him a rich contract.
Granted, it's a harsh assessment, but the Montreal Canadiens should be in no rush to secure Montembeault's services. Kent Hughes is approaching the situation with the proper amount of skepticism.
If Montembeault plays up to snuff throughout the year, which is far from a guarantee, an offer will be forthcoming, but even another very good season would not warrant the type of contract that would lead to salary cap problems down the road, especially when we consider that in recent years goaltenders have lost much of their value from a salary-cap perspective.