Major Youth Movement Set To Hit Canadiens Organization This Fall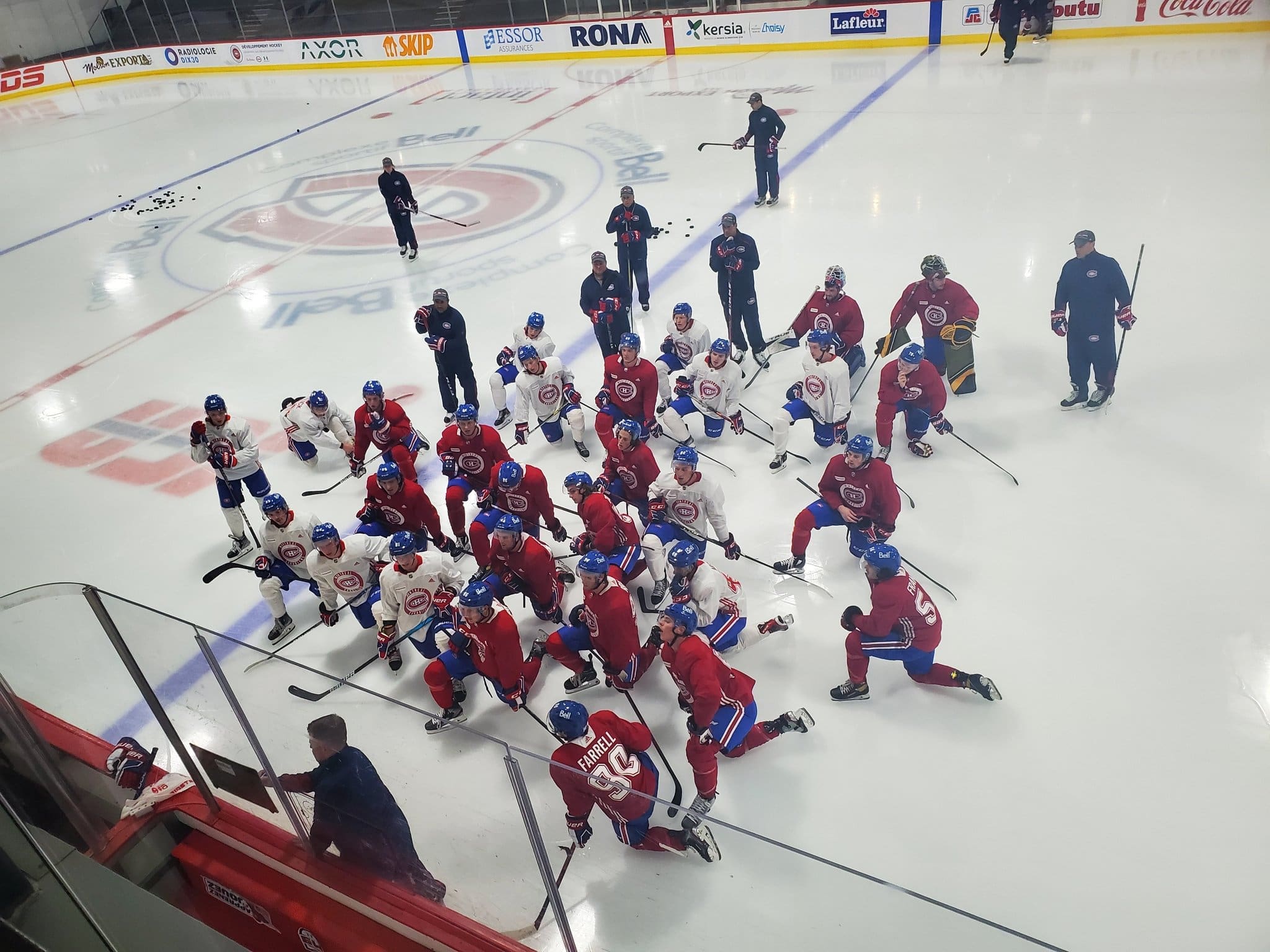 The Montreal Canadiens are going to have a significant influx of youth this season, a breath of fresh air that is likely to make the on-ice product more exciting in Montreal, but also in Laval.
When the Canadiens marched their way to the Stanley Cup Finals, they had one of the older teams in the NHL with veteran members like Jeff Petry, Carey Price, Shea Weber, Eric Staal, Paul Byron, Corey Perry and more logging important minutes, while the likes of Joel Edmundson, Ben Chiarot, Brendan Gallagher and Tomas Tatar all in the prime of their careers.
Since then, general manager Kent Hughes has gone to significant lengths to rebuild the roster, with special attention to young and dynamic talent.
For the first time in the salary cap era, the Canadiens' projected 23-man roster is set to be one of the youngest rosters in the NHL this season; and that's if there aren't any surprises at camp from certain youngsters.
Although NHL betting odds aren't predicting an incredible year for the 2023-2024 edition of the Montreal Canadiens, organizational growth will be the main focus for management, not the placing in the standings.
It's far more important that the Canadiens develop some impact players out of the large crop of youngsters they have in their ranks this season, especially those who are getting their first taste of pro hockey in Laval.
For far too long, the organization has gotten by with band-aid solutions, casting aside their top picks in favour of quick fixes, but, if this rebuild is going to work, they'll have to hit on more than just their top picks, and that's where the importance of development comes in.
Top-Down Organizational Development
At the very top, the Montreal Canadiens are hoping that the likes of Nick Suzuki, Cole Caufield and Kirby Dach hit another gear in their development and take the club to neigh heights, at least offensively this season.
Their continued growth is paramount to the success of the club in the long term, but they aren't alone this season.
Newly acquired forward Alex Newhook, along with sophomores Juraj Slafkovsky, Kaiden Guhle, Arber Xhekaj, Jordan Harris, Rafaël Harvey-Pinard, Jesse Ylönen and Justin Barron will be expected to take big steps in their development.
For anyone counting, that's 11 players right there that the club will have a vested interest in developing further; more than half the roster of eligible skaters.
Even if the Canadiens do struggle again this season amid an increasingly competitive Atlantic Division and Eastern Conference, it's going to be how they compete and grow that will be the measuring stick for the season.
But organizationally, it goes much deeper than that.
Congestion On The Orange Line
The Laval Rocket are set for quite an influx of young talent.
After some youngsters got their feet wet to end the season this spring, Emil Heineman, Jakub Dobes, Jayden Struble and Sean Farrell will head the major youth movement in Laval.
Joining them will be youngsters Joshua Roy, Miguel Tourigny, Riley Kidney, Jared Davidson, Logan Mailloux and Filip Mesar; and those are just the rookies.
And that's also not counting sophomores like William Trudeau and Mattias Norlinder in the fold, either.
Yes, Rocket  head coach J.F. Houle and the Canadiens' development team will have their hands full this season in trying to help all of these youngsters reach their potential.
But, for the first time in what feels like decades, the organization looks equipped to turn some of these players into impact players.
The Biggest Challenge
When general manager Kent Hughes and executive vice-president Jeff Gorton were brought into the fold, they were tasked with overhauling the club's player development structure and changing their incredibly bad luck at the draft table.
Yes, the Canadiens were able to pull out some serviceable NHL players here and there in the past, but rarely were they able to take a promising prospect and help them achieve the potential that many saw in them early on.
Hughes and Gorton are setting themselves a massive task this season in trying to develop this many youngsters all at the same time, but it's one they're confident will pay off.
With 25 of the Canadiens' 50 contracts tied up in players 23 years of age or under, it's clear that the organization is banking that they can achieve just that, and in bulk.
It remains to be seen if they'll be successful, but it's certainly an exciting proposition for fans who will have two interesting, young teams to watch this season, separated by just a dozen metro stops.
*For more NHL betting lines and futures, head over to FanDuel