Canadiens Final Summer Projected Roster & Salary Cap Situation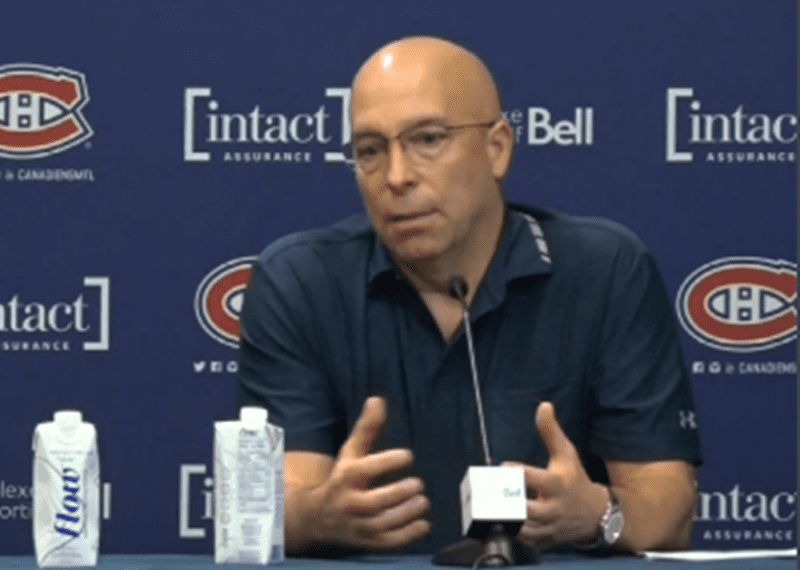 Now that the Montreal Canadiens have signed Jesse Ylonen to a one-year, two-way contract that will pay him $775,000 next season, we have a much better idea of their projected lineup and the salary cap implications heading into 2023-24.
Jesse Ylonen 1 x $775 000 ($200 000 AHL, $275 000 guarantee) @CanadiensMTL

— Renaud Lavoie (@renlavoietva) July 31, 2023
Ylonen, 23, scored six goals and 10 assists in 37 games for the Canadiens last season, meaning his one-year contract extension was certainly a bargain when we consider that both Alex Newhook and Kirby Dach have scored at roughly the same pace (0.4 points per game) since joining the league.
Of course, Ylonen is older and has less experience. Still, any way you cut it, paying a player with shooting talent such as Ylonen the league minimum should be considered a win for general manager Kent Hughes.
It's also worth noting that Ylonen's salary in the AHL next season will be $200,000, hopefully keeping teams at bay if the Canadiens attempt to pass him through waivers.
---
Montreal Canadiens Projected Summer Roster
As has been the case throughout the summer, in our projection we're assigning Michael Pezzetta, Rem Pitlick, and Chris Wideman to the Laval Rocket, where their contracts will be below the league threshold, and will therefore no longer count on the salary cap.
The positions in the lineup aren't as important as the players we included to ensure their salary cap hits are counted, so feel free to add your own lineup projections in the comments below. I added Joel Armia, David Savard, and Christian Dvorak as healthy scratches, but again, that was just to put to
We are using CapFriendly's fantastic roster-building tool to project the available cap space as well as the projected lineup.
Here's what Hughes and head coach Martin St-Louis will be working with barring any more player movement.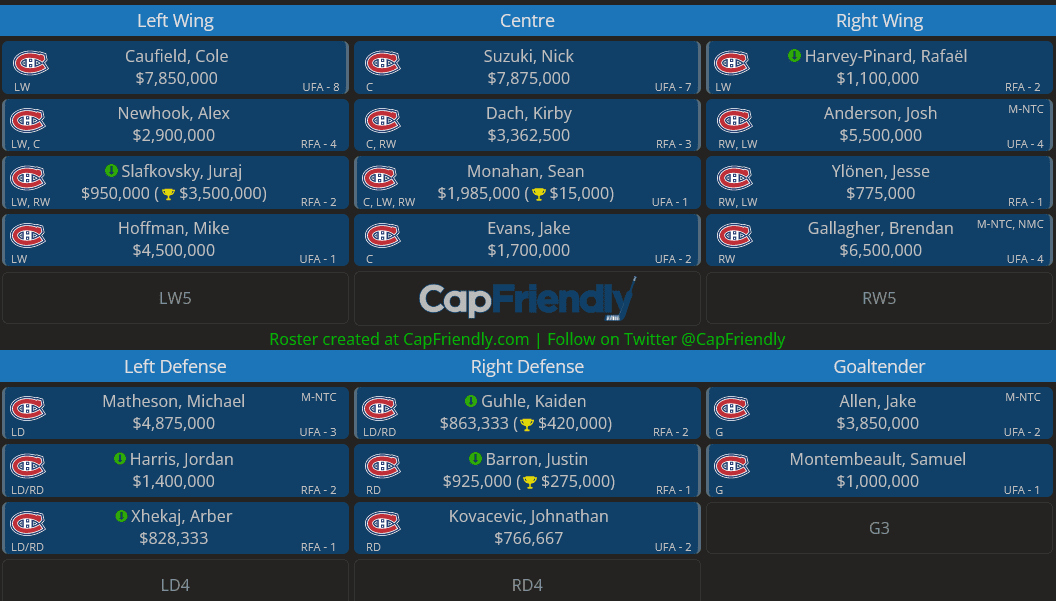 Montreal Canadiens Salary Cap Situation
With 23 players on the roster, the Canadiens will carry a salary cap hit of $74.61 million, including the $1.17 million in overages, Karl Alzner's buyout ($833,333) and Joel Edmundson's salary retention ($1.75M).
That figure also includes the salary relief that will be provided by placing Carey Price's contract on the long-term injured reserve.
With the salary cap set at $83.5 million next season, the Canadiens will have $8.89 million in available salary cap space once the relief funds are in place.
Unfortunately, unlike the majority of the teams in the NHL, the Canadiens will not improve their salary cap space situation throughout the season seeing as relief funds provided by putting a contract on LTIR do not accrue.
Brass Tacks
Hughes and Co. have enough funds to absorb an expiring contract in exchange for a quality asset, as they did when they acquired Sean Monahan and a first-round pick from the Calgary Flames last year.
But as has been the case every time we discuss projected lineups, it's clear that players like Mike Hoffman, Christian Dvorak, David Savard, and Joel Armia are taking up precious salary cap space, and are unlikely to make a positive impact on the lineup.
If Hughes can somehow manage to trade one of the aforementioned players without having to retain salary, he will not only greatly improve his team's salary cap situation, he'll also free up precious ice time for younger players that are an important part of the long-term vision tied to the rebuild.
---
All Montreal Canadiens salary cap information via CapFriendly.