Canadiens Could Capitalize On The NHL's Goalie Trade Market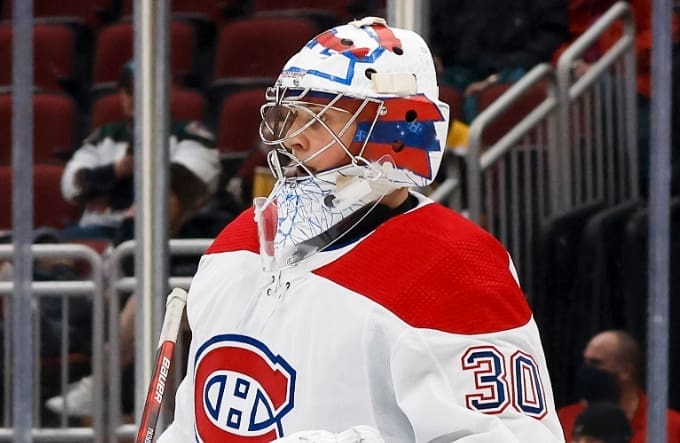 The Montreal Canadiens entered the 2023-24 season with three goaltenders in the lineup, in an attempt to gain some form of return if ever a team was desperate to add a netminder to the mix.
Samuel Montembeault, Cayden Primeau, and Jake Allen have all been given starts by the Habs in the early parts of the season, with mixed results.
Both Montembeault and Allen have won two of the three starts they were allotted, though their save percentage has varied significantly. Allen is currently sporting a .929 save percentage, whereas Montembeault's is just .901.
As for Primeau, his .879 save percentage is a little misleading.
Not only did he have to face Jack Hughes and the high-flying New Jersey Devils in his only start, but he did so during a game in which the defensive coverage was questionable, to say the least.
Simply put, his numbers do not do justice to his performance during his lone start, which featured almost a dozen odd-man rushes by the Devils, not to mention a bevy of high-danger chances from players like Jack Hughes.
CAYDEN PRIMEAU WITH THE ROBBERY! pic.twitter.com/FVKnOhgTLX

— Marc Dumont (@MarcPDumont) October 24, 2023
NHL Goalie Market And The Montreal Canadiens
Goaltenders tend to hold very little value in the NHL.
The returns are always meagre unless a situation arises in which a team has no choice but to make a move.
Teams like the Buffalo Sabres, who are finally hoping to compete for a playoff spot, may have no choice but to pony up some assets to take care of their current goaltending issue. As we all know, poor goaltending is a quick recipe for missing the playoffs, especially in a league like the NHL where the margins are rather small.
GM Kevyn Adams expects Comrie to miss a few weeks after his MRI this morning, and hopes for Levi to return to practice on Tuesday. Hence Cooley is recalled on to #Sabres emergency basis.

— Rachel Hopmayer (@rachelhopmayer) October 28, 2023
There's been no word on whether the Montreal Canadiens have engaged in trade talks with teams like the Sabres, but given that Kent Hughes is eager to move a goalie, it would be surprising if he hasn't contacted Buffalo general manager Kevyn Adams.
In addition to having several netminders in the mix, all three can bring different things to the table.
At just $1m per season, Montembeault has one of the most reasonable cap hits in the entire NHL. His numbers this season have suffered, slightly, but there are good odds they'd improve if he were to play behind a team like the Sabres.
Allen is the cagey veteran who is enjoying a great start to the year. At $3.85 per season, his cap hit is rather high, but it's also worth pointing out that last season was the first year in which Allen produced a sub .900 save percentage.
Primeau is the wild card.
No, he has not played particularly well during his sparse auditions in the NHL, but you'd also be hard-pressed to argue that he was placed in a position to succeed, and thus, he holds the most potential of the three goalies currently on the Canadiens roster. That explains why a few teams have already shown interest in the 24-year-old.
Big save by Cayden Primeau to start the game pic.twitter.com/26Yy2SOhBL

— Marc Dumont (@MarcPDumont) October 24, 2023
Of course, there's always a possibility that teams turn to waivers to find a goaltender, but in some cases, it may be wiser to take a gander at the trade market to ensure the aforementioned teams put their hands on the goalie of their choice, rather than having to dig through the NHL's goaltender dregs.