MUST SEE: Canadiens Defenceman Arber Xhekaj Fights Reaves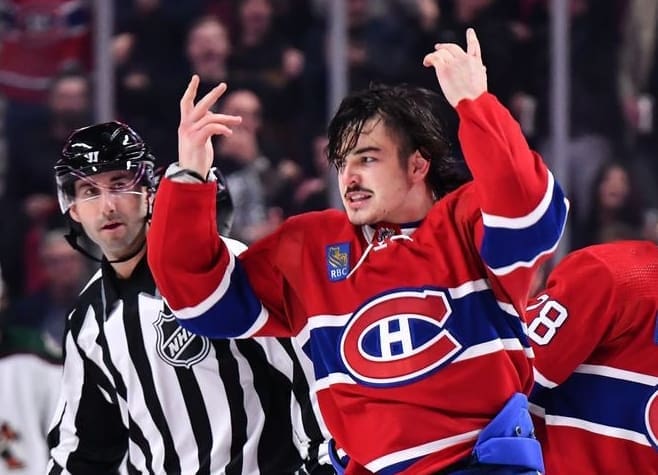 The Montreal Canadiens were in Toronto on Wednesday night to open their season against the Maple Leafs.
The game was already well underway, with Jake Evans scoring the season-opening goal for the Habs when an expected fight took place.
Ryan Reaves was acquired to add a little truculence to the Leafs lineup, but Canadiens defenceman Arber Xhekaj welcomed him to the Atlantic Division by tossing him around like a bag of potatoes.
Reaves had just finished boarding Kaiden Guhle, a play which was ugly, but failed to be properly penalized by the refs. Consequently, Xhekaj took matters into his own hands by reminding Reaves that he's not the only strongman in the league.
As per usual, Xhekaj didn't give his opponent much of a chance, overpowering him from the moment they clashed. This is yet another example of Xhekaj's raw power. Reaves is easily one of the strongest players in the league, and he was scrambling harder than a carton of eggs at Sunday brunch.
Xhekaj was given a 10-minute misconduct after the fight, but was not thrown out of the game.
Here's the full Xhekaj/Reaves play with the initial hit. pic.twitter.com/HFrhOuCSqy

— Marc Dumont (@MarcPDumont) October 11, 2023
The last time Xhekaj fought was during the 2022-23 season, on February 12th against Edmonton. The game was an exciting 6-2 win by the Habs, but it was a pyrrhic victory.
Xhekaj was challenged by Oilers defenceman Vincent Desharnais, and though he won the fight, he also aggravated his shoulder in the tilt. He was seen leaving the ice while holding his shoulder, which is never a good sign for a player of Xhekaj's ilk.
The injury kept Xhekaj out of the lineup for the rest of the season, consequently leading to a surgical intervention on his right shoulder. According to Xhekaj, his shoulder is feeling better than ever, which means we may be treated to yet another busy fight card this season.
---
All Montreal Canadiens videos via the NHL.