Canadiens Xhekaj, Slafkovsky, Heineman & Suzuki Shine In Win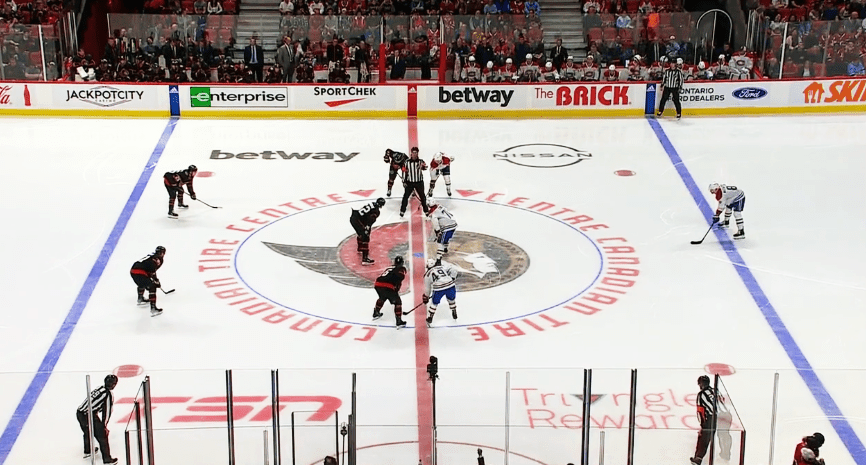 The Montreal Canadiens were in Ottawa on Saturday to face the Senators in the final game of their preseason schedule.
The Habs held the lead for the majority of the game, but a third-period push by the Senators was enough to give the home team a 4-3 lead.

But the Canadiens rallied thanks to goals by Caufield, Xhekaj, and others.
It was yet another incredibly exciting game between the two Atlantic Division rivals, ending in a well-deserved 6-4 win for the Habs.
Let's dive right into it.
Through the Net
It wasn't the most important goal of the game, but Arber Xhekaj literally shot THROUGH the net.
I've never heard a referee utter the words "upon further review, the puck went through the net," before, but hey, there's a first time for everything.
Arber Xhekaj shoots THROUGH the net. pic.twitter.com/ESsltMpR4e

— Marc Dumont (@MarcPDumont) October 8, 2023
Captain Duty
I've criticized Nick Suzuki in preseason by saying he's not giving everything he has.
Wait.
Let me rephrase that.
I pointed out that Suzuki does not seem to be giving 100% during preseason games, despite earning a ton of points and playing very good hockey.
He's simply holding his horses back a little for when the real hockey starts, a rather wise approach given he was the only player in the lineup who played all 82 games last year.
On that note, Suzuki, who is not giving everything he has yet, earned another preseason point.
Nick Suzuki makes it look easy. Grabs the puck and scores.

3-1 Habs. pic.twitter.com/3bS95uVgC2

— Marc Dumont (@MarcPDumont) October 8, 2023
Michael Pezzetta also had a very good game. He had a few high-danger scoring chances and energized the lineup every time he was on the ice.
Oh, and he scored to give the Habs a lead in the first period.
Michael Pezzetta the sniper gives the #Habs a 2-1 lead. pic.twitter.com/AOVWZup75m

— Marc Dumont (@MarcPDumont) October 7, 2023
Another veteran who stood out was Sean Monahan.
He's been excellent in most preseason games and seems to have a chip on his shoulder when it comes to his physical play. He tipped a point shot from Mattias Norlinder, who continues to have a very solid training camp, to tie the game late in the third period.
Norlinder puts the puck on net, Monahan gets the tip.

Both players are having a very good game.

Tie game. 4-4. pic.twitter.com/dgRr89XAH7

— Marc Dumont (@MarcPDumont) October 8, 2023
I'd like to give credit to Cole Caufield for the game-winning goal, and he certainly picked his spot perfectly, but there's something to be said about Suzuki's excellent play against the boards to steal the puck from the Senators.
Nice goal by Caufield, but look at that steal by Nick Suzuki to give the Habs the late go-ahead scoring chance.

He robs two Senators blind.

Not even Crime Stoppers is going to help here. pic.twitter.com/4RXQQOFUJK

— Marc Dumont (@MarcPDumont) October 8, 2023
Second Duo Chemistry
Seeing as the 2023-24 season is just around the corner, many fans are anxious to see what type of second line the Canadiens will feature on opening night.
So far, we've seen decent showings when Kirby Dach and Juraj Salfkovsky have been paired together, however, you'd be hard-pressed to argue that they've established the type of chemistry that would leave head coach Martin St-Louis no choice but to use them to start the year.
The line started on the right foot Saturday, thanks to Slafkovsky's second goal of the preseason. He capitalized on a nice rush from Dach, which led to a point shot by Mike Matheson.
As an aside, Matheson is such a joy to watch out there.
I know we're used to it by now, but he does something exciting on almost every shift, and it usually ends up helping the Canadiens in a significant manner.
Kirby Dach creates space, Mike Matheson puts the puck on net, and Juraj Slafkovsky capitalizes on the rebound to score for the Habs.

1-0 Canadiens pic.twitter.com/ibFRMqNDqS

— Marc Dumont (@MarcPDumont) October 7, 2023
Strong like an Arber
Arber Xhekaj's defensive prowess was put to the test in the first period, and it did not always work out as the 22-year-old defenceman would have hoped, but it's also worth noting that Xhekaj's presence in the lineup went beyond his play in the defensive zone.
More Habs and Sens shenanigans.

Slafkovsky teaches Greig about the value of reach with some jabs toward the end of the clip. pic.twitter.com/QdPaigi8mw

— Marc Dumont (@MarcPDumont) October 7, 2023
You know how sometimes you're bringing in groceries from the car, and you decide you can haul all the bags at once, instead of taking several trips?
You desperately want to start eating those special-edition Dunkaroos as soon as possible, and no one can blame you. The mere fact that mom let you get them in the first place already has you working overtime to unlock your prize.
Well, Xhekaj has that same mentality.
Except he does it with NHL players.
And he does it with the greatest of ease.
haha

Keep an eye on Xhekaj (No.72)

Hulk pull. pic.twitter.com/zoi1RqWKzd

— Marc Dumont (@MarcPDumont) October 7, 2023
Beyond his Byfuglienesque play in the first period, Xhekaj was fulfilling his duties as the sheriff of the team with aplomb, which is good news because the Senators once again iced a lineup full of guys that have very little odds of making it to the NHL.
Xhekaj played his part, and he played it well.
Overall, the Senators were much better behaved than in previous encounters.
How to summon Arber Xhekaj: pic.twitter.com/Yr9aVDWLp0

— Marc Dumont (@MarcPDumont) October 8, 2023
Peaks and Valleys
Joel Armia is not having a bad camp. I understand that most want to see him off the roster, but realistically speaking, he still brings value to the table.
To a certain extent, at least.
I can't imagine that he suddenly stopped forgetting how to play hockey when things matter most.
However, he has given us ample evidence to suggest that he has forgotten one key step to most hockey plays: the last one.
Armia is great at finding open ice, winning puck battles, and then squandering fantastic scoring chances.
Suzuki with a good chance, and then Armia had the most Armia moment in Armia history. pic.twitter.com/ijZezAD7hK

— Marc Dumont (@MarcPDumont) October 7, 2023
He also did a good job frustrating St-Louis by taking a rookie penalty in the dying seconds of the second period.
Armia takes a blatant penalty late in the second period. pic.twitter.com/0DlK0kCYXR

— Marc Dumont (@MarcPDumont) October 8, 2023
Emil Heineman, on the other hand, had a pretty good showing. He was playing on Armia's line with Sean Monahan down the middle and did a decent job taking advantage of the chances created by Monahan's underrated playmaking.
Emil Heineman gets a good chance in a high-danger scoring area.

Monahan with the pass. pic.twitter.com/l1MGomWxMM

— Marc Dumont (@MarcPDumont) October 8, 2023
He was also quite physical, as evidenced by how he ruined Senators forward Zach MacEwen's night with a thunderous hit. MacEwen, the same Senators player that drove Kaiden Guhle into the boards from behind earlier in the preseason, immediately left the ice and went straight to the Ottawa locker room.
It was the type of game that you want to see from a guy like Heineman, and it's perfect timing, too.
This was his last big chance to prove his worth before the Montreal Canadiens made the final cuts to their training camp roster.
He needs to bring more to the ice than just a very good shot, though that's a great start. If he can maintain his physical play, he can become a real asset for the Montreal Canadiens in the middle of their forward lineup.
Emil Heineman with a huge hit on MacEwen, who goes straight to the room. pic.twitter.com/Iazmod5uHV

— Marc Dumont (@MarcPDumont) October 8, 2023
Powerless Play
I won't spend much time analyzing the powerplay efficiency, or lack thereof.
However, I will reference this scene from the late 90s which perfectly explains how Habs fans feel whenever the team is given a man advantage.
Goaltending
His job does not hang in the balance, but it has to be said that Samuel Montembeault has not looked very good in preseason games. He's let in a few bananas and is yet to find the form that saw him become a World Champion this summer with Team Canada.
His rebounds, in particular, were far from excellent.
16 seconds after the Senators tied the game 3 at, Montembeault has a rough time handling the puck. Greig scores.

4-3 Sens. pic.twitter.com/TnjNUHrwON

— Marc Dumont (@MarcPDumont) October 8, 2023
---
The Montreal Canadiens are back in action on Wednesday, as they head to Toronto to face the Maple Leafs in the opening game of their 2023-24 regular season.
All Montreal Canadiens statistics are 5v5 unless otherwise noted. Via NaturalStatTrick.