Former Canadiens Finding Limited Options In Free Agency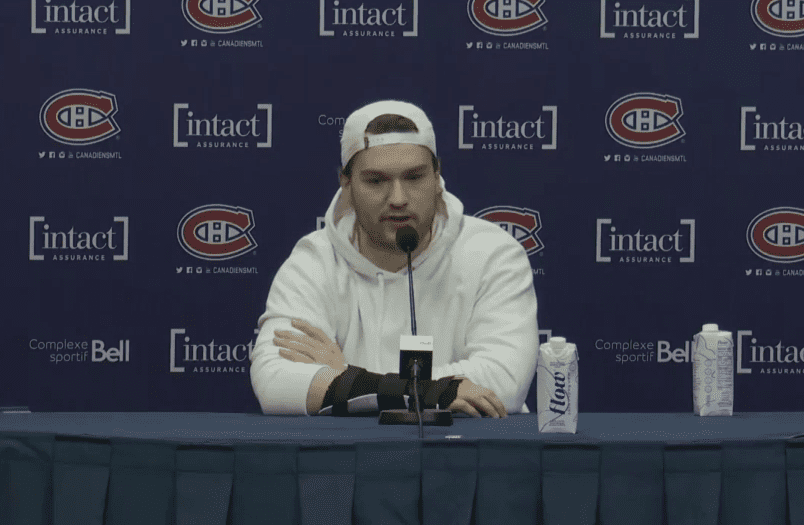 The Montreal Canadiens have been quiet in free agency, which was to be expected since general manager Kent Hughis is more interested in removing contracts from the organization than adding them.
Hughes finally found a new home for veteran defenceman Joel Edmundson, but there's still hard work to be done in that regard when it comes to players such as Christian Dvorak, Mike Hoffman, and Joel Armia.
Fortunately for Hughes, the easiest part of the rebuilding process is allowing certain players to walk once their contracts expire.
European Vacation
Two of the players who left the organization found work in Europe, with Frederic Allard signing a contract in the SHL with Lulea, and defenceman Otto Leskinen, 26, returning to Liiga to play with Tappara.
Allard actually produced very encouraging underlying numbers in his limited time with the Montreal Canadiens this season, but seeing as the 25-year-old fell out of favour with Laval Rocket head coach Jean-Francois Houle and the defensive situation in the AHL is already crowded, you'd be hard-pressed to argue the Canadiens will regret their decision to let him reach free agency. The same can be said for Leskinen, who never reached his potential during his tumultuous tenure with the Rocket.
AHL Movement
While the two departing defencemen won't change much when it comes to the Rocket's results next season, it's only fair to say the team will have to adapt to life without two of its most important forwards.
Former captain Alex Belzile signed a two-year contract with the New York Rangers which will pay him $775,000 per season. If you're wondering why he'd accept a contract with a team like the Rangers that is overflowing with forward options, it's important to note that the second year of his contract is one-way, which means he'll be paid an NHL salary regardless of where he's playing, a rather important detail for a 31-year-old player that has spent the majority of his career earning ECHL and AHL pay rates.
The Rocket will also have to live without their leading scorer, Anthony Richard. The 25-year-old scored 30 goals and 37 assists in 60 AHL games last season, which means his production will be missed, but on top of losing their most dynamic offensive player, they're losing a heart-and-soul member of the organization. Simply put, Richard gave an honest effort during every shift, setting a good example for all the young prospects trying to make their mark.
But despite losing both Richard and Belzile, the Rocket will be receiving an influx of talent, particularly up front.
MUST READ: Projected Forward Lineup For The Laval Rocket
Players like Joshua Roy, Riley Kidney, Jared Davidson, and Lias Andersson will join the fold, while Sean Farrell and Emil Heineman will have the benefit of a full training camp, which should help them when it comes to replacing Belzile and Anderson as primary sources of scoring.
Godspeed, Jonathan
So far, Jonathan Drouin is the lone free agent who spent the entire season with the Montreal Canadiens in 2022-23 that has managed to find an NHL deal.
Drouin signed a one-year 'show-me' contract with the Colorado Avalanche which will pay him just $825,000, a significant pay cut compared to the $5.5 million per season he made in Montreal.
It was a rather easy situation to predict, and not only because Drouin and Nathan MacKinnon enjoyed a lot of success together when they were playing together for former Canadiens head coach Dominique Ducharme in Halifax.
Possibly. But perhaps the Avs, on a sweetheart deal. I get the sense he'll be willing to accept a bargain contract to re-establish his value.

— Marc Dumont (@MarcPDumont) July 1, 2023
Drouin's time in Montreal was cursed from the very get-go. Not only was he traded for one of the few legitimate star players the team managed to draft in the last decade, but he was also heralded as a saviour by former general manager Marc Bergevin, who attempted to kill two birds with one French-Canadian stone.
Bergevin was hoping that Drouin would become the French-Canadian star centre the team desperately lacked.
Unfortunately, despite acting as a reliable source of secondary offence during his time with the Canadiens, the playmaker never reached his star potential, and he struggled when the team attempted to revert him to a centre.
It also didn't help that Drouin was the team's highest-paid forward, but again, that had more to do with Bergevin's roster construction than Drouin's value.
Most teams had several players making more than Drouin during that era, a testament to Bergevin's inability to add offensive talent to his lineup during his time as GM.
Slim Pickings
Five players who were under contract with the Montreal Canadiens last season are still looking for work.
Chris Tierney, Joel Teasdale, Paul Byron, Denis Gurianov, and Madison Bowey.
Gurianov is likely to earn another contract, and there's a decent chance Tierney, Teasdale and Bowey could find a gig in the AHL, but as you can see, in the grand scheme of things the Canadiens did not lose much in talent in free agency.
Byron is unlikely to return to play due to his unfortunate injury, but it does seem like he has a future with the team, especially when it comes to player development.
.@jpbyron89: A true team player#GoHabsGo | @RBC pic.twitter.com/0gx1Jki5Xq

— Canadiens Montréal (@CanadiensMTL) July 4, 2023