Canadiens Projected AHL Defensive Lineup For Laval Rocket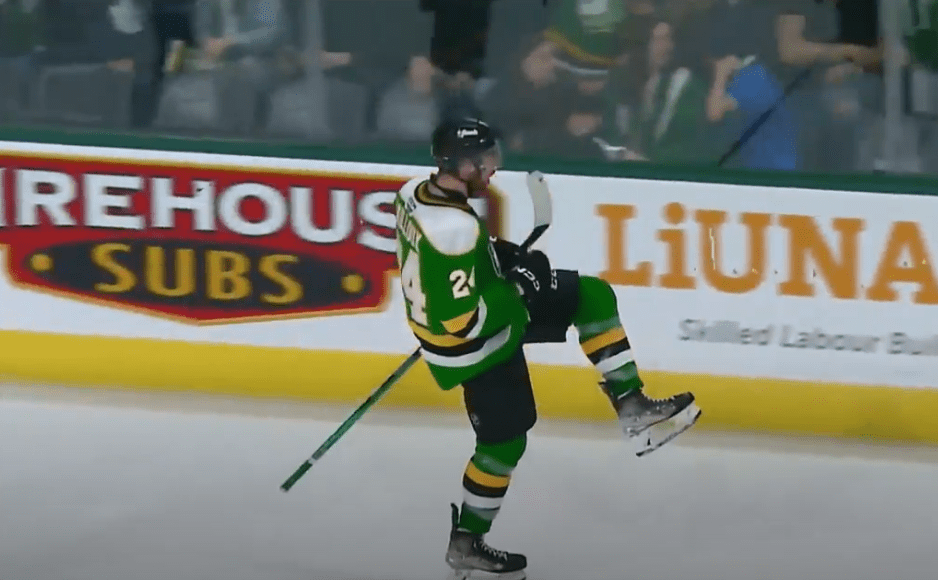 We've already established that the Montreal Canadiens will be sending an influx of talent to the AHL next season.
Players like Lias Andersson, Joshua Roy, Riley Kidney, and Filip Mesar should offer a significant offensive boost to the forward lineup, and what's more, they're the type of players that still hold NHL potential, unlike the majority of the players the Rocket have relied upon in the past.
MUST READ: Projected AHL Forward Lineup For The Laval Rocket
But what about the defensive lineup?
Hockey fans are well aware that you'll only go as far as your defencemen and goaltenders can bring you, which puts an onus on building a strong defensive base in the AHL.
Newcomers to the Montreal Canadiens AHL Affiliate
The first question that must be answered is where Logan Mailloux will play next season.
He is yet to be cleared by the NHL, however, the Canadiens did ask to meet with the league to clear up the situation regarding his NHL eligibility, which was suspended due to the defamation and indecent photography charges.
As we wait for the results, we should point out that Mailloux's AHL eligibility is unlikely to be tied to his NHL eligibility, which means we can safely say that there are decent chances he'll feature on the Rocket blueline at some point next season.
Besides, there's nothing left to learn in the OHL for a player of Mailloux's ilk. He already overpowers the majority of his opponents due to his physical maturity. It's time for him to delve into the intricacies involved in playing professional hockey.
Learning from the Canadiens' development team will do him more good than dominating younger players in the OHL.
The Rocket will also receive reinforcements in the form of 2022 seventh-round pick Miguel Tourigny. He was drafted as an overage player, which means he's arriving in Laval with the benefit of having played professional hockey last season in Slovakia. Tourigny earned six goals and 20 assists in 46 games for Trencin Dukla. Tourigny, along with Brady Keeper, will provide depth for Rocket head coach Jean-Francois Houle, though Tourigny has the potential to become more than just a third-pairing defenceman.
Miguel Tourigny, a 5'8'' 2+ overager dman Montreal selected in the 7th round, looks surprisingly fantastic. Certainly one of the best looking bets from the 7th round. pic.twitter.com/Nk0pOjcENN

— Byron Bader (@ByronMBader) July 12, 2022
Returning Players
Jayden Struble only played nine games with the Rocket last season, but we're going to include him in the list of returning players since he will have a step up on the newcomers when it comes to absorbing information from the coaching staff and using it when necessary during games.
Struble will be joined by William Trudeau, who stood out at both the 2022 and 2023 Development Camps, and projects as a defenceman that rarely makes the wrong decision, all the while maintaining a fairly reserved profile on the ice. In other words, he doesn't cause headaches for his coaches, which is exactly what you want to see from someone who doesn't necessarily possess elite talent.
Mattias Norlinder, Nicolas Beaudin, Olivier Galipeau, and Tobie Paquette-Bisson round out the other available defencemen in the AHL.
Reinbacher Situation
David Reinbacher, the 5th overall pick at the 2023 NHL Entry Draft, could play in the Laval next season, but seeing as he expressed interest in graduating from his business program in Switzerland, and that his development with Kloten HC has gone well up to this point, there are decent odds he will start in the NLA for at least one more year.
But even if he does join the Rocket ahead of schedule, his entry-level contract will slide, which means we don't have to worry about a raise in Reinbacher's case for several years.
The only situation in which his contract kicks in immediately is if Reinbacher makes the Montreal Canadiens lineup out of training camp this autumn, which is an unlikely outcome.
Brass Tacks
As per usual, there are too many left-handed defencemen, which means we'll have to take the positions listed with a grain of salt. There's also the possibility that someone like Justin Barron may end up in the AHL, but for now, we'll assume he has a job on the Canadiens blueline.
Things can, and will change, but assuming Reinbacher stays in Switzerland, the Laval Rocket blueline is projected to look roughly as follows:
William Trudeau – Logan Mailloux
Jayden Struble – Miguel Tourigny
Tobie Paquette-Bisson – Nicolas Beaudin
Olivier Galipeau – Mattias Norlinder
Brady Keeper