Canadiens Late First-Round Pick Gives Hughes More Options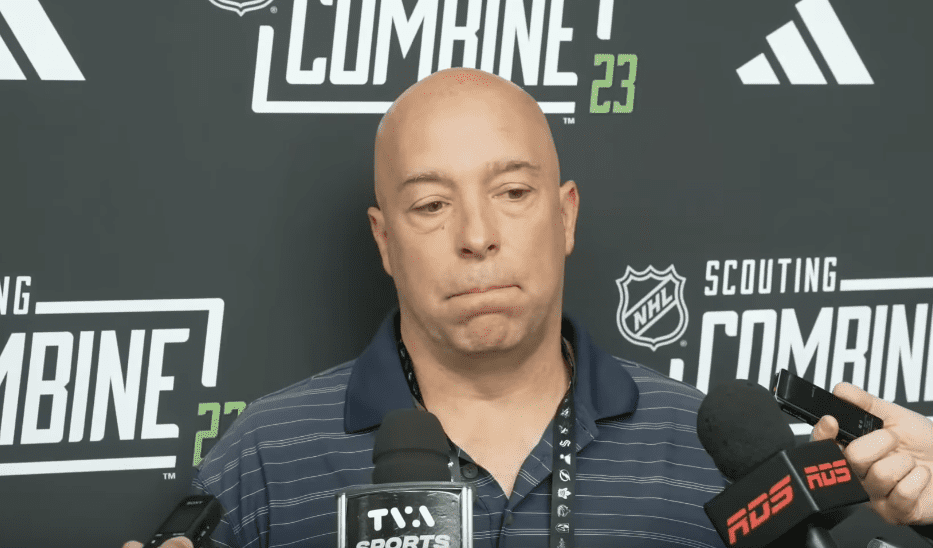 The Montreal Canadiens have a very good idea of where they'll be drafting in the first round of the 2023 Draft.
They have the fifth overall pick, which is their own, as well as the Florida Panthers' first-round pick, which will either land at 31st or 32nd overall.
And while they'd be foolish to ignore the wealth of talent available during the early parts of the first round, players like Will Smith, Zach Benson, and Matvei Michkov, the Panthers' pick should allow Kent Hughes and Co. to consider several options leading up to, and during the Draft.
To give an indication of how good this 2023 draft is…

The top 10 from the 2022 Hockey Prospecting Top 32 had a avg star probability of 43%.

The top 10 from the 2023 Hockey Prospecting Top 32 have a avg star probability of 67%.

It's nice.

— Byron Bader (@ByronMBader) June 11, 2023
Hold The Line (Odelein!)
Historically speaking, a late first-round pick has a very low chance of becoming a star player.
Canadiens fans are well aware of this phenomenon, especially when you consider the team drafted Michael McCarron (2013 – 25th overall), Nikita Scherbak (2014 – 26th overall), Noah Juulsen (2015 – 26th overall), and Ryan Poehling (25th overall – 2017) in the span of just five years.
Of course, it's rather hard for any team to enjoy a successful draft when their development program has the efficiency of a construction crane operated by a half-blind, drunken octopus, which was the case for the Canadiens for well over a decade, but the fact remains that late picks are far from a guarantee.
However, the upcoming Draft may very well present the team with several great options, not only because it's one of the richest prospect pools in recent history, but also because of the variance among NHL teams and their preferred draft lists.
We can safely assume that some teams will simply not see the value in certain players, whereas others, like the Canadiens, may jump at the chance to pick a player they feel should have gone earlier.
For example, if defender Mikhail Gulyayev falls in the draft due to his place of birth the Canadiens would be wise to take advantage of the market inefficiency and select a player that should have gone in the top 15, much like they did when they picked Lane Hutson at 62nd overall in 2022.
Zellweger in 2021, Hutson in 2022… lets see if teams do it to us again in 2023. pic.twitter.com/e1wSJ9x7BM

— Byron Bader (@ByronMBader) May 18, 2023
Immediate Help
Hughes has made it quite clear he's open to the idea of adding a young player that could serve as an immediate boost to his current lineup, as he did when he traded for forward Kirby Dach.
And while the Dach experiment yielded fantastic results, we should keep in mind that reclamation projects in the NHL don't always lead to success.
In fact, it's rather rare.
Simply put, there are a lot more Alex Galchenyuks in the league than Kirby Dachs.
Some will suggest that the Panthers' pick should be used in a trade with the Winnipeg Jets for Pierre-Luc Dubois, though it has been reported the Jets are looking for a more bountiful return on their young centre.
But even if the Jets and Canadiens cannot come to an agreement over Dubois' value, which seems to be the case, the first-round pick could be in play once Dubois is traded to another team and trade negotiations start anew.
Moving Up/Down
Moving up in the Draft usually costs an arm and a leg, which mitigates some of the value involved in making a play in the first round.
But seeing as the 2023 Draft is loaded with talent and teams tend to have significant variance in their draft value lists, the Canadiens could have an opportunity to leverage their late first-round pick into a package that will allow them to select their preferred player.
In traditional draft value charts, moving up from the fifth overall pick to the third overall pick should cost a team a second-round pick, at most.
But all bets are off this summer. There are simply too many skilled players available to use historical values. Teams are unlikely to accept a second-round pick to move down, but an additional first-round pick may be enough to pique their curiosity.
By the same token, the Canadiens should strongly consider any trade offer from a team looking to move up, particularly if they're interested in the 31st or 32nd overall pick.
It's a concept that should be a little easier to accept for fans when you consider the Canadiens will have already added a top-5 player to their prospect pool.
Statistically speaking, moving down in the NHL Draft brings fantastic value to the team giving up the better pick, and as previously stated, 2023 has the potential to offer the best trade-down value in recent years.