Canadiens Practice Notes: Monahan Absent, Guhle Returns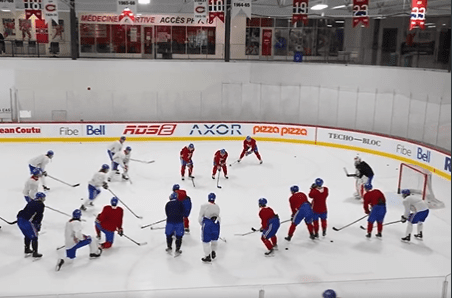 The Montreal Canadiens got some good and bad news at practice today, as they get set for one of the most gruelling parts of their schedule this year.
The Canadiens are set to play seven of their next eight games on the road, starting Tuesday against the New Jersey Devils.
With injuries having decimated the Habs' ranks this season, there's been a constant flow of returning players and new names added to the injury list.
Today was no different:
The Bad News
On the bad news, veteran Sean Monahan, whose rehab process head coach Martin St-Louis had described as having reached a plateau, was not on the ice on Monday morning.
It's a worrying sign for the Canadiens, who were hoping to flip Monahan at the NHL Trade Deadline in exchange for some interesting assets.
The 28-year-old veteran has been battling a lower-body injury since the beginning of December and has seemingly had a few setbacks on his road to recovery.
It's starting to become a worrying situation, as it doesn't look likely that we'll see the rugged centre suit up for the Canadiens this season.
Monahan wasn't the only player missing that raised some eyebrows, as Kirby Dach, who has missed the last two games due to a virus, was also missing from practice on Monday.
The 22-year-old centre has been one of the Canadiens' most important players this season, especially after the injury to Cole Caufield.
The Canadiens announced that both forwards, along with defenceman Chris Wideman, missed practice today in order to receive treatments.
Neither is expected to play in tomorrow's game against the Devils.
Les attaquants Kirby Dach et Sean Monahan ainsi que le défenseur Chris Wideman ne participent pas à l'entraînement ce matin (traitements).

Forwards Kirby Dach and Sean Monahan, as well as defenseman Chris Wideman, aren't practicing today (treatments).

— Canadiens Montréal (@CanadiensMTL) February 20, 2023
The Good News
As the Montreal Canadiens await further clarity as to the extent of Arber Xhekaj's injury, Kaiden Guhle made his triumphant return to practice.
The 21-year-old has been missing from action since the start of the New Year after injuring his knee against the Florida Panthers in late December.
His initial prognosis had him pegged to return sometime in late February or early March, and Guhle appears to be right on schedule.
He was seen practicing in a non-contact jersey, indicating that he's now ready to begin the final phases of preparation as he gets set to return to the Canadiens lineup soon.
The Canadiens confirmed he will be traveling with the team to New Jersey.