Canadiens Prospects Hutson And Fowler Shine In NCAA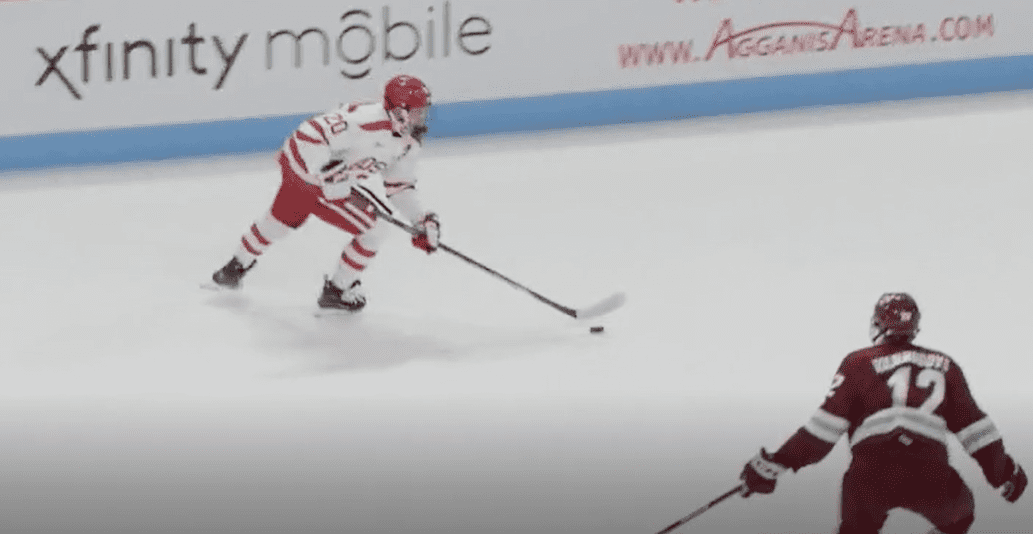 For a brief yet stressful moment, it seemed like the Montreal Canadiens injury curse had extended to the collegiate ranks.
Top prospect Lane Hutson was among the many players in the organization who had to miss a game due to an injury, but thankfully for all concerned he only missed one matchup before returning to play for the Boston University Terriers against UMass on Friday night.
The Terriers won 5-2, and as expected, Hutson wasted little time making an impact.
He started the game by sending 6'2 UMass forward Aydar Suniev to the netherworld with some of the nicest dangles you'll see this week. Hutson set the trap, only to leave him so far behind that Suniev had to pay for a ticket to re-enter the arena.
More angles of the sweet Lane Hutson dangle: pic.twitter.com/X9G0I04ezv

— Marc Dumont (@MarcPDumont) October 27, 2023
Hutson followed it up by tying the game for the Terriers, who have admittedly struggled through the first stretch of their calendar.
The goal was yet another clip involving Hutson opening up shooting lanes while improving his shooting position.
The 2022 second-round pick has never lacked confidence, but it seems that he's approaching his sophomore season with a renewed sense of vigour and intensity, which is bad news for Hockey East goaltenders.
#GoHabsGo prospect Lane Hutson follows up his sweet dangle with a goal to tie the game for the Terriers. #HutsonThings pic.twitter.com/zuBW7JCbOg

— Marc Dumont (@MarcPDumont) October 27, 2023
Sweet Combo
Hutson has shown instant chemistry alongside one of the most talented players in the NCAA, a player who also happens to be just 17 years old.
2024 top-prospect Macklin Celebrini entered the game with an impressive five goals in just four games, ample evidence to suggest that he's the type of player who possesses game-changing talent.
He scored Boston University's second goal of the game during a nice give-and-go, a play that gave Hutson his second point of the night.
Macklin Celebrini is going to be a problem for a lot of NHL teams. pic.twitter.com/klD64drYVp

— Marc Dumont (@MarcPDumont) October 27, 2023
Hutson wasn't done there. He and Celebrini combined for yet another goal, giving the Terriers a much-needed insurance goal late in the third period.
With the three-point effort in the books, the Habs prospect has now scored two goals and three assists in four games this season.
Lane Hutson gets his third point of the game, while on the power play. Celebrini assists as well. That combo is lethal. #GoHabsGo pic.twitter.com/KqZXFhDYlo

— Marc Dumont (@MarcPDumont) October 28, 2023
Bonus footage: The Montreal Canadiens prospect pulled off one of the most casual spin-o-ramas you'll ever see.
Casual Lane Hutson spin-o-rama #GoHabsGo pic.twitter.com/Tu8TvbBK8D

— Marc Dumont (@MarcPDumont) October 28, 2023
Fellow Canadiens prospect Luke Tuch also got into the action.
#Habs prospect Luke Tuch seals the win for Boston U with an empty netter. pic.twitter.com/1tF7QIlGNn

— Marc Dumont (@MarcPDumont) October 28, 2023
Fighting Fowler
Goaltending prospect Jacob Fowler was looking to bounce back while facing Michigan State in the sixth start of his NCAA career. Fowler allowed four goals in back-to-back starts before Friday's game, however, he was still hoping to earn his fifth win of the year.
As per usual, Fowler was incredibly stoic.
The rookie netminder tracks the puck well, which means he does not have to make many adjustments. That allows him to be set for most shots, and consequently, makes his 'highlights' rather boring.
But that's a very encouraging sign when it comes to goaltenders.
Fowler made 38 saves on 39 shots in the win, most of which looked effortless. It was a very solid bounce-back effort to backstop the 5-1 Boston College victory.
#GoHabsGo prospect Jacob Fowler has made 24 saves on 24 shots so far vs. Michigan St. pic.twitter.com/tis66Fbya1

— Marc Dumont (@MarcPDumont) October 28, 2023