The Canadiens Looking To Boost Mesar's Development In OHL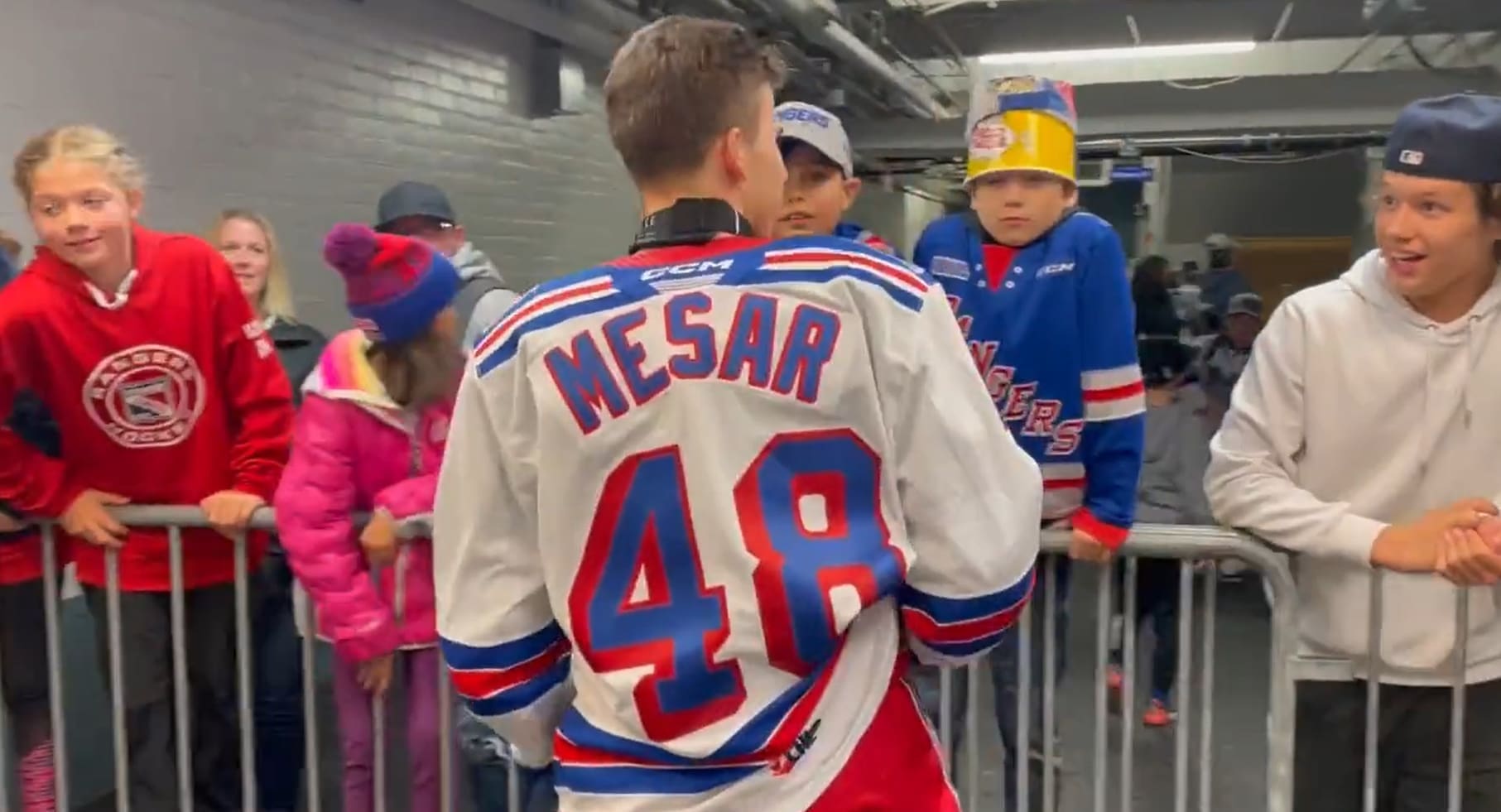 The Montreal Canadiens could have kept Filip Mesar with the Laval Rocket in a bottom-six role, but, by sending him to the OHL, they showed they still have big plans for the young forward.
Although some Montreal Canadiens fans may have already soured on the 19-year-old, general manager Kent Hughes and the rest of the management staff still view Mesar as a projectable top-six player, with lots of runway left for him to uncover his true offensive potential.
After a strong start to his junior career last season with the Kitchener Rangers, Mesar went to the World Juniors and was one of Slovakia's most critical players; things were looking up for the slippery forward. However, when he returned to Kitchener in January, the team had undergone significant roster changes, and began slumping to the point where General Manager Mike McKenzie took over the role of head coach.
TIE GAME! Libor Nemec finds the equalizer and Slovakia has Canada on their heels 🔥

Assists to Filip Mesar (#GoHabsGo) and Simon Groch.

🎥: @TSN_sports pic.twitter.com/lmm8ripEtf

— EP Rinkside (@EPRinkside) January 3, 2023
With the awkward team environment and the grind of an 80-game schedule weighing down on his body, it was a valuable lesson for the youngster in preparing himself for the marathon of a hockey season in North America; one he immediately put to good use. Mesar spent the summer upping his conditioning levels and developing the finer details of his game to be ready to make a more consistent impact this season; with the goal of jumping straight to the AHL with the Laval Rocket.
After going through the Montreal Canadiens' rookie and main training camps, Hughes assigned Mesar to the Laval Rocket to see if he could lock down a spot in their top six. It was the challenge that Mesar had been waiting for the entire time.
"Right after camp, we had a meeting. They told me they see me as a top-six player in Laval, and, if that wasn't going to work out, they would find another way," said Mesar  in a recent interview with Montreal Hockey Now "They said they see me as a top-six, offensive player that can run a powerplay."
However, the acquisition of Tanner Pearson seemingly had a repetitive domino effect that led to an even greater logjam of forwards in both Montreal and Laval. Pearson's inclusion on Montreal's starting roster forced the Canadiens to waive Joel Armia, which gave management even more of an excuse to send Mesar down to the OHL, despite showing he belonged at the AHL level.
Filip Mesar grabs his first AHL point on a slick secondary assist on Riley McKay's first goal of the year! pic.twitter.com/Ju159ZPAjg

— Scott Matla (@scottmatla) October 20, 2023
"When Joel Armia and Emil Heineman were sent down to Laval it bumped me from my spot and staying with the Rocket no longer became the best option for me." said Mesar on the roster domino effect. "Kent (Hughes) called me and said that it would be better off to go to the OHL, because I'm going to get a lot of ice time there and play a ton of powerplay minutes. It's better for me than staying in Laval and playing third or fourth-line minutes with little powerplay time."
Mesar and Hughes both agreed that the youngster could have stayed in Laval for the season and waited for his opportunity to crack the roster, but that wouldn't have been conducive to his long-term development.
Instead, Hughes chose a route that will most surely favour Mesar's offensive development.
Right Place, Right Time
Adding more ammo to the decision to send Mesar back to junior was the surprising resurgence of the very same Kitchener Rangers and their offensive dominance in the OHL.
Mesar admitted that, when he saw the writing on the wall, he started watching their games to see what he would have to look forward to; and he quickly began to get excited about the possibilities.
"I watched games and highlights and I was pretty excited," admitted Mesar when it came time to weigh his options. "What I heard from the coaches and the players was that the atmosphere was really nice and there was a great new system on the ice."
And he's not wrong. Since his appointment as head coach of the Kitchener Rangers, Jussi Ahokas has turned the team into a well-oiled, offensive machine predicated on speed and skill; tailor-made for a player like Mesar.
The Rangers currently lead the entire OHL in scoring with a whopping 57 goals in just 11 games, while sporting an impressive 8-3-0 record; second only to the Mississauga Steelheads in the OHL.
It's easy to see why the Montreal Canadiens saw the value in sending their top offensive prospects to play in such an environment, alongside Carson Rehkopf (Seattle Kraken), Hunter Brzustewicz (Vancouver Canucks), Matthew Sop and Adrian Misaljevic; whom are respectively first, second, third and fourth in OHL league scoring as of the writing of this article.
Although Mesar was able to round out his game last year and develop a much stronger two-way approach; it was the high-end offensive contributions that were lacking and turned off much of the hopeful fan base.
The expectation in Kitchener is for Mesar to get top-line minutes with prime powerplay usage right from the get-go; giving him the opportunity to develop his offensive game and put up significant numbers.
"I want to show that I am an offensive leader and that I can be the type of player that helps teams win championships," said Mesar on his goals for the season. "My goal is to develop as a leader, put up points, and do so without hurting my team defensively. I want to ready myself for an offensive role at the professional level."
The Canadiens are set to follow his development closel. With development staff like Adam Nicholas and Rob Ramage keeping close tabs on him, the Montreal Canadiens are sticking to the plan and hoping their patience pays dividends when they're ready to compete.
If the goal is to defy NHL betting odds and jump into a playoff spot in the not-so-distant future, the Montreal Canadiens will need players like Mesar to significantly improve their development curve; and Kitchener, against all odds, looks like it could be the right place for him to do just that.
*For more NHL betting lines and futures, head over to FanDuel.