Bear vs Bull – A Montreal Canadiens Performance Evaluation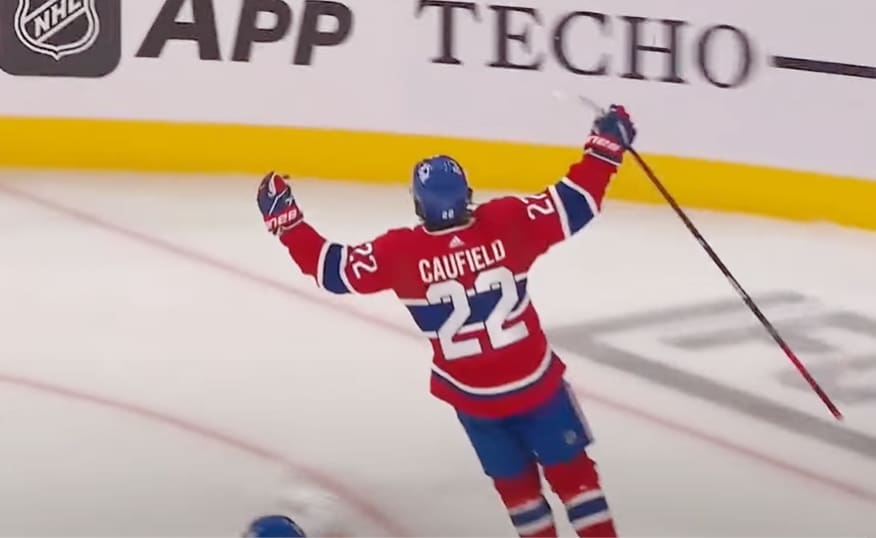 With six regular-season games in the books, we can see some storylines emerging from this edition of the Montreal Canadiens.
The sample size is still small, but some trends are starting to appear, and like in the stock market, we can speculate on what assets could be depreciating or appreciating.
So, who are the risers and fallers? And should we be bearish or bullish on this team?
To The Moon – Risers
Sean Monahan – Tanner Pearson

Both players have an eerily similar storyline of joining the Montreal Canadiens as damaged goods, with no expectations, proving solid contributors.
They're currently tied for second in points while playing key roles on both special teams. Monahan also leads all Habs centerman with 58.3% efficiency in the faceoff dot. Both could also become attractive rental options – further feathering Kent Hughes' cap – if the Habs end up sellers at the trade deadline.
Sean Monahan's goal tonight pic.twitter.com/3A55avSIE0

— HFTV (@HabsFanTV_) October 22, 2023
Jake Allen – Cayden Primeau
No Montreal Canadiens goaltender had a great pre-season camp, casting doubt over who should be the lead masked man.
But since a shaky first game against the Maple Leafs, Jake Allen has been outstanding against the Capitals and Sabres (posting .939 and .973 save percentages, respectively).
Cayden Primeau only saw one game, against the powerful New Jersey Devils, and ended up with a low save percentage of .879.
The eye test, however, tells a different story.
He prevailed against some dangerous shots and made some frankly impressive saves. He couldn't steal the game as the team collapsed in the third period, but this micro sample size is extremely encouraging.
CAYDEN PRIMEAU WITH THE ROBBERY! pic.twitter.com/FVKnOhgTLX

— Marc Dumont (@MarcPDumont) October 24, 2023
Justin Barron
After a lacklustre camp and a few games in the press box, Barron's number was called.
And just like last year, he rose to the occasion. The mobile defender notched two goals in three games while looking sturdy, steady, and confident.
Juraj Slafkovsky
The first-overall pick of the 2022 draft seemed increasingly comfortable alongside Kirby Dach.
It was feared he would lose his spark with the latter's injury, but it appears he found some chemistry with Alex Newhook. Production will have to come at some point, but Slaf's underlying numbers and general play look great on most shifts.
Martin St. Louis shelters the 19-year-old, as he only averages under 15 minutes of play per game and barely sees power play time, but it feels like he's on the verge of unlocking the next gear. And I'll be here for it.
Jesse Ylönen
Forwards playing bottom-six minutes must contribute somehow, if not offensively.
It appears Ylönen understood the assignment, and is slowly becoming an effective defensive forward before our very eyes. He's been quite useful on the penalty kill (PK) and has been playing a very responsible, two-way game, at even strength.
He's been shy with his heavy wrist shot, but it could become a welcomed addition to the PP if Martin St. Louis decides to lean on him.
Cole Caufield
In order to win, your best players must be the best players.
While Caufield doesn't seem to be buzzing like last year (we'll get into possible reasons below), he still silently leads this team in points. He looks stronger, too, using his shoulder pads more, and challenging opponents with more authority.
Cole Caufield: noted bruiser. pic.twitter.com/z8qjsUv95l

— Matt Drake (@DrakeMT) October 22, 2023
Buyer Beware – Fallers
Arber Xhekaj
Xhekaj brings a unique physical element to this team and has a knack for getting shots to the net from afar. His underlying numbers have been excellent to start the season, but his impact has been negative, due to his indiscipline. His 25 penalty minutes place him as the fourth-most penalized player in the league.
Many of those were taken after the whistle and could be easily avoided – the coaches' patience may be running thin.
Arber Xhekaj avec deux minutes de pénalité pour rudesse… pic.twitter.com/16xLt9xeKH

— L'Antichambre (@Antichambre) October 24, 2023
Samuel Montembeault
After a lukewarm camp (at best), and a couple of poor showings against Chicago and Minnesota, the Bécancour native presents a weak .892 save percentage, good for 39th in the league. After Primeau's recent great game, Montembeault could very well have already painted himself in the "third goalie corner".
Josh Anderson
If insanity is trying the same thing over again and expecting different results, then Martin St. Louis is mad.
The combination of Caufield-Suzuki-Anderson has never shown conclusive results in previous seasons, yet, isn't dismantled for some reason. Furthermore, Anderson, a North-South type of player who has limited passing skills, is employed on the power play… where East-West gameplay and precise passing are paramount!
We can't pin the PP's iffy results on Anderson alone, but he just isn't in the "right chair". In a vacuum, Anderson has been playing decently, showing softer hands and better vision than before, but it simply isn't meshing with 14-22. There has to be a better chair for him.
Nick Suzuki
Perhaps it has to do with fatigue, as the Montreal Canadiens captain is the second-most-used player – averaging 20:37 minutes per game, employed on both the PK and PP – but it seems Suzuki has not been as defensively reliable or offensively effective this season.
His patented cross-seam pass to Caufield on the PP has not been working (teams likely caught on). He and Caufield being paired with Josh Anderson – an ongoing failed experiment – also doesn't help.
Volatile Stocks
"Uncertainty is the refuge of hope." – Henri Frederic Amiel
Mike Matheson
Which Mike Matheson will we see next game? Pre-season, high-flying Matheson, who dominated and was seemingly involved in every play, or the bland version we saw the first five games of the season?
WOW.

Mike Matheson with an early goal-of-the-year candidate.

End-to-end beauty. pic.twitter.com/MLJLiz5bSf

— Marc Dumont (@MarcPDumont) October 25, 2023
Brendan Gallagher
The 31-year-old has been slowed by injuries and looked gassed out on most nights.
But it appears he is adjusting and finding ways to be impactful, with limited ice time. Plus, he still occasionally pots his signature Gally Garbage Goals.
Will he keep contributing and stay healthy?
Another classic Gallagher goal.

He ends up with Sabres on top of him, but the puck is in the back of the net.

2-1 #Habs pic.twitter.com/ZscRda1TXM

— Marc Dumont (@MarcPDumont) October 24, 2023
Team Evaluation
With a record of 3-2-1 (.583), the Montreal Canadiens find themselves in the middle of the pack, 15th in the league standings.
Is this a wild-card playoff team?
Their showings against top teams are encouraging. They took Toronto to overtime and had a close game against the Devils (for the first two periods of a back-to-back).
This team has issues, but none more apparent than their lack of discipline – the Montreal Canadiens are the second most punished team, with 113 PIM. It's difficult to win games when you spend most of them shorthanded, and it doesn't help that the PK unit ranks 19th in the league.
To make things worse, players are constantly blocking shots on the PK and this is what led to David Savard fracturing his hand – the third player to get significantly injured in six games. Lazy mental gymnastics would predict this entire 23-man roster to be depleted by game 46, as they lose a player every other game. The bleeding has to stop. Literally!
#GoHabsGo Defenseman David Savard will be out indefinitely with an upper-body injury.pic.twitter.com/byZCIkHUvp

— SiriusXM NHL Network Radio (@SiriusXMNHL) October 24, 2023
And while on the subject of special teams, the drop pass to Suzuki for power play zone entry is so predictable! Maybe switch it up?
Ranking 17th in the league, there is room for improvement.
A rule of thumb for great special teams' is for their success rates to add to 100%. Their combined PP (16.7%) and PK (75.8%) fall short, at 92.5%.
Bullish Or Bearish?
I'm feeling bullish – I like the stock (in the short term).
This team wins against weak-ish teams and can play with the better ones.
But it's a fragile bubble that could quickly burst.
_______
What's the sentiment on the Street? Are the Montreal Canadiens a playoff team? Let us know in the comments below.