Canadiens Allen, Pearson, & Gallagher Star In Sabres Win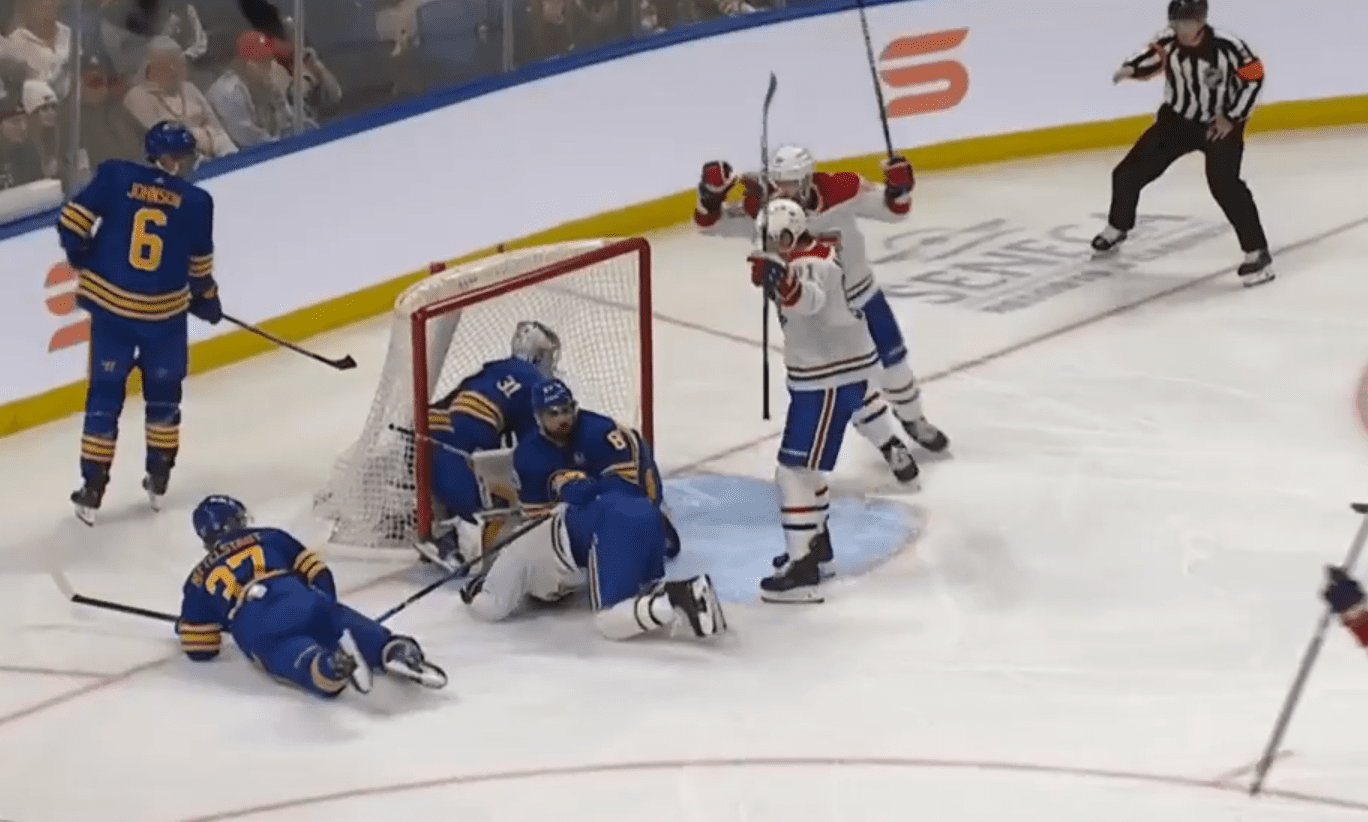 The Montreal Canadiens headed to upper-state New York on Monday to face the Buffalo Sabres.
The Sabres held an edge in shots, but Jake Allen stood tall enough to secure a 3-1 win for the Habs.
Let's dive right into it.
Gallagher Resurgence
There's some great news for the Canadiens.
Not only has the third line looked great in recent games, due in large part to Sean Monahan's strong transition game and Tanner Pearson's offensive prowess, but it's also producing goals, thanks to Brendan Gallagher's reckless abandon when it comes to preventing injuries to his body.
He once again scored a classic Gallagherian goal.
Much like Saturday night's goal against the Capitals, Gallagher went straight to the paint, resulting in a fantastic second-chance scoring opportunity.
It's probably too early to declare that Gallagher is back to playing like his old self, but this start to the season combined with his late-season results last year are rather encouraging.
"The Gallagher" pic.twitter.com/C0FejSwyDc

— Marc Dumont (@MarcPDumont) October 24, 2023
Pearson ended up scoring the insurance goal late in the third period.
Again, it's too early to make any long-term projections, but Pearson has looked great since the Vancouver Canucks paid the Canadiens to take him off their hands.
He may not be the fastest skater, but his offensive prowess is impossible to deny.
Tanner Pearson has been EXCELLENT since joining the Habs.

He scores here after a nice PP play by the Habs to give them a 3-1 lead. pic.twitter.com/LSUqSHu809

— Marc Dumont (@MarcPDumont) October 24, 2023
Defensive Output
Kaiden Guhle's injury is unfortunate, but at the very least, it presented Justin Barron with an opportunity to remind the Habs what he brings to the table.
It took less than three minutes, but Barron opened the scoring thanks to his excellent shot, his quick reaction time, and, of course, a little luck when it came to the deflections.
Considering he started the year as the seventh defenceman, very few expected Barron to be the first blueliner to score for the Canadiens this year. However, he's shown that he can produce at every level, including the NHL.
There's still some work to be done when it comes to Barron's decision-making in the defensive zone, but his offensive prowess is always worth noting.
Justin Barron's goal tonight pic.twitter.com/pffk4kXLBS

— HFTV (@HabsFanTV_) October 23, 2023
Jacques Alain
Goaltender Jake Allen had yet another solid outing for the Canadiens, building upon the momentum he gained against Alex Ovechkin and the Washington Capitals.
Jeff Skinner's first-period goal was far from great, and you'd like to see Allen make those types of saves with more regularity, but he stood tall when the Canadiens needed it most, particularly in the second period. Montreal had a very hard time shutting down the Sabres rush, which led to several high-danger scoring chances.
The Canadiens net is up for grabs, and it seems like Allen is intent on taking the reins.
Solide performance

Dialed in#GoHabsGo pic.twitter.com/2w6Dcbr6LA

— Canadiens Montréal (@CanadiensMTL) October 24, 2023
Terrible Teams
As per usual, the special teams struggled. Pearson flipped the script late in the game, but overall, it was hard to watch.
It's also worth pointing out that the referees seem intent on calling tighter games this season. Not all the calls will make sense, such as the incredibly soft crosschecking call on Barron in the second period. Cross-checking is a judgement call by the referees, which means it's not black and white, but you'd be hard-pressed to argue that type of call could not occur roughly 72 times per game.
Regardless, if that's the new standard, the Habs will have to adjust, and they'll have to do it quickly.
The Justin Barron penalty. pic.twitter.com/1tUBAPOVM9

— Marc Dumont (@MarcPDumont) October 24, 2023
Physical Play
I just wanted an excuse to post this Johnathan Kovacevic hit.
Look at it.
It's beautiful.
I'm sure Pierre McGuire felt a disturbance in the force, wherever he is.
Kovacevic takes out two Sabres with one hit! DOUBLE KOVACEVIC! pic.twitter.com/YWOIEbkEc4

— Marc Dumont (@MarcPDumont) October 24, 2023
The Montreal Canadiens are back in action on Tuesday, facing the New Jersey Devils. The puck drop is scheduled for 7:15 p.m. ET.
---
All Montreal Canadiens statistics are 5v5 unless otherwise noted. Via NaturalStatTrick.