Montreal Canadiens Preseason Statistics: Slafkovsky Flourished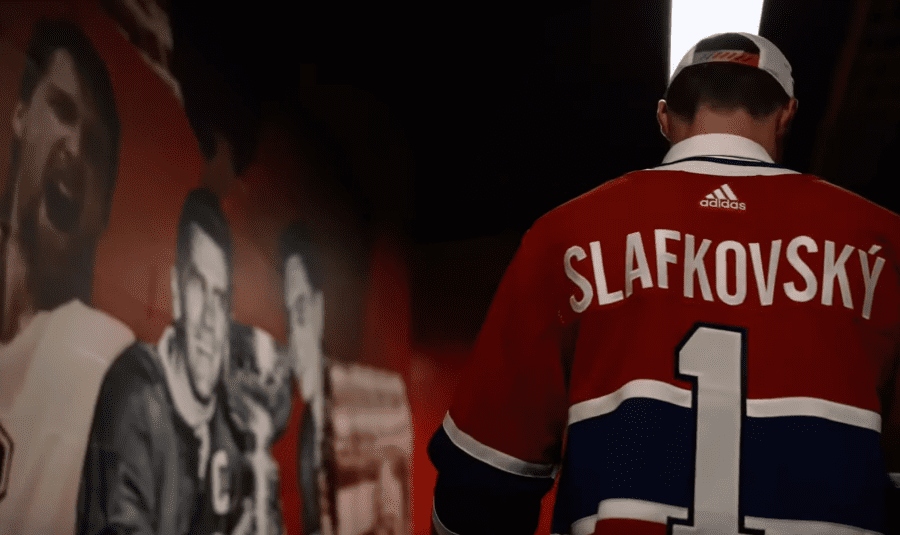 Now that the season is upon us, it's time to take a look at how certain members of the Montreal Canadiens performed during the preseason schedule.
The Canadiens played six games in total and emerged with a win in half of their contests.
Neither the Toronto Maple Leafs nor the Ottawa Senators iced their best lineups, but there was nothing Habs players could do to control the lineup iced by their opponents.
They could, however, use the situation the produce encouraging numbers ahead of the 2023-24 season.
Production
Shockingly, captain Nick Suzuki was one the most productive players in the lineup, even though you could argue that it was rather apparent he was holding back. Suzuki was the only player who featured in all 82 games last year, which explains why he regulated how much energy he used during the preseason.
Regardless, he still managed to finish as the Canadiens' second-most potent offensive weapon in the preseason, trailing only Sean Monahan, who showed several flashes of brilliance from a playmaking standpoint.
It's also worth noting that Juraj Slafkovsky finished among the team's top-five players, a very encouraging statistic when it comes to the 19-year-old's potential production this season.
Again, these are just preseason numbers, and things will change once the regular season begins, but at the very least, Slafkovsky showed he can produce when used on a line with players who are good in transition and excellent at retrieving pucks, ie: Kirby Dach and Rafael Harvey-Pinard.
A stick tap goes out to Michael Pezzetta, who quietly goes about his business while producing very reasonable numbers from the fourth line.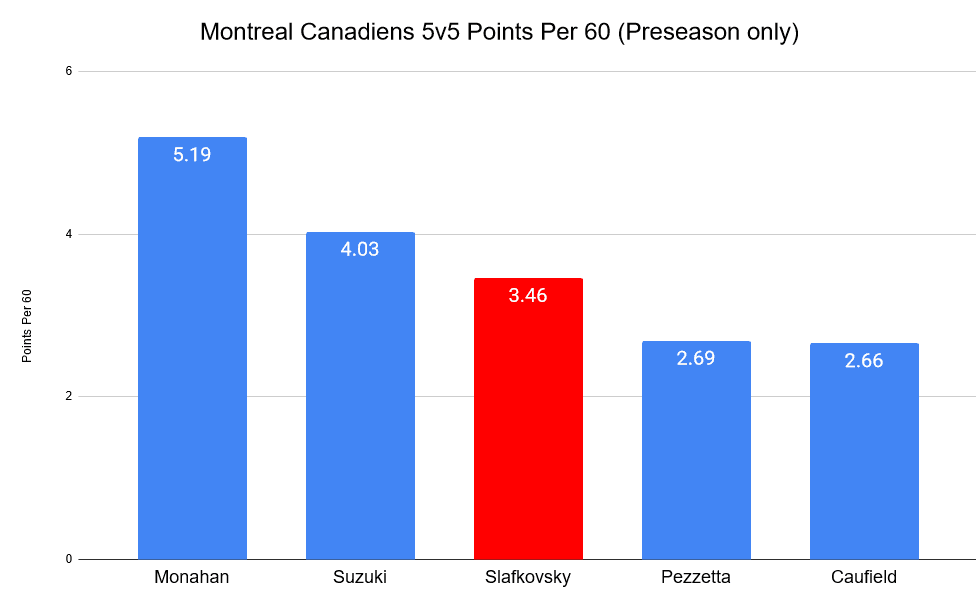 Individual Chances
To get a better idea of how some of the players performed from an individual standpoint, we can verify how many individual high-danger chances per 60 minutes of ice time they generated.
Newcomer Alex Newhook may not have produced much in terms of raw offence during the preseason, but he led the Habs when it came to generating quality chances, and it wasn't a very close race.
Slafkovsky finished second among all Canadiens players, and it should be noted that he's not getting an advantage due to playing more than his teammates. All the results are filtered by 60 minutes of ice time, which levels the playing field.
Good work by RHP and Dach to find Slafkovsky. He gets a breakaway, but can't beat Jones, who steps on the puck.

Slafkovsky keeps improving throughout the preseason. pic.twitter.com/B7hljRIXmu

— Marc Dumont (@MarcPDumont) October 1, 2023
And I'd be remiss if I didn't point out that our buddy, Pezzetta, is once again among the team's best players in this particular statistical category.
Montreal Canadiens Possession Numbers
When it comes to some of the metrics that act as proxies for possession, such as shot share (CF%), a rather surprising name jumped to the top of the list.
While Jesse Ylonen was on the ice, the Canadiens controlled well over 70 percent of the shots. Considering Ylonen is one of the few players in the lineup that also possesses an elite shot, his inclusion in the opening-night 23-man roster should not have come as a surprise.
And while my goal in this article was not necessarily to highlight Pezzetta's value, I am bound by the numbers to paint a certain story.
In this case, the numbers are telling me that Pezzetta enjoyed a VERY solid preseason.
As an aside, William Trudeau finished sixth among all Canadiens players when it came to shot share (64.52 CF%).
Shot Share (CF%)
The last metric we'll discuss is expected goals for percentage (xGF%).
Why is it important?
It serves as a tool to project future results, based on several important factors: shot type, shot distance, pre-shot movement, etc.
In otherwords, it lets us know if certain performances are sustainable or not.
That value is mitigated in the preseason to a certain extent due to the terrible lineups the Habs faced, but it's worth pointing out that Ylonen once again finished first among all Montreal Canadiens players, and that Mailloux was the top defenceman.
Expected Goals For Percentage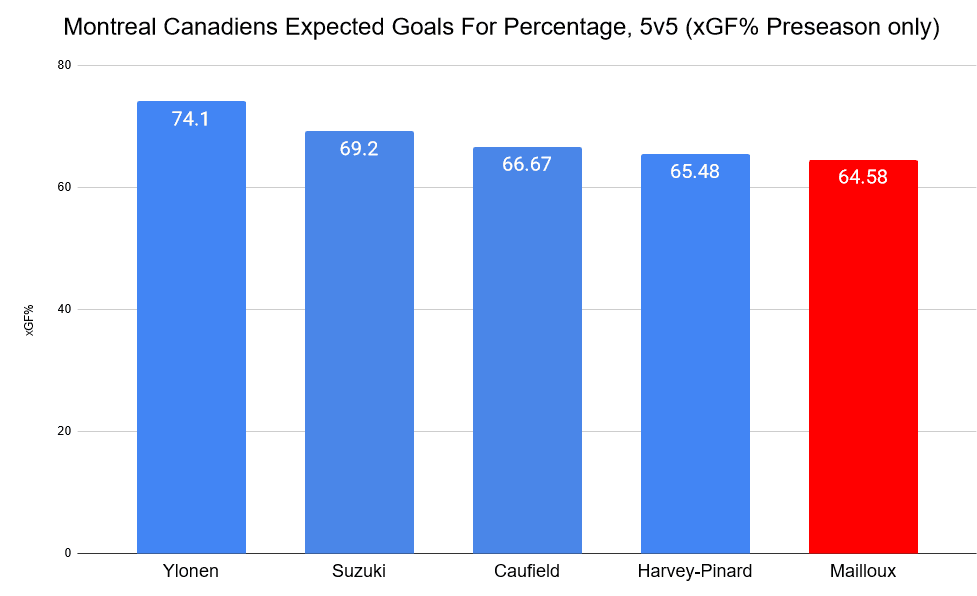 Brass Tacks
We must avoid putting too much weight into preseason results.
The lineups are a mess, the quality of competition is questionable, and most players are simply shaking off the rust that accumulated throughout the summer.
But Canadiens fans can take a few important lessons from the six games the team played.
The first is that both Nick Suzuki and Cole Caufield seem poised to have a big year. They hit the ground running.
Or rather, sprinting.
The second is that Jesse Ylonen brings more to the lineup than just a good shot. If he can continue to produce great underlying numbers he should become a fixture in the top six.
The third has to do with the results produced by certain players. Mailloux was in the spotlight a lot, not always for the right reasons, but overall, he had a very good camp. Pezzetta will never be discussed as a top-line player, but he also should not be dismissed as a below-replacement player.
And finally, it has to be said that despite a slow start, Juraj Slafkovsky had a fairly solid camp. His shot share (55.95 CF%) was great, and his expected goals were reasonable (50 xGF%), but more importantly, he was heading to high-danger scoring areas and generating a lot of chances.
---
All Montreal Canadiens statistics are 5v5 unless otherwise noted, via NaturalStatTrick.