Canadiens Waivers: Sokolov and 2018 First-Round Pick Available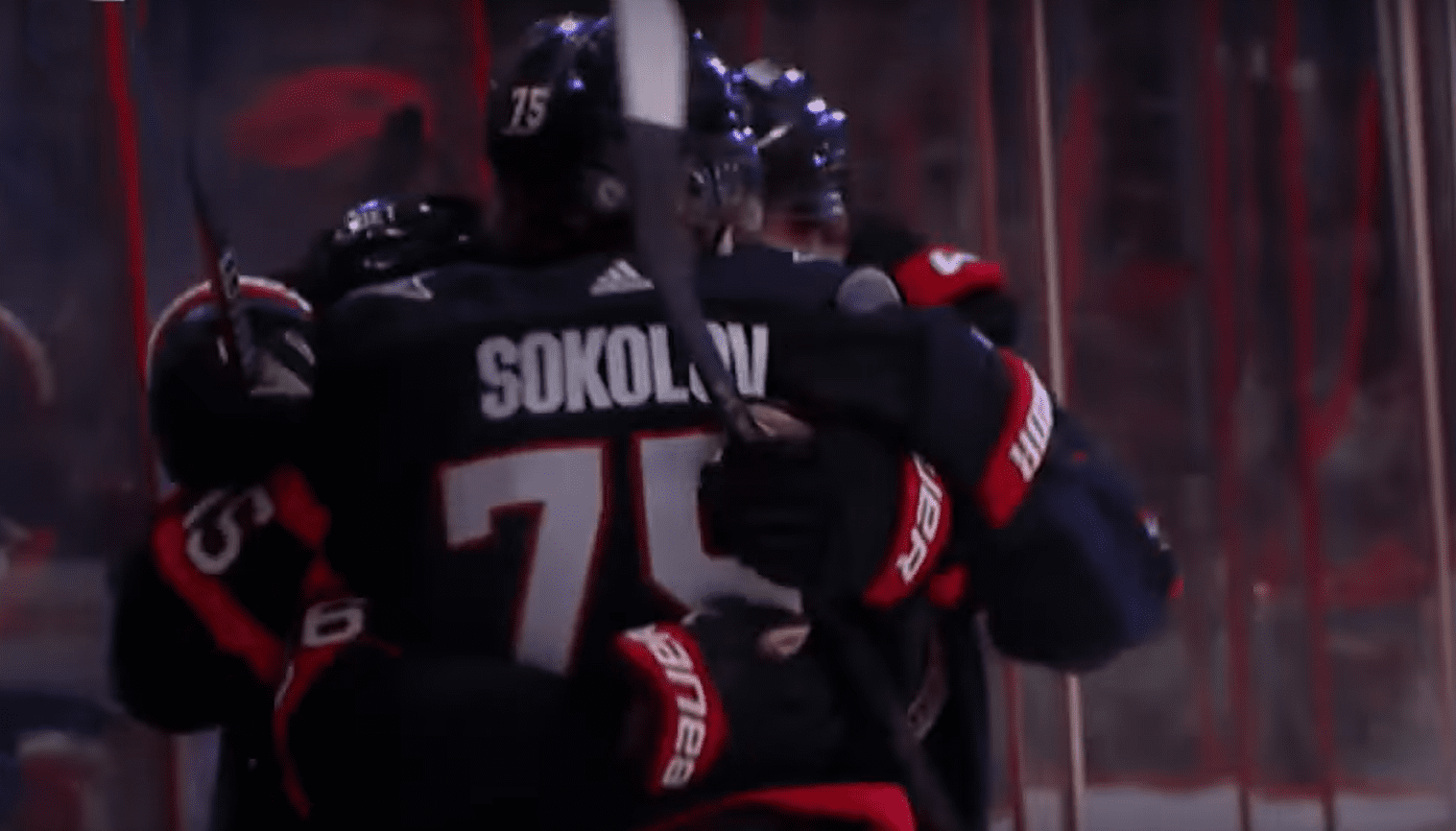 The Montreal Canadiens did not place any players on waivers Tuesday.
Following yet another soul-crushing, comeback win against the Toronto Maple Leafs, the Canadiens headed to Mont Tremblant for some rest, relaxation, and team-bonding activities.
Almost 30 players were placed on waivers Monday, though none of them led to a waiver claim.
Tuesday's list may have different results given that the Ottawa Senators placed a first-round pick on the waiver wire. Former Habs forward Anthony Richard was also placed on waivers (Boston Bruins).
Placed on NHL waivers today: Alec Regula (BOS), Daniel Renouf (BOS), Anthony Richard (BOS), Reilly Walsh (BOS), Parker Wotherspoon (BOS), Seth Griffith (EDM), Erik Kallgren (NJ), Jared Bernard-Docker (OTT), Matthew Highmore (OTT), Jacob Larsson (OTT), Egor Sokolov (OTT) …

— Chris Johnston (@reporterchris) October 3, 2023
NHL Players On Waivers (October 3)
After losing their 2019 first-round pick, Lassi Thomson, on waivers earlier this week, the Ottawa Senators once again placed high-end prospects on the waiver wire.
2018 first-round pick Jacob Bernard-Docker was chosen 26th overall by Ottawa following a relatively quiet season with the NCAA's University of North Dakota. The right-handed defenceman improved his production the following year, finishing his NCAA tenure with 15 goals and 45 assists in 90 games.
After earning just 15 points in 99 AHL games, not to mention two assists in 32 NHL games, the Senators have decided that it's worth risking his loss by placing him on waivers.
Ottawa also placed 23-year-old winger Egor Sokolov on waivers. He was chosen 61st overall by the Senators at the 2020 NHL Entry Draft.
Montreal Canadiens fans who keep a close eye on the Laval Rocket will be familiar with what he brings to the table. In 169 AHL games, Sokolov has produced an impressive 55 goals and 79 assists.
Given that he's only slated to make $775,000 this season, there are very low odds that Sokolov will clear waivers. Expect one of the top teams on the NHL's waiver-wire priority list to make a claim.
NHL CBA Waiver-Wire Priority List Refresher
For now, the off-season priority list is locked in and will give teams that finished lower in the standings last year the first opportunity to claim a player that is placed on waivers.
For example, the Montreal Canadiens finished 28th last year, therefore they are the team with the fifth highest priority on the NHL's waiver wire list. Teams have 24 hours to make a claim.
The off-season list will remain in place until November 1, when it will switch from using last season's standings to this year's standings to determine priority.
Simply put, the Canadiens will maintain the fifth-best position on the waiver wire priority list for at least a month. The Anaheim Ducks will maintain the No.1 spot on the list until November 1, as well, despite claiming Lassi Thomson from the Senators.
To get a better understanding of the NHL's waiver wire priority process, you can click here.
Here is the current NHL waiver-priority list, which is valid until November 1:
| Teams | Waiver Priority Order |
| --- | --- |
| Anaheim Ducks | 1 |
| Columbus Blue Jackets | 2 |
| Chicago Blackhawks | 3 |
| San Jose Sharks | 4 |
| Montreal Canadiens | 5 |
| Arizona Coyotes | 6 |
| Philadelphia Flyers | 7 |
| Washington Capitals | 8 |
| Detroit Red Wings | 9 |
| St-Louis Blues | 10 |
| Vancouver Canucks | 11 |
| Ottawa Senators | 12 |
| Buffalo Sabres | 13 |
| Pittsburgh Penguins | 14 |
| Nashville Predators | 15 |
| Florida Panthers | 16 |
| Calgary Flames | 17 |
| NY Islanders | 18 |
| Winnipeg Jets | 19 |
| Tampa Bay Lightning | 20 |
| Seattle Kraken | 21 |
| Minnesota Wild | 22 |
| Los Angeles Kings | 23 |
| NY Rangers | 24 |
| Dallas Stars | 25 |
| Colorado Avalanche | 26 |
| Edmonton Oilers | 27 |
| Vegas Golden Knights | 28 |
| Toronto Maple Leafs | 29 |
| New Jersey Devils | 30 |
| Carolina Hurricanes | 31 |
| Boston Bruins | 32 |