2019 First-Round Pick Available to Montreal Canadiens On Waivers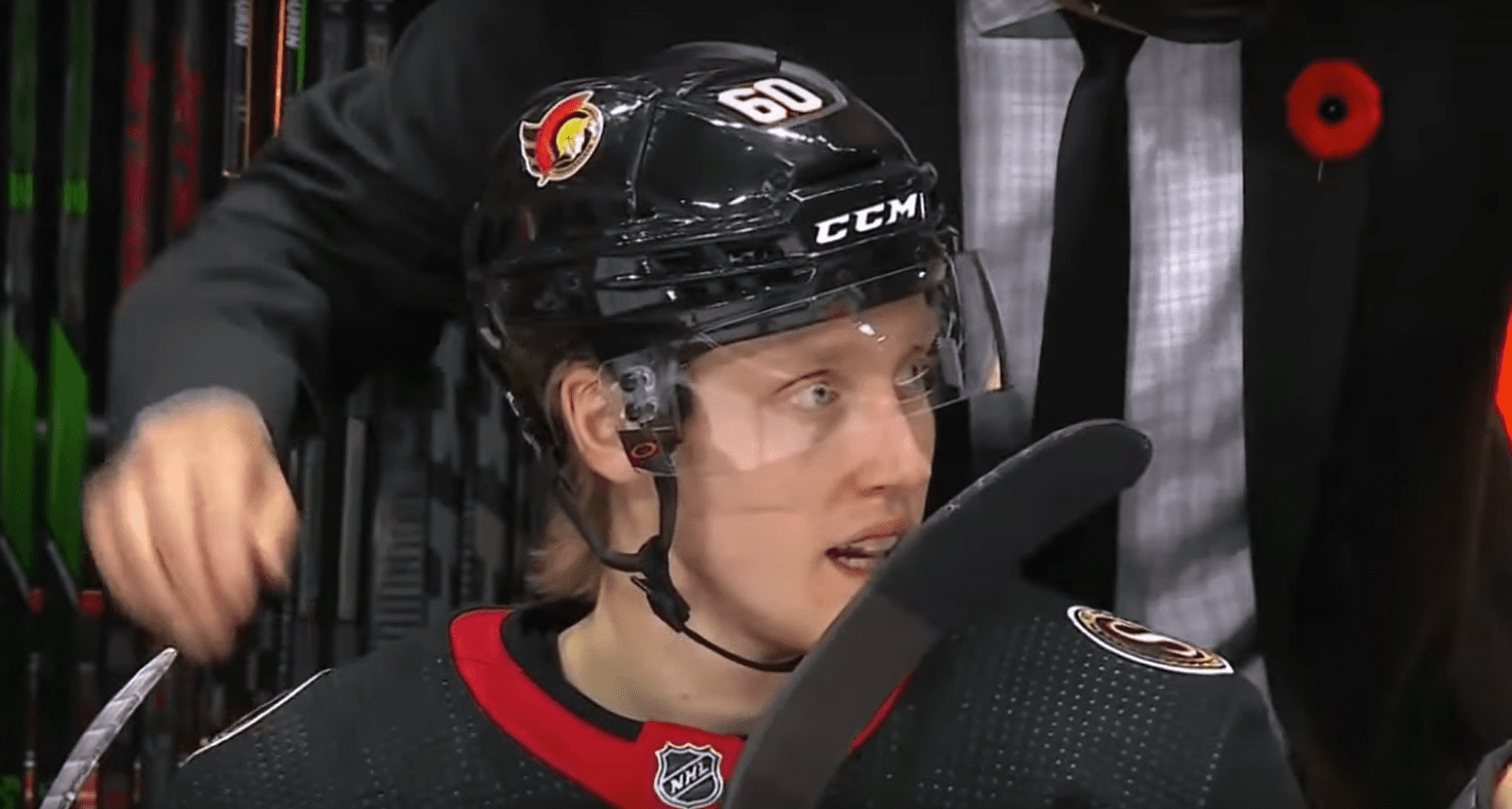 Waiver season is upon us, which means the Montreal Canadiens will be closely monitoring the NHL's waiver wire to determine whether any of the players can help the team re-enforce various positions.
Available Talent On Waivers
The Ottawa Senators placed several players on waivers, including 2019 first-round pick Lassie Thomson.
Thomson, 23, is comfortable carrying the puck through the neutral zone, owing to his good speed and hand-eye coordination. In 56 games with the Belleville Bulls last season Thomson scored seven goals and 26 assists, while also serving as the team's powerplay quarterback on several occasions.
OTT announces it will put 2019 first-rounder Lassi Thomson on waivers tomorrow https://t.co/ujaaWUBxbs

— Elliotte Friedman (@FriedgeHNIC) September 30, 2023
It's also worth noting that Thomson is right-handed, which could end up improving the odds the Finnish defencemen will be claimed by 2 p.m. ET tomorrow.
As a reminder, the Canadiens are fifth on the NHL's waiver-wire priority list.
Canadiens fans who also keep a close eye on the Laval Rocket are surely familiar with what Thomson brings to the table: mobility, controlled exits, and a very good point shot. Fans who tend to ignore the AHL may remember that newcomer Alex Newhook made Thomson look rather silly the last time they played against each other in the NHL.
As previously stated, the Montreal Canadiens don't necessarily need to add more players to their defensive group, but Thomson does project as a player who is closer to being NHL-ready than some of the other options on the right side.
If general manager Kent Hughes wants to give players such as Logan Mailloux and David Reinbacher more time to develop, adding Thomson to the mix could give the development team some breathing room when it comes to readying them for a full-time NHL job.
The Canadiens made some news of their own when it comes to the waiver wire on Saturday. Forwards Lucas Condotta and Mitchell Stephens were placed on waivers, as well as defencemen Nicolas Beaudin and Brady Keeper.
If they go unclaimed, all four are set to report to the Laval Rocket.
The Canadiens have placed forwards Lucas Condotta and Mitchell Stephens and defensemen Nicolas Beaudin and Brady Keeper on waivers for the purpose of a loan to the Laval Rocket.

— Canadiens Montréal (@CanadiensMTL) September 30, 2023
NHL CBA Waiver-Wire Priority List Refresher
For now, the off-season priority list is locked in and will give teams that finished lower in the standings last year the first opportunity to claim a player that is placed on waivers.
For example, the Montreal Canadiens finished 28th last year, therefore they are the team with the fifth highest priority on the NHL's waiver wire list. Teams have 24 hours to make a claim.
The off-season list will remain in place until November 1, when it will switch from using last season's standings to this year's standings to determine priority.
Simply put, the Canadiens will maintain the fifth-best position on the waiver wire priority list for at least a month. The Columbus Blue Jackets will also maintain their high priority despite claiming Spencer Martin on Friday.
To get a better understanding of the NHL's waiver wire priority process, you can click here.
Here is the current NHL waiver-priority list, which is valid until November 1:
| Teams | Waiver Priority Order |
| --- | --- |
| Anaheim Ducks | 1 |
| Columbus Blue Jackets | 2 |
| Chicago Blackhawks | 3 |
| San Jose Sharks | 4 |
| Montreal Canadiens | 5 |
| Arizona Coyotes | 6 |
| Philadelphia Flyers | 7 |
| Washington Capitals | 8 |
| Detroit Red Wings | 9 |
| St-Louis Blues | 10 |
| Vancouver Canucks | 11 |
| Ottawa Senators | 12 |
| Buffalo Sabres | 13 |
| Pittsburgh Penguins | 14 |
| Nashville Predators | 15 |
| Florida Panthers | 16 |
| Calgary Flames | 17 |
| NY Islanders | 18 |
| Winnipeg Jets | 19 |
| Tampa Bay Lightning | 20 |
| Seattle Kraken | 21 |
| Minnesota Wild | 22 |
| Los Angeles Kings | 23 |
| NY Rangers | 24 |
| Dallas Stars | 25 |
| Colorado Avalanche | 26 |
| Edmonton Oilers | 27 |
| Vegas Golden Knights | 28 |
| Toronto Maple Leafs | 29 |
| New Jersey Devils | 30 |
| Carolina Hurricanes | 31 |
| Boston Bruins | 32 |