Canadiens Slafkovsky & Caufield Shine In Truculent Win Vs Sens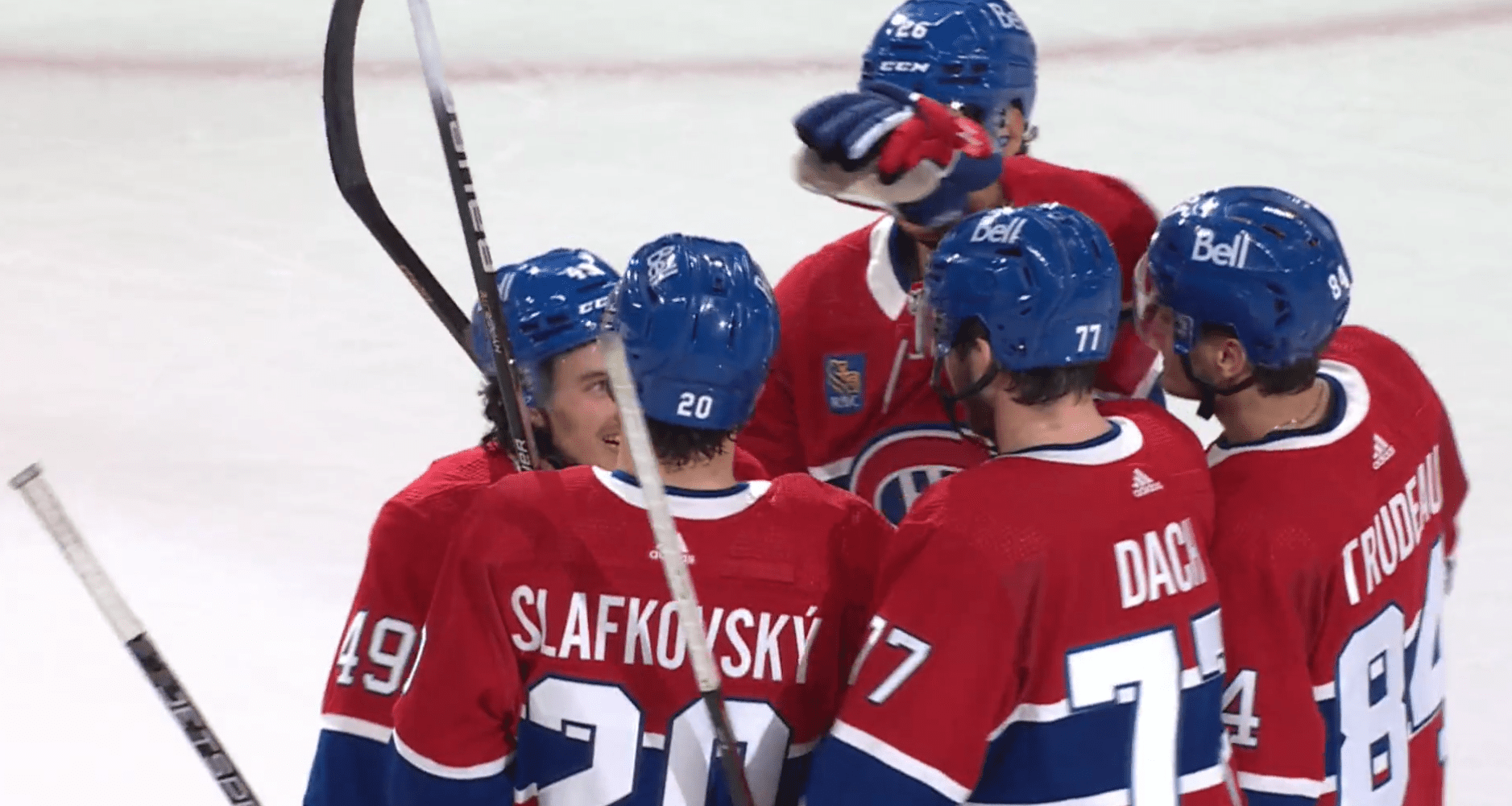 The Montreal Canadiens (1-1-0) hosted the Ottawa Senators (2-1-0) at the Bell Centre on Wednesday night, handing the Ontario team their first loss of the preseason with a hard-fought 4-3 win.
Mike Matheson was held out of the game for precautionary reasons, which meant that Kaiden Guhle suited up and played alongside David Savard.
It was a particularly eventful game from a physical standpoint, though, given the roster the Senators brought to Montreal, no one could have seen it coming.
Let's dive right into the action
Juraj Salfkovsky Watch
There was some great news for those who are watching Juraj Slafkovsky's development closely, which, if we're being honest, is most Habs fans.
The 19-year-old got off to a great start to the game by keeping it simple. He drove toward a high-danger area and capitalized on a loose puck to score his first goal of the preseason.
Despite stating that it was a powerplay goal when I originally tweeted the highlight, it was, in fact, a 5v5 goal. I do apologize for the mistake, but I was in the process of eating a delicious smoked meat sandwich and I don't regret focusing on the prize at hand.
Juraj Slafkovsky scores on the powerplay. 2-0 Habs.

Cole Caufield is happy! pic.twitter.com/B6uHr1l6il

— Marc Dumont (@MarcPDumont) September 27, 2023
That type of play is sure to help him regain his confidence, and it speaks to the chemistry between Slafkovsky, Kirby Dach, and Rafael Harvey-Pinard.
All three played an important role prior to the goal.
Of course, the Canadiens desperately need a line that can regularly score goals which does not feature Nick Suzuki or Cole Caufield.
It's much too early to say Slafkovsky – Dach – Harvey-Pinard is that line, but Wednesday night was an encouraging start. In total, the second line controlled 82 percent of the shots (9-2) and 100 percent of the expected scoring chances while they were on the ice.
So far, so good.
L'échec-avant de Kirby Dach et de Rafaël Harvey-Pinard permet à Juraj Slafkovsky d'inscrire son premier but des matchs préparatoires! pic.twitter.com/omSn0NLlPU

— RDS (@RDSca) September 27, 2023
The strong outing lasted more than one shift. Slafkovsky had one of his best games in recent memory, as he drove the net with vigour all night long, leading to several high-danger scoring chances.
Juraj Slafkovsky is feeling it. Full of confidence tonight. Drives to the net for a good chance. Korpisalo makes a good save. pic.twitter.com/IhmFx2DZpT

— Marc Dumont (@MarcPDumont) September 28, 2023
Speaking of Caufield and Suzuki, they had a very solid outing with Sean Monahan, the latest forward to get an audition on the top line.
Their underlying numbers were relatively healthy and they scored a goal. A basic goal, mind you, but no one asks how pretty they are, they just ask how many there were.
Sean Monahan ties the game for the Habs after a Cole Caufield shot (his 5th of the game).

Suzuki pass covered a lot of ice to get it started. Decent showing from these three tonight pic.twitter.com/CL7Uy9ywVV

— Marc Dumont (@MarcPDumont) September 28, 2023
The Suzuki-Caufield duo combined for another goal in the third period, a powerplay marker that was shockingly set up by Suzuki carving through the neutral ice.
This is going to shock you, but Cole Caufield scored a goal.

Also VERY shocking, Nick Suzuki assisted on the Caufield goal.

Shocking outcome. pic.twitter.com/FY8lR7ehRs

— Marc Dumont (@MarcPDumont) September 28, 2023
Montreal Canadiens Role Players
Training camp offers opportunities to prove your worth, but in some cases, it's clear that certain players have low odds of making the NHL.
Neither Brandon Gignac nor Jared Davidson have a shot at earning an NHL job, mostly because they're signed to AHL deals, but that shouldn't prevent anyone from giving an honest effort.
Gignac and Davidson are known for their relentless work ethic, and it was on full display against the Senators. Davidson drove the net with reckless abandon, his favourite play, and Gignac never hesitated to jump into the fray to seek out scoring chances.
Jared Davidson continues to have a good camp.

He drives the net, as he does all the time, and it leads to a goal for Gignac.

1-0 Habs. pic.twitter.com/zr2BxUyfWH

— Marc Dumont (@MarcPDumont) September 27, 2023
They also did a good job standing up for each other, which is important when you're playing a team that dressed players that have more fights than goals during their entire hockey career.
A dirty knee on Davidson midway through the game drew an instant response from Gignac, exactly what you want to see from young players trying to get noticed.
Love this reaction by Gignac after the dirty knee on Davidson. pic.twitter.com/7nPi4R33K3

— Marc Dumont (@MarcPDumont) September 28, 2023
Ottawa Rough Riders
As per usual when these two teams meet, the game features a lot of ugly stuff from both sides.
Kaiden Guhle was the recipient of a terrible hit by Zack MacEwen, which kicked off the festivities in earnest. The teams then exchanged goaltender interference penalties early, and it was all downhill from there.
A bad hit by McEwen on Guhle. Habs get a 2 minute PP. pic.twitter.com/IARyNP31BH

— Marc Dumont (@MarcPDumont) September 27, 2023
The Canadiens were far from angels, though you'd be hard-pressed to argue that the Senators weren't the ones pushing the envelope when it came to illegal plays.
Dach decided to get into the action, doing so while also avoiding a penalty when decided to give Egor Sokolov a VIP tour of the Bell Centre ice midway through the second period.
Kirby Dach absolutely ruins Sokolov's night with a huge hit. pic.twitter.com/jxSUuaikwc

— Marc Dumont (@MarcPDumont) September 28, 2023
The physical play was entertaining, to say the least.
Tough shift for Jospeph. Both Monahan and Guhle introduce him to the floor. pic.twitter.com/kClNO3D2iy

— Marc Dumont (@MarcPDumont) September 28, 2023
You Are The Wind Beneath My Skates
I'm a big fan of players trying to gain an advantage, but let's just say that on Wednesday night, Dominik Kubalik dove harder than the Senators' playoff chances in October last season.
A Stutzelian performance, to say the least.
As penalties go, this was one. Apparently. pic.twitter.com/gOCm2OszSy

— Marc Dumont (@MarcPDumont) September 28, 2023
---
The Montreal Canadiens are back in action on Friday night when they'll host the Toronto Maple Leafs at the Bell Centre. The puck drop is scheduled for 7 p.m. ET.
All Montreal Canadiens statistics are 5v5, via Natural Stat Trick.