How The Canadiens Can Maximize Investment In Alex Newhook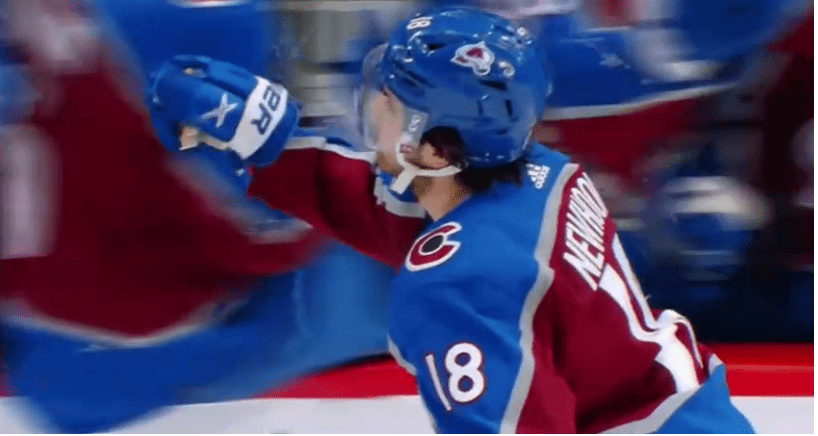 The Montreal Canadiens paid a big price to acquire Alex Newhook, and they'll be looking to maximize their investment this season.
Out of all the Colorado Avalanche players to hit the ice in 2022-2023, Alex Newhook was perhaps the biggest letdown from an on-ice perspective.
After a stellar rookie season, which saw him put up 13 goals and 20 assists for 33 points in 71 games, the 22-year-old couldn't hit another gear in his play the following season amid all the injuries and ensuing opportunities with the former Stanley Cup winners.
The Avalanche sought to capitalize on Newhook's remaining potential, shopped him just before the 2023 NHL Draft, and found a partner in the Montreal Canadiens.
With general manager Kent Hughes being his former family advisor and agent, he believed Newhook had much more untapped potential and could be a better fit in Montreal's rebuilding environment.
But what does Montreal need to do to properly develop their new forward, for him to have a bounce-back season similar to last summer's acquisition, Kirby Dach?
Let's take a look:
More Opportunity With Montreal Canadiens
Last season, Alex Newhook was given some time on the Avalanche's top six, playing a second-line center role on a team decimated with injuries.
He couldn't stick the landing for too long, as head coach Jared Bednar, who desperately needed wins, demoted Newhook after a few games.
The talent was there, but there seemingly wasn't any chemistry. In Montreal, should Newhook be used in a top-six role, it doesn't necessarily have to be at the centre position, and that may be a blessing in disguise for the 22-year-old.
Playing centre next to an established pivot like Sean Monahan or riding shotgun on the wing next to a strong play-driver like Kirby Dach would go a long way in helping to place Newhook in the right spot for long stretches of games.
With the Canadiens understandably still going through their rebuild, the Montreal Canadiens won't be as harsh on his mistakes as the Avalanche were, giving the youngster room to be more creative and offensively driven on the ice.
Improved Offensive Output
Alex Newhook thrived on the power play at every point in his career before reaching the NHL, largely due to his deceptively heavy frame, quick hands, and powerful wrist shot.
On the Canadiens, Newhook could be given free rein to run the second power play wave, with Nick Suzuki, Cole Caufield, Kirby Dach, Mike Matheson, and likely Sean Monahan on the first unit.
Newhook's strong skating and zone-entry success will make him a much-needed addition for the Montreal Canadiens, who had significant difficulty entering the zone on the man advantage.
That will give Newhook a certain level of freedom to start plays in the offensive zone and get his creative juices flowing as the club looks to add some secondary scoring to their ranks.
Consistent power-play time and a pivotal role on his specific wave will give Newhook the confidence and space to grow his game and return to the lightning-strike offensive style that made him a dominant player at the NCAA level.
Room To Fail Under Martin St-Louis
When a young player joins a contending team, it's difficult for them to express themselves offensively, as the games are meaningful and defensive mistakes become ever more glaring.
That's exactly what got Alex Newhook in trouble with the Colorado Avalanche last season, but it's not necessarily the end of the world with the Montreal Canadiens.
Head coach Martin St-Louis will try to impose more accountability on the roster. Still, it won't be at the expense of out-of-the-box creativity, an environment tailor-made for a player like Newhook, who can dazzle on the rush and in-tight.
As the Canadiens look to continue building their identity as a team that plays with speed and skill, having someone like Newhook, who can carry and distribute the puck with ease, experimenting on the ice, will be of utmost importance, and he'll have some rope to see what works.
Newhook's Role With the Montreal Canadiens
Now, the million-dollar question: Where does Alex Newhook fit in the Montreal Canadiens' lineup this season?
Although he's seemingly a lock to play on the second power-play wave, it's where he plays at even strength that has sparked debate among the fan base.
It seems unlikely that St-Louis would throw him right into the fire on the top line to start his tenure in Montreal, but a stint on the second line wouldn't be out of the question in normal circumstances.
Either flanking Kirby Dach or Sean Monahan, Newhook would be a big help to either centre, having been a centre for most of his career and covering a lot of ice in the process.
The injury to Christian Dvorak somewhat complicates the matter, as the Canadiens would then have Suzuki, Monahan, Dach, Newhook, and Jake Evans to cover at centre. But, if St-Louis reunites Dach, Suzuki, and Caufield again this season, Monahan would likely slot into the second-line role.
As we saw last season, Jake Evans, an albeit serviceable player, couldn't hold down the third-line role with regularity, and that's likely where the Canadiens could slot Newhook to start the year as he gets acclimated to the new system.
However, once Dvorak returns, it wouldn't be surprising to see the 22-year-old hold a permanent role in the Canadiens's top six, likely on the right wing next to Dach or Monahan.
If he can manage to hold that spot and improve his offensive numbers, it'll go a long way in ensuring that Kent Hughes' bet on Newhook was a shrewd one.