Three Questions Facing The Canadiens Ahead Of 2023-24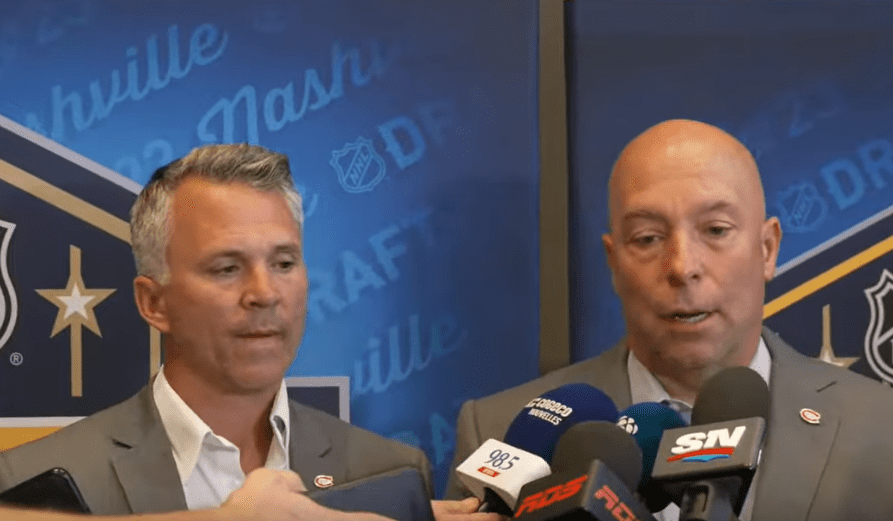 With the season quickly approaching, there are still a few pressing issues facing the Montreal Canadiens, par for the course when discussing any team amid a rebuild.
Let's look at some of the biggest questions faced by general manager Kent Hughes and the rest of the organization.
Trading Casey DeSmith
As previously discussed, trading Casey DeSmith will not be easy for Hughes and Co., especially since moving a goaltender during the off-season, when teams are at their healthiest, is quite rare.
Hughes has stayed true to his word. He's being as transparent as possible with the media and fans, not to mention, with the players he acquired in a trade.
"I told Casey to be patient," said Hughes. "The goal is not to bury you in the American Hockey League. We will continue to look at possible trades or to make some changes. But it'll take patience with the goalie market, it's always slow."
In this particular situation, telling the player in question that he'd definitely find a spot for him in the NHL may have been an overreach. There are few, if any teams looking for a goaltender at the moment, and the Habs have already used two salary retention spots when they traded away Joel Edmundson and Jeff Petry.
MUST READ: Grading Kent Hughes' Montreal Canadiens Trades In 2022-23
DeSmith's salary also presents a hurdle when it comes to avoiding putting Carey Price's contract on the long-term injured reserve.
Given Hughes' penchant for doing right by players, as was the case when he essentially gave Petry away for free to the Detroit Red Wings, one would assume that he will once again stay true to his word and move DeSmith to a team that will use him.
But for the sake of the franchise, he can't sweeten the pot by retaining salary or including picks. The Canadiens cannot afford to do any more favours for players who aren't part of the long-term rebuild plan.
Will The Injury Streak Come To An End?
It was a well-advertised fact that last year the Montreal Canadiens suffered more injuries than a one-handed chainsaw juggler.
Consequently, Head Athletic Therapist Graham Rynbend and Head Physiotherapist Donald Balmforth were both fired in the off-season.
And while many celebrated that the team would now enjoy a sustained streak of health, one of the biggest reasons the Canadiens suffered so many injuries last year was due to players failing to be honest before their return to the ice.
Medical staff cannot judge pain. That's up to the players in question. And when a player like Brendan Gallagher tells them he's ready to go, they have no choice but to trust that he's being truthful.
"In my case, maybe I wasn't totally honest with them," said Gallagher. "They can only deal with so much information. As a player, you have that responsibility."
NHL players have a long history of denying they're in pain. It's built-in to their training from a young age.
But there's little to no value in playing hurt on a team that is destined to finish among the worst teams in the league. It only shortens your career while placing the team in a difficult position in terms of available personnel.
The trouble with that Caufield injury is that he is one of perhaps one point five players on his team who can really shoot the puck. pic.twitter.com/QZ9niMy2T4

— Micah Blake McCurdy (@IneffectiveMath) January 23, 2023
Can The Montreal Canadiens Take The Next Step?
Head coach Martin St-Louis has earned a lot of praise among fans due to players like Cole Caufield finding their rhythm, but the fact remains that the Habs have produced terrible numbers under St-Louis' tutelage, much worse than they were when Dominique Ducharme was head coach.
Of course, St-Louis dealt with far too many variables last year.
He had to balance a handful of overpaid, underwhelming veterans who were kept in the lineup with the goal of turning them into assets at the trade deadline.
He also had roughly seventeen hundred rookies on the blue line, not to mention a pair of veteran defencemen who struggled to maintain any semblance of decent underlying numbers.
In that sense, it's unfair to judge St-Louis based on the numbers the team produced last year. It was part of the grace period involved in taking over a team that was in shambles.
But this is an industry that is beyond unforgiving, and if the underlying numbers keep tanking, the situation will quickly turn sour.
We already saw some frustration on the part of St-Louis when dealing with the media last season, though given the media frenzy in Montreal, few will argue that St-Louis was lashing out.
Now that things have settled down to a certain extent, St-Louis will have to produce tangible improvements if he's to be pencilled in as the team's long-term coach.
To do that, he'll have to hope the majority of the young players are ready to take the next step. Preparation and in-game adjustments will be key, two things that are directly influenced by St-Louis.
This Juraj Slafkovsky goal is the first Habs PP goal on the road since April 13, 2022. pic.twitter.com/RY6IfvZrTn

— /r/Habs (@HabsOnReddit) October 30, 2022
Given the roster he's dealing with, it won't be an easy task.
Not every young player will take a step forward, and it will be up to the head coach to make sure they're in the right mindset to continue progressing despite dealing with a frustrating situation.