Habs Mailbag: Canadiens As Sopranos, Projected Lineups, Trades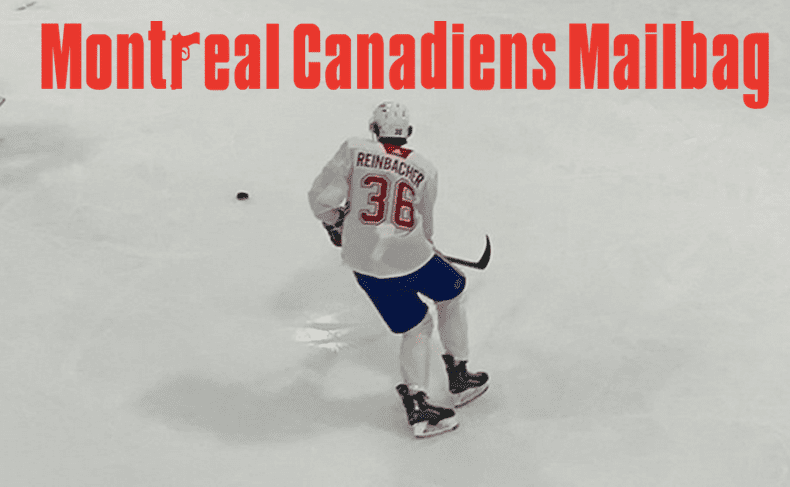 Welcome to yet another edition of the Montreal Canadiens off-season mailbag.
This is our second mailbag this week, owing to the significant interest from Habs fans. If I haven't answered your question yet, don't fret. I will get to one of your questions, eventually.
This week we discuss which Canadiens players would fit as members of The Sopranos cast, projected lineups for the Habs, possible trade options, Emil Heineman's potential, the return of the Expos, Owen Beck, and much more.
Let's dive right into it.
---
With Harris, Guhle, Barron, Xhekaj and Kovacevic already in the NHL, and Mailleux, Hutson, Struble, Engstrom and Reinbacher all just two years away at most, how do you see the d corps shaking out over the next few years? Who is most likely to get traded and for what return?

— Adam Kovac (@AdamJKovac) July 17, 2023
If there's one thing we've learned in the NHL, you can never have enough defencemen. At one point, many thought the Canadiens' defence was set for at least a decade due to the many exciting prospects the team had recently drafted.
Those prospects included Nathan Beaulieu, Jarred Tinordi, Dalton Thrower, Darren Dietz, Josiah Didier, Mangus Nygren, and Mac Bennett. In addition, players such as P.K. Subban, Andrei Markov, Josh Gorges, Alexei Emelin, and Raphael Diaz were already playing big minutes in the NHL.
Fast forward a few years later and not a single of the players mentioned above were part of the NHL roster.
I think in this case we're probably dealing with a higher overall quality of defencemen when discussing the prospects, but it's important to remember that many of the players we're discussing in the Canadiens' prospect pool will not make it to the NHL. Statistically speaking, most will not.
On that note, I see the defensive group shaking out as follows if there aren't a litany of trades and the defensive group is composed of the players currently in the organization.
Lane Hutson – David Reinbacher
Adam Engstrom – Kaiden Guhle
Jordan Harris – Bogdan Konyushkov
Extras: Logan Mailloux, William Trudeau
I've magically converted Guhle into a right defenceman to make things work, which is something that could realistically happen given the dearth of talent on the right, as well as Guhle's high-end ability to process information. I don't think Jayden Struble will make the jump to the NHL, and I'm also assuming they'll find new homes for players like Justin Barron, Arber Xhekaj, and Johnathan Kovacevic.
---
Is emile heineman gonna be the real deal and shock the world at camp?

— G Money 🇦🇲❄🇨🇦 (@expozhabs) July 17, 2023
It's genuinely hard to tell what Emil Heineman can bring to the table. Not that I doubt his production with the Laval Rocket, which was rather impressive, but it's a small sample size, and many of the goals came on second-chance opportunities in which Heineman was at the right place at the right time. He also scored much less during his time in the SHL than he did when he was in the AHL.
Personally, I think his shooting percentage will drop next season, but I wouldn't be surprised if he continues to put up decent offensive numbers. He's got a great shot and a nose for the net.
Unfortunately, his defensive acumen is rather weak, which, in my opinion, will keep him from earning a job with the Canadiens at training camp.
---
If you had to recast The Sopranos with the current @CanadiensMTL roster. Who would you choose?

— LWSportscards (@lwsportscards) July 17, 2023
Samuel Montembeault has to be Tony Soprano. Seriously, picture him without as much hair and an angry scowl, perhaps a cigar, and boom, French-Canadian Tony Soprano, everyone.
Paulie Walnuts could easily be Paul Byron, and not just because they share a name. They're both fiercely loyal and will go to war for their side at the drop of a hat.
Nick Suzuki would be Furio. Cool, calm, and collected.
I'd suggest Cole Caufield could play Christopher Moltisanti, in that he's part of the new era of mobsters/hockey players joining the fold, that doesn't necessarily care about some of the archaic traditions that came before him. He's in it to have fun and enjoy life.
Kirby Dach could play Sylvio, serving as the team's consigliere.
For Junior Soprano, what about Carey Price? He knows about the old-school style of play but has to adapt to the modern world. Though aesthetically speaking, that should probably be Kent Hughes' role.
He's no longer on the team, but Joel Edmundson would have been the perfect Bobby Baccalieri. He's a genuinely nice person who doesn't always achieve his goals, but you know you can always count on him.
Arber Xhekaj would be Ralph Cifaretto because he's one of the most aggressive and intense people around.
As for Salvatore Bonpensiero, I think we all know why he should be played by Jesperi Kotkaniemi.
And, of course, Dr.Melfi would obviously be played by Youppi!
I'm sure I'm forgetting a bunch of great characters from the show, so don't hesitate to add your suggestions in the comments below.
---
Is it realistic that Armia and Hoffman can be traded before the camp?

— Mathieu G. (@mathieug1986) July 17, 2023
Yes, it's realistic, but only if Kent Hughes wants to spend assets to remove them from the roster. Let's remember that Hughes offered Hoffman for free in the trade market, and there were no takers.
But as it stands, Hughes is not interested in paying other teams to absorb Marc Bergevin's mistakes, so I doubt either will move this summer.
---
In how many years will we get an 80+ point scorer?

— bedabin levé du soleil ☀️ (@bedabin) July 17, 2023
Ah yes, the ole "When will someone match Alexei Kovalev's output from many moons ago?" question.
I think Nick Suzuki is the most likely player to do so, but he won't be able to do it alone.
The Habs will need to ice a solid top 9 to ensure a player like Suzuki will be able to register his name on the scoresheet over 80 times.
Right now, they might have enough talented players to ice a decent top 6, but they're far from having the type of talented forward lineup that can match up with Stanley Cup-contending teams.
I'll wager it'll take them roughly 3 years or more to produce an 80-point scorer.
---
Who stays and who goes? Let's play trade asset or future Hab:
– Adam Engstrom
– Owen Beck
– Filip Mesar
– Oliver Kapanen
– Riley Kidney
– Cayden Primeau
– Sean Farrell
– Emil Heineman
– Calgary 1st
– Vinzenz Rohrer
– Luke Tuch
– Logan Mailloux
Sorry Josh Roy is not up for debate

— motorsuzuki driveby (@motorsuzuki14) July 17, 2023
If the only two options are 'future Hab' or 'trade', I'm afraid the vast majority of my answers will be the latter. But let's give it a go, just for fun. Please don't yell at me for trading your favourite prospect.
Or, do yell at me, but keep it to just three or four swear words, please.
Engstrom – Future Hab
Owen Beck – Future Hab
Filip Mesar – Future Hab
Oliver Kapanen – Trade
Riley Kidney – Trade
Cayden Primeau – Trade
Sean Farrell – Future Hab
Emil Heineman – Trade
Calgary 1st – Trade
Vinzenz Rohrer – Trade
Logan Mailloux – Trade
Luch Tuch – Trade
---
Does Jake Allen have any trade value?

— xcsler_returns (@xcsler) July 17, 2023
Jake Allen has no trade value, whatsoever.
Let's be honest, goalies, in general, have very little value. Connor Hellebuyck, one of the best goalies in the NHL, has been on the trade market for months now, and there have been no takers.
Of course, Allen takes up less salary cap space than Hellebuyck, but for roughly two decades now goaltenders have been given away on the trade market.
That's not about to change any time soon. There are simply too many goalies for too few spots in the NHL and AHL.
---
Hey Marc, if you could forgo a 25th Stanley Cup for the next 10 years, if, it meant a return of the Expos. Would you take that deal with the devil?

— Shaun Fitzgerald (@Santasina3way) July 17, 2023
Sure, why not?
Can I somehow also arrange for the return of the classic Expos steamé hot dog? If so, I would jump at the opportunity.
---
What is going on with Mailloux and Bettman? Surely they must have made a decision by now.

— #36Reinbacher (@23reinbach36918) July 17, 2023
As far as I know, the NHL and the Canadiens are yet to meet regarding Mailloux.
That being said, once they do meet, I am sure Mailloux will be cleared to play.
---
Does the org see Jake Evans as part of the long term future of the club or could he be expendable with Owen Beck coming? Seems like Evans would be a great fit for a contender like Edmonton.

— motorsuzuki driveby (@motorsuzuki14) July 17, 2023
It's rather harsh, especially given how hard he worked to make it to the NHL, but I don't see Jake Evans as part of the long-term plans of the team, especially once they're ready to compete.
His underlying numbers are very, very weak, and his production is inconsistent at best.
---
Where does Laval finish in standings next season? And what rookie are you most excited to see there full time next year?

— wes (@wes_snipes169) July 17, 2023
Every year I end up being too bullish regarding the Laval Rocket's place in the standings.
So, this year, it will be no different!!!
Given the influx of talent heading to Laval, I'm going to predict a top-3 finish in the North Division.
I'm most excited to see what Joshua Roy can do against professionals. He's evolved so much since the Canadiens drafted him, he's a true development success story, at least so far.
His defensive awareness, offensive instincts, and overall well-rounded game should serve him very well in the AHL, and eventually, hopefully, the NHL.