Top Montreal Canadiens Prospects Ranked By NHL Equivalency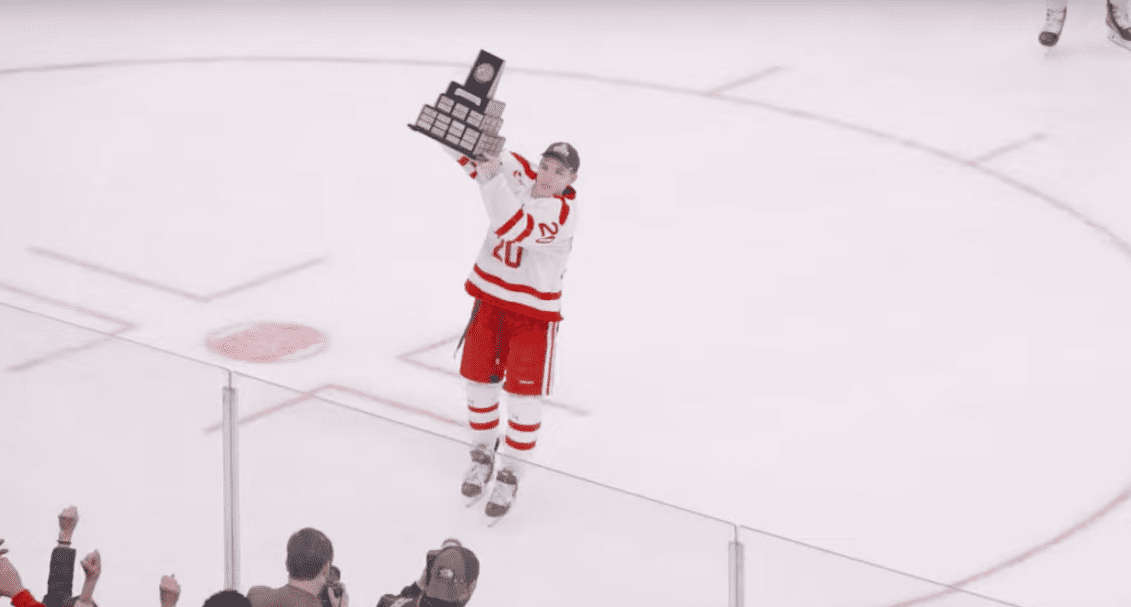 Much has been made about the strength of the players in the Montreal Canadiens prospect pool.
There's a healthy amount of talent at every position, which is one of the driving forces behind the Canadiens ranking second among the 32 NHL prospect pools.
There's some concern regarding the lack of potential elite talent, but for now, to get a better idea of what each prospect may bring to the table, we can use a simple formula called NHLe, which levels the playing field for every player in the system.
What is NHLe?
NHL Equivalency (NHLe) is a metric that allows us to estimate how a player's scoring rate will translate to the NHL.
Every league is given a certain value which is then multiplied by the player's scoring rate.
If you'd like to take a deep dive into NHLe, I suggest reading this article by Patrick Brown.
Why use NHLe?
As we all know, not every hockey league is the same when discussing overall quality. Comparing raw production rates from various leagues without adjusting for the strength of the league would be a dishonest approach to evaluating potential production.
It's not a perfect metric by any means, few are, but NHLe allows us to compare apples to apples, at least when it comes to production from players who are developing outside of the NHL.
Top Montreal Canadiens Forwards (NHLe)
Two QMJHL prospects lead the charge, Riley Kidney and Joshua Roy, which isn't surprising given they both enjoyed great scoring rates with their respective teams.
Sean Farrell and Jared Davidson are the next listed prospects, though we should point out that they're both older than their competition, and both played on very strong teams.
You'll also note Emil Heineman's production in the AHL easily eclipsed his production in the SHL, which is rather impressive given that jumping from one league to another during the season is a tall order for any player, let alone a prospect.
A quartet of 2022 draftees take over the list from that point on, headlined by Owen Beck, Cedric Guindon, Filip Mesar, and Vinzenz Rohrer.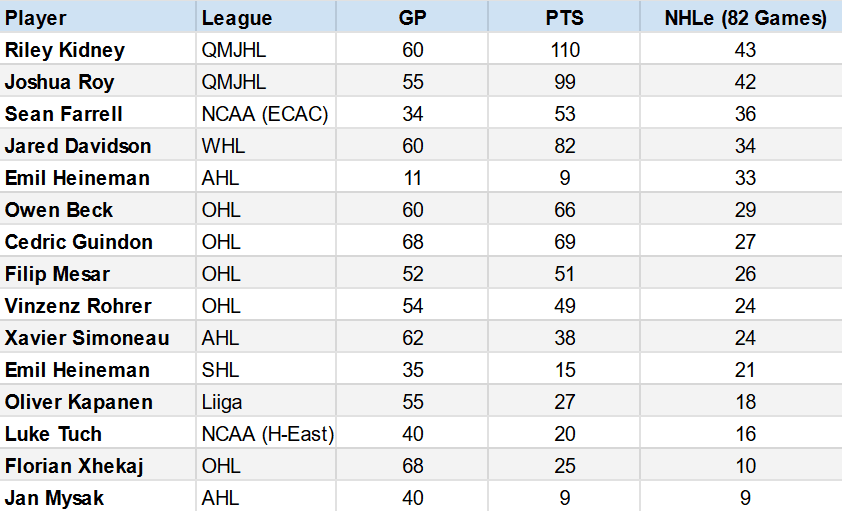 Top Montreal Canadiens Defencemen (NHLe)
Shockingly, Lane Hutson leads the charge thanks to his ridiculous freshman season with the Boston University Terriers.
He's followed by Bodgan Konyushkov, the overage defenceman drafted 110th overall by the Canadiens at the 2023 Draft.
Logan Mailloux's excellent year in the OHL pushed him to the third overall spot, followed by Adam Engstrom and David Reinbacher, who rank fourth and fifth, respectively.
Of course, production is a little less important when it comes to discussing a defenceman's potential, but it is still a crucial aspect of any modern defenceman's game, especially those who go on to make an impact in the NHL.