Habs Mailbag: Goaltending Options, The Next Hutson, Trade Offers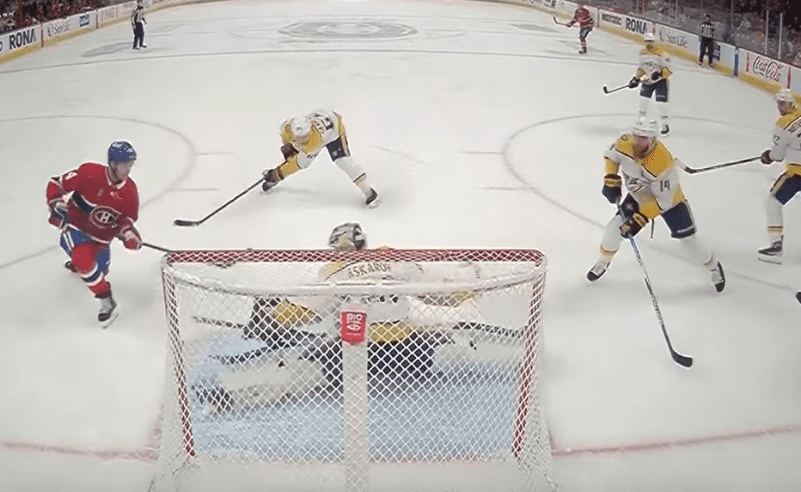 Welcome back to the off-season Montreal Canadiens Mailbag!
This week we discuss the many goaltending options heading into the 2023-24 season, the options for the top line, what will happen with players like Joel Armia, Christian Dvorak, and Mike Hoffman, a trade offer from the Nashville Predators, as well as a look ahead at the 2024 NHL Entry Draft.
This is the second mailbag we published this week. If you'd like to take a look at the first batch of questions and answers you can click here.
Without further ado, let's dive right into it.
---
-any team interested in Armia, Dvorak or Hoffman
-can KH still buy them out
-how is Montembeault really worth as a goalie vs the elite
In the league
-Slafkovsky – shouldn't he start in the AHL and play lots

— daniel m (@JMSBannockburn) July 10, 2023
As it stands, there's little to no interest in players like Joel Armia, Christian Dvorak, or Mike Hoffman. We'll delve more into that subject a little later in the mailbag.
Kent Hughes can no longer buy them out, seeing as the buyout window has closed and the team will not be involved in any arbitration hearings, and thus, will not be offered a second buyout window.
As for Samuel Montembeault, I would say he doesn't have much value compared to elite goaltenders in the league, but that's fine. His value lies within his potential for the Canadiens, specifically. If he can become a legitimate starter, the Canadiens will be laughing. But no one should expect a goaltender like Montembeault to fetch a healthy return if he's made available for a trade.
And finally, I think Jurja Slafkovsky should start wherever the team can find him sustained ice time. If that means the AHL, then so be it. If it means the NHL, that's fine too, but it can't be another season of yo-yo usage in his case. Slafkovsky needs talented linemates and consistent usage if he's to become an impact player in the NHL.
---
Who starts the season on the wing with Suzuki and Caufield?

— Matthew Menear, PhD (@mattmenear) July 9, 2023
I know many will point to Josh Anderson's play on the top line in the second half of the season as evidence that he should be used alongside Nick Suzuki and Cole Caufield next season.
But the fact remains that Anderson is a significant drag on both players when it comes to their underlying numbers and their production. Anderson scored more often in the final months of the season, which was to be expected given the limited options in the lineup, but no one can honestly say that it's ideal usage for either Anderson, Suzuki, or Caufield
As for the remaining players, while it's true Suzuki and Caufield have shown chemistry, it's also quite clear they need someone on their line that is great in transition, a player that opens up time and space for them.
The Canadiens have very few of those types of players in the lineup. Sean Monahan and Kirby Dach fit the bill, but then there's the matter of spreading the talent throughout the lineup, not to mention that they're both centres.
Rafael Harvey-Pinard was decent on the top line last year, and I'd use him as a contingency plan if worst comes to worst, but before heading down that road, I would actually split up Caufield and Suzuki, while making sure that Caufield would land on whichever line features Dach.
It would lead to a more balanced workload for Nick Suzuki, and it would also spread the wealth a little, making the Canadiens a more difficult team to play against.
---
Who comes to mind when you think of not living up to their potential for former Habs? With Drouin leaving and the skill he had names like Kostitsyn, Perezhogin and maybe even Pouliot come to mind.

Btw I think Drouin will kill it next season with the Avs!

— Amethyst Italian (@AmethystItalian) July 9, 2023
Jiri Sekac is my answer to this question, now, and forever.
He looked great in his short time with the Habs and his underlying numbers were somewhat encouraging. I was convinced that since he passed the eye test with flying colours and his stats were reasonably good, Sekac would quickly succeed with another team.
Lo and behold, I was wrong.
Boy, was I ever wrong.
On that note, very few Canadiens players have left the team and enjoyed significant success with another organization. Mikhail Sergachev comes to mind, but he was traded much too early, and there are decent chances he would have also been an impact player if he hadn't been sold for pennies on the dollar to the Tampa Bay Lightning.
---
Kent Hughes often mentions "accelerating" the rebuild. Is this the right approach? How do you do this without cutting corners?

— Josh Python (@LostJoshPython) July 9, 2023
This is purely speculating on my parent, but I don't get the sense Kent Hughes wants to accelerate the rebuild as much as he was given marching orders to make it a reasonably quick process, based on the foolish notion that Montreal Canadiens fans can't handle a losing team.
But as we all know, Habs fans have no issue dealing with losses, as long as they're tied into a long-term plan that has a reasonable chance of working out.
As for how you press fast forward on a rebuild without cutting corners? Well, it's rather difficult to accomplish. You have to get lucky with many of your players surpassing expectations, not to mention have a few draft picks that develop into elite presences.
Let's just say that most of the time a team decides they are close to legitimately contending it turns out that objects in the rearview mirror are closer than they appear.
Take the Red Wings for example.
I understand the logic in not wanting to instill a losing culture, and though many will quickly dismiss this factor, it's simply a symptom of having no real-world experience dealing with high-end athletes.
Players, like Nick Suzuki, and coaches, like Martin St-Louis, are used to success, and several losing seasons can quickly take their toll.
That being said, I don't think either Suzuki or St-Louis would endorse cutting corners to put an early end to the rebuild, because in the long run, that will lead to more losses, whereas a proper rebuild should lead to a little more short-term pain for significant long-term gain.
We'll see what happens in Detroit, but I get the sense that Steve Yzerman is pushing the envelope too quickly, and I'd even go as far as saying the Red Wings will not qualify for the playoffs next year, making their investments in aging veterans a rather particular decision given that they're still a few years away from legitimately competing.
And that's great news for the Canadiens.
While the rest of the division is engaged in an arms race (or delusions or grandeur), the Canadiens can afford to take the slow and steady approach.
---
What is the most likely thing to happen with Armia, Hoffman, and Dvorak this year?

— Andrew (@wilimek5) July 9, 2023
I personally think Mike Hoffman is far from a bad player, and that there should be some interest from other NHL clubs. I'm not saying that's what will happen, but rather, that Hoffman has been unfairly classified as a useless player since his arrival in Montreal.
As his production numbers show, he's far from useless.
He's not going to win a Selke Trophy any time soon, mind you, but the rumours of his demise have been greatly exaggerated.
As for Armia and Dvorak, there's a chance that the latter finds his rhythm in the defensive zone, which would increase his value, but I'd suggest that Canadiens fans should not hold their breath when it comes to a potential trade involving the three veteran amigos.
---
Who are you most excited about in the '24 draft?

— Nathaniel Herz (@pindaricus) July 9, 2023
There are several interesting players available, including a few high-end defencemen who are set to lead the 2024 Draft Class as the dominant position available in terms of overall talent.
On that note, there are a few high-end forwards, including Ivan Demidov (MHL) and Macklin Celebrini (USHL).
But if we're being perfectly honest, it's become quite clear the Canadiens should invest in another Hutson.
Lane's brother, Cole, is available next season, and though he doesn't necessarily project to have as much potential as the Canadiens' draft pick, he does seem to be an incredibly talented player.
He should be available around 10th overall, which also may align nicely with where many expect the Canadiens to pick. Personally, I think they'll end up picking closer to 5th overall again, but I could be wrong.
---
Is Josh Anderson in the team's long term plans? Seems like his contract will become much more attractive starting next year with the cap going up, and at a time when he's got to be close to peak value.

— motorsuzuki driveby (@motorsuzuki14) July 9, 2023
I truly believe Josh Anderson is the type of player Hughes and Co. want to keep around for the long haul. Or rather, for another couple of years, at least, and then they'll re-evaluate.
Yes, his contract will become more attractive, but let's just say that several NHL teams have shown their interest in acquiring Anderson's services already, so I wouldn't worry about potential suitors. The Calgary Flames, for example, have repeatedly enquired about Anderson's availability.
If the Canadiens decide they want to trade Anderson, it won't be a very long process. But the Canadiens do not want to trade Anderson at the moment, so it's a moot point.
---
Marc, how do you see Montreal's goaltending situation for this season? Will they Carry a third and avoid losing Primeau to waivers.

— Darren – Habs and Avs (@DK4lighting) July 9, 2023
I don't expect the Canadiens to carry a trio of goaltenders this year, especially if the goal is to avoid losing Cayden Primeau on waivers.
I'm one of the few that still believes Primeau needs to be given a stable situation with lots of starts to properly evaluate his progress, and that includes NHL games and NHL rosters that aren't decimated by injuries.
Let's be honest, every time Primeau is called upon in the NHL he's thrust into a situation that's conducive to losing.
On that note, given his age and lack of sustained results in recent years, I don't foresee many teams putting in a claim once he's placed on waivers. Almost every other NHL team already has a Primeau-like goaltending prospect in their system, one that they're familiar with.
I suspect the Canadiens will simply enter the season with a 1A/1B goaltending setup, much like last year, though, due to Jake Allen's recent regression, there's a strong possibility that Samuel Montembeault finally receives more than 40 games.
---
Goaltending, thoughts on who should be #1

— Grandpa🇨🇦🏒⚽️🏈💉🍻🥨🐶 (@MichaelMacLeod7) July 9, 2023
Montembeault has to be given enough runway to prove that last year was not a fluke. That doesn't mean he should be getting 60 or 70 games, as was the case when Carey Price was the team's bonafide No.1 goaltender.
These days, most teams have a couple of options when it comes to goaltending. The era of the 70-start goaltender is quickly coming to an end.
That means that goaltenders such as Jakub Dobes and Jacob Fowler have increased odds of one day making the NHL because by then I truly believe that NHL clubs will stop investing heavily in starting goaltenders, giving them more flexibility should injuries occur.
It's also well known that in hockey you want to ride the hot goalie, especially once the playoffs begin. Having multiple options improves the odds a team can catch lightning in a bottle.
---
Habs needing a goalie for future, they drafted 3 and have a couple in the system. But, do you think Hughes would try to get Askarov as he fits the core youth age moving forward.

What would it take?

— Naslund26 (@MattyNaslund26) July 9, 2023
The Nashville Predators reportedly offered Yaroslav Askarov, as well as the 15th and 24th overall picks, in exchange for the 5th overall pick.
According to our calculations, that's actually a reasonable offer when it comes to actual Draft pick value, but we also have to keep in mind it's the type of trade where the sum of the parts provides value, rather than one high-value asset.
And when it comes to those types of trades, the team that ends up with the highest-valued asset usually wins.
It's also important to remember that Askarov's wild antics may be entertaining when watching them on Youtube or Twitter the next day, but it would take exactly one poorly-played puck that resulted in a goal against for the Askarov magic to quickly be dispelled in a market like Montreal.
I was quite vocal when it came to the Canadiens' Draft. I thought they took a very odd approach that is unlikely to provide much talent in the later rounds, but I would have quickly refused the Predators' proposed trade as well, especially when we consider that goaltenders hold little to no value in the NHL trade market.