Canadiens Projected Lineup Salary Cap Outlook For Free Agency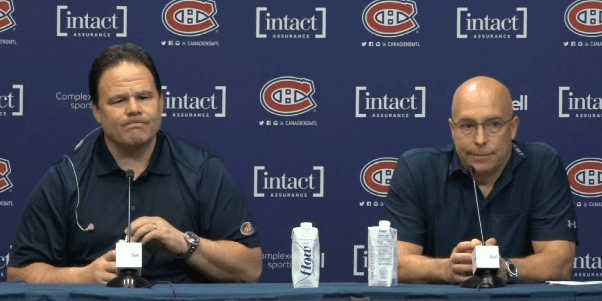 Now that the Montreal Canadiens have finalized their qualifying offers, we have a much better idea of their salary cap situation.
And it's the perfect timing, seeing as the NHL's free agency window opens on July 1 at 12 PM ET.
Approximate Projected Lineup
We can safely assume the Habs will not re-sign Denis Gurianov, Jonathan Drouin, Alex Belzile, Paul Byron, Chris Tierney, Anthony Richard, Frederic Allard, Madison Bowey, and Corey Schueneman.
However, if they do decide to re-sign a few players that are destined to play for the Laval Rocket, it's unlikely to impact their NHL salary cap. NHL Teams can bury up to $1.125 million on each contract by assigning players to the AHL.
Thanks to CapFriendly's excellent roster-building tool, we can get a better idea of what the lineup might look like and how much salary cap space the Canadiens could potentially have.
In our scenario, Rem Pitlick, Michael Pezzetta, and Chris Wideman have been assigned to the AHL, thus nullifying their cap hits. We've also placed Jake Evans in the AHL, though that may not align with the Canadiens' intentions. The other option would be to assign Jesse Ylonen to the AHL, but he must go through waivers next year and there's a decent chance he'd be claimed.
Ideally, Kent Hughes would trade one of the overpriced veterans in the lineup, but for now, we'll project the lineup with those veterans included seeing as there seem to be no bites on the trade market for their services.
We also have to estimate how much Rafael Harvey-Pinard, Alex Newhook, and Jesse Ylonen will make next year, leaving us with the following lineup (lines and pairings subject to change):
Salary Cap Space
Things can and will change, but for now, we're working with a lineup that will account for $76.8 million of the available salary cap space once we include Carey Price's LTIR relief ($10.5 million), 2022-23 bonus overages ($1.17 million), and the final year of Karl Alzner's buy-out ($833,333).
The team also has to keep in mind that Juraj Slafkovsky's contract carries significant bonuses if he reaches certain benchmarks.
Unfortunately, the relief funds they receive from placing Price's contract on the long-term injured reserve do not accrue throughout the season.
That leaves the Montreal Canadiens will roughly $6.69 million in available salary cap space with 23 roster players signed, giving them some maneuverability as the NHL's free agency window opens, though not very much.
As previously stated, it's quite apparent that players like Christian Dvorak, Mike Hoffman, and Joel Armia are absorbing an unreasonable portion of the salary cap, and a trade would lead to significant cap relief. The same can be said about defencemen Joel Edmundson and David Savard.
If Hughes can somehow manage to move one of the aforementioned players, not only would the Montreal Canadiens no longer have to place someone like Evans on waivers, they'd have much more money to work with if they choose to sign a free agent or make a trade that includes a player on an expiring contract, like they did last season when they acquired Sean Monahan and a first-round pick from the Flames.