Canadiens Draft Analysis: Montreal Drafted For Need At 2023 Draft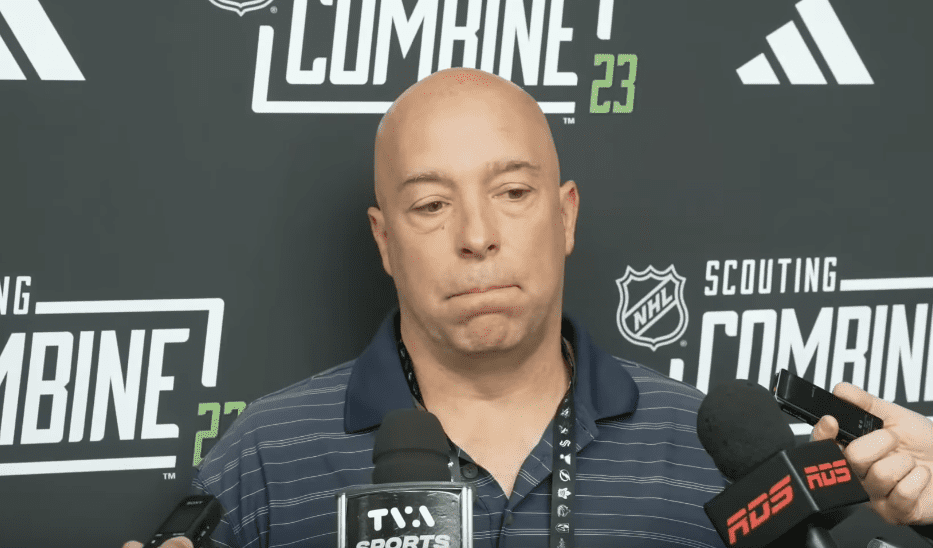 There was a lot of excitement among Montreal Canadiens fans as the team entered the 2023 NHL Draft.
And despite the fact that the team added two very good players to the mix in Alex Newhook and David Reinbacher, you'd be hard-pressed to say the Canadiens were one of the early winners this year.
Before we get into it, we should mention that Reinbacher may not be flashy, but he does project to be a very good defenceman.
Of course, it's always too early to declare long-term winners and losers in these situations, but according to most pre-draft rankings, the Canadiens failed to make many, if any, value picks.
Goaltender Jacob Fowler is an interesting pick at 69th overall, and Luke Mittelstadt, the 197th overall pick, should provide some extra value given some outlets had him ranked among the top 100 prospects available
However, it was rather clear the Canadiens were drafting for need, a rather archaic and risky gamble when it comes to NHL prospects. By the time the majority of the players are ready to make the jump to professional hockey the team's roster will be significantly different than the one Kent Hughes will ice this season.
Adding goalies and overager players isn't necessarily a bad choice, but we also have to acknowledge that those type of players are readily available in other avenues that don't involve spending a precious draft pick.
Fortunately, two of the goalies were drafted out of the USHL and MHL, which means the Canadiens will have four years to evaluate their development. As for Quentin Miller, he did not earn many starts for the Quebec Remparts, but when he did he stood out as an interesting prospect.
This is what I'm referencing with goalies. The success is in the Euro guys that hit the pro track early. Find those and you'll find yourself a goalie money tree. https://t.co/it8nGbYM1T

— Byron Bader (@ByronMBader) June 29, 2023
Unsurprisingly, the feeling among Canadiens fans is that the team squandered an opportunity to bolster their prospect depth by taking the 'safe' route. Though, as we've often heard, safe is death in sports.
That's not to say the Canadiens' draft will be among the worst in franchise history, but there's very little to suggest that it eventually be regarded as anything but a mediocre draft class.
Alright Habs fans, now that the dust has started to settle, how do you feel about the Montreal Canadiens' 2023 draft?

— Marc Dumont (@MarcPDumont) June 29, 2023
Montreal Canadiens Brass Tacks
Kent Hughes already put a significant amount of trust into his development team after he pulled the trigger on the trade that saw Alex Newhook head to the Canadiens, and the second day of the 2023 Draft simply reinforced the idea that he thinks they can work their magic and surprise the hockey world with their picks.
And they might need a little magic to make it happen according to the public pre-draft rankings.
Reinbacher, 5th overall, was rated as high as 9th in public lists, and as low as 20th.
Fowler, 69th overall, was rated between 45th and 103rd overall.
Florian Xhekaj, 101st overall, was only ranked by a single outlet, and they had him as the 214th-best prospect available.
Bogdan Konyushkov, 110th overall, is a 20-year-old defenceman who was not ranked by any outlet.
Quentin Miller, 128th overall, is a player I was hoping the Canadiens would consider, however, he was ranked by only two outlets: 192nd and 228th.
Sam Harris, 133rd overall, was not ranked by any outlet.
Goalie Yevgeni Volokhin, 144th overall, was not ranked by any outlet.
Filip Eriksson, 165th overall, was only ranked by one outlet (239th overall).
Luke Mittelstadt, a 20-year-old defenceman, may have been the best value pick of the event for the Canadiens, as some outlets have him ranked as high as 91st overall.
As you can see, the Canadiens threw caution, or rather, consensus to the wind in Nashville.
That's not necessarily a bad thing, but it does put Kent Hughes and Co. into a difficult position. If their confusing draft, which involved too many goalies and a couple of overage players, does not pan out, the 2023 NHL Draft could end up being a significant drag when discussing the state of the franchise.
And that's simply not something a rebuilding team like the Montreal Canadiens can afford.