Montreal Canadiens Consolidated 5th Overall Draft Rankings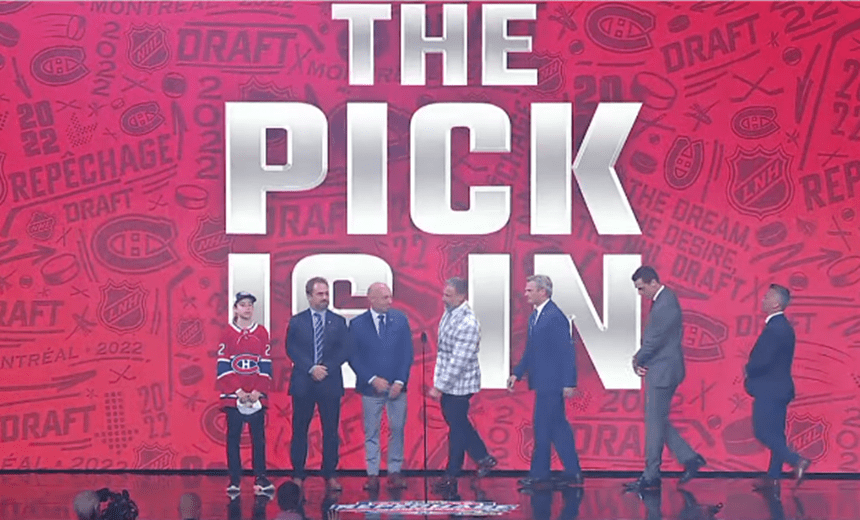 The 2023 NHL Draft is quickly approaching, which means it's time to give Montreal Canadiens fans a better idea of the likeliest options for the 5th overall pick.
To accomplish this we curated 25 different rankings from various outlets and prospect experts, isolating the player they've ranked as the fifth-best available prospect at the draft.
You can click on the outlet name to see their full 32-player first-round rankings.
---
According to several outlets, including FC Hockey, Chris Peters, Draft Pro, Daily Faceoff, Hockey Prospect Radio, Yahoo, Scott Wheeler, and The Hockey Writers, Will Smith is the 5th-ranked prospect at the 2023 Entry Draft.
He leads all other players with eight sources ranking him 5th.
Smith, an extremely talented centre, is a standout from the US National Team Development Program. The 6'0″ forward ended the season with one of the best scoring paces in program history, scoring 51 goals and 76 assists in 60 games.
MUST READ: Canadiens Draft Option Will Smith Is Overflowing With Talent
No words @_willsmith2. None.#U18MensWorlds pic.twitter.com/GgXP1zTaIi

— USA Hockey (@usahockey) April 23, 2023
---
Bob McKenzie, RDS, TVA Sports, McKeen's, Recruit Scouting, and Andrew Forbes have Matvei Michkov listed as their 5th-best player at the Draft.
The offensive dynamo is the second-most frequent player listed at 5th, with six mentions, tied with a very skilled forward who played with the Winnipeg Ice last season. More on that later.
Much has been said about Michkov, but one thing is sure, a player of his talent is rarely available with such a late pick. NHL teams may think drafting Michkov is a gamble, but there's also a significant risk in ignoring a player of his ilk in the top 5.
Matvei Michkov scores goals for 8 minutes.

I believe these are from @Hockey_Robinson – follow him pic.twitter.com/f7898dNTKO

— Shaun Hashim (@shaunhashim) June 14, 2023
MUST READ: Montreal Canadiens Draft Option Matvei Michkov Is A Rare Talent
---
Elite Prospect, Dobber Prospects, Smaht Scouting, Tout Sur Le Hockey, The Win Column and Ryan Barr listed forward Zach Benson as the 5th best option. Like Michkov, Benson also received six mentions.
Despite being a diminutive forward, Benson is the most talented playmaker available who is not named Connor Bedard, and even then, it's a close race. The left winger earned 36 goals and 62 assists in 60 games for the Winnipeg Ice last season. He takes a cerebral approach to hockey, which is sure to pique the curiosity of many teams.
The Ice defeated the Blades 5-3 to improve to 36-6-1-0.

If you went to the game this evening in Winnipeg you saw quite the goal from draft eligible Zach Benson.

The BC product is 2nd in WHL scoring with 27G 42A for 69 points in 42 games.pic.twitter.com/IKBHbVOfjB

— Dave Minuk (@ICdave) February 2, 2023
---
And finally, Marco D'Amico and Sportsnet mentioned Ryan Leonard, making him the final prospect to receive multiple mentions, with two.
Leonard projects as a well-rounded player that may not have the same type of potential as the three prospects who received more nominations at the 5th overall position. He has great vision, a perfect hockey frame, and was dominant at the U-18 World Championship
MUST READ: Canadiens Draft Target Leonard May Be A Draft-Day Surprise
There are also three outlier picks left from the outlets we used.
Craig Button: has Alex Sandin-Pellikka listed at 5, Aaron Itovitch, on the other hand, has Swedish phenom Leo Carlsson in that position, while Hockey Prospect put the extremely underrated Russian defenceman Dmitriy Simashev at 5.
Dmitriy Simashev is our 5th ranked prospect at @ScoutingService for the 2023 #NHLDraft . Here's a 2 minute video of his skating skills and why he's one of the top skaters and best pure athletes from this draft class. pic.twitter.com/VY4O5bY6B8

— Jérôme Bérubé (@Jerome_Berube) June 19, 2023
---
While there's no perfect consensus when it comes to the fifth-best player at the draft, Montreal Canadiens fans can probably start to circle three different names: Smith, Benson, and Michkov.
Of course, there's always a chance the Canadiens go off the board and select a player such as Leonard, but as it stands, there are three elite offensive talents in the Draft, and by all logic, the Canadiens, who desperately lack offensive punch, will have an opportunity to add one of them to their prospect pool.