Canadiens Draft Options: Will Smith Overflowing With Talent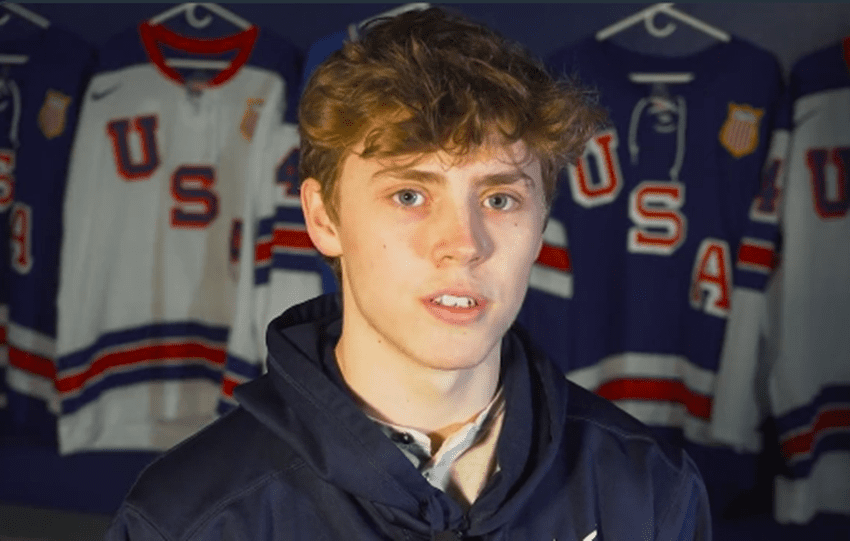 With the 2023 NHL Draft quickly approaching it's time to take a look at the best players who may be available to the Montreal Canadiens once they take to the podium to announce the fifth overall pick.
We're starting with one of the most impressive players in the US National Team Development Program, centre Will Smith.
Montreal Canadiens: Will Smith Scouting Report
The 6'0″ centre is coming off an excellent season with the USNTDP. Smith finished the season with one of the best scoring paces in program history, scoring 51 goals and 76 assists in 60 games.
With 2.12 points per game, Smith ranks second all-time, ahead of such players as Auston Matthews (1.95 PPG ) and Phil Kessell (1.78 PPG). The lone player that had a more productive season was Jack Hughes, who earned 2.24 points per game in 2018-19.
In addition to his excellent year with the USNDP, Smith also excelled at the U-18 World Championships, where he put together one of the most dominant performances in tournament history. He scored nine goals and 11 assists in just seven games and was the driving force behind the USA's gold medal. The only player to outscore Smith at the U18 tournament was Nikita Kucherov, who scored 21 points in 7 games back in 2010-11.
Thanks to his ridiculous performance, Smith was showered with accolades. He was the tournament's Most Valuable Player, The Best Forward, the most productive player (20 points), and was given a well-deserved spot on the All-Star Team.
No words @_willsmith2. None.#U18MensWorlds pic.twitter.com/GgXP1zTaIi

— USA Hockey (@usahockey) April 23, 2023
Overflowing With Talent
Smith is an excellent playmaker who combines speed, creativity, and elite vision to wreak havoc in the offensive zone. His penchant for creating scoring chances off the rush is quite evident, as is his ability to efficiently gather loose pucks and quickly drive the play up the ice.
Defenders have a hard time defending and adapting to his speed, not only because he attacks the offensive zone with the ferocity of a honey badger, but also because his edgework is rather excellent, giving him the ability to quickly change his angle of attack.
With that in mind, Smith is one of the few forwards in the draft that can easily turn a 'nothing play' into a scoring chance, which explains why he's one of the highest-rated players available.
Will Smith (2023) was out there doing his thang again last night.

This end-to-end goal brings him up to 18 goals and 47 points in 26 games for the USNTDP.

We like Will Smith. pic.twitter.com/BmREzaHmeW

— /Cam Robinson/ (@Hockey_Robinson) December 11, 2022
On top of being an excellent playmaker, one that constantly creates time and space for his linemates, Smith possesses a very good shot that relies on a quick release to find the back of the net.
He's also not afraid to put his excellent hand-eye coordination in the spotlight when he drives the net, using quick puck movement and great lateral transitions to confuse goaltenders, throwing them off balance, and consequently, opening up precious ice near the crease.
Simply put, any time Smith is on the ice you can expect a highlight-reel play.
🇺🇸🇸🇰 Will Smith puts @usahockey on the board! (5.) 🚨 After a breakaway, he scores his seventh goal of the tournament and brings USA the lead! #u18mensworlds #USASVK pic.twitter.com/ztExcqxU9u

— IIHF (@IIHFHockey) April 29, 2023
Smith is a strong competitor, but at this point in his development, he's far from a 200-foot player. His hockey IQ does allows him to identify and shut down passing lanes, and he has the core strength to win puck battles, which gives him ample opportunities to turn defensive scenarios into offensive opportunities.
2023 Draft Rankings
Almost every available public draft ranking has Smith ranked within the top 10 picks at the 2023 Draft, with outlets such as McKeen's and Sportsnet ranking him 4th overall. The lowest ranking comes from EliteProspect, who ranked Smith 7th overall.
The average ranking for Smith happens to be 5th overall, which coincides with the pick owned by the Montreal Canadiens. We know the Canadiens has shown significant interest in Smith, and there has even been word that they're trying to move up in the Draft to secure Smith's services.
MUST READ: The Cost Of Moving Up At The 2023 Draft
However, given the overall talent in the 2023 draft class, which includes such players as Connor Bedard, Adam Fantilli, Matvei Michkov, and Leo Carlsson, Smith, who would usually be too talented to be available at 5th overall, may just fall into the Canadiens' lap.