Canadiens Prospect Review: Sean Farrell's Impressive Growth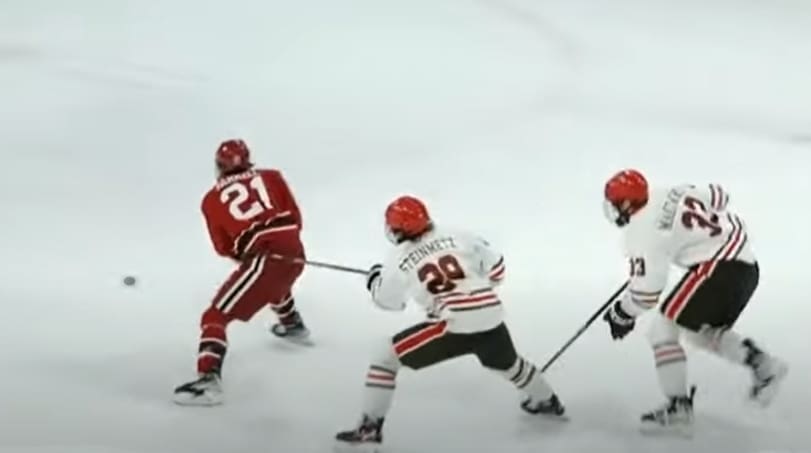 Heading into the 2022-23 season, the majority of Montreal Canadiens fans were focused on the players who had recently joined the organization.
Players like Juraj Slafkovsky, Filip Mesar, Owen Beck, and Lane Hutson.
But it was a prospect that was chosen late in the fourth round of the 2020 Draft that showed the most growth: Sean Farrell.
The skilled forward quickly established an impressive scoring pace, powering the Harvard Crimson to an impressive 24-8-2 record, good for second place in the Eastern College Athletic Conference (ECAC).
STEAL. https://t.co/1xhD6ZWgWm

— Cole Caufield (@colecaufield) October 7, 2020
By the Numbers
Farrell was a dominant presence in the USHL, where he set scoring records with the powerhouse Chicago Steel organization.
In his final season with the team, he scored an impressive 29 goals and 72 assists in just 53 games. However, his production was viewed with a grain of salt considering he had originally planned to be playing in the NCAA but was forced to stay in the USHL due to the pandemic.
His first season with Harvard was good, not great. He scored 10 goals and 18 assists in 24 games, but more importantly, he was introduced to a system that involved more Xs and Os, and he was facing a higher level of competition.
It's worth paying attention anytime a player earns more than a point per game in the NCAA, but given that Farrell was already 20 years old, there were some concerns regarding his overall development.
Farrell quickly erased those concerns this season.
Sean Farrell: end 2️⃣ end

Might wanna check this out #SCTOP10🔥
📺 https://t.co/OPMcWcxJ7v#GoCrimson | #OneCrimson pic.twitter.com/ukvSRoi5Id

— Harvard Men's Hockey (@HarvardMHockey) January 15, 2023
Not only did he improve his overall production, to the tune of 20 goals and 33 assists in 34 games, good for fourth overall in the NCAA, but he also finished the year with the second-best points-per-game ratio in the entire NCAA.
Only Adam Fantilli (1.81 PPG) had a better scoring pace than Farrell (1.54 PPG). He finished the season by scoring more points per game than prospects such as Logan Cooley, Jimmy Snuggerud, Matthew Knies, Alex Laferriere, and Matt Coronato.
Unlike many of his counterparts, he did not pad his stats by scoring many powerplay goals (4). He also managed to contribute in every situation, including the penalty kill, where he scored a pair of goals.
Farrell was held off the scoresheet in just six games last season while managing to produce multi-point efforts on 16 different occasions.
What The Prospect Experts Are Saying
Hadi Kalakeche: Farrell is NHL-ready in terms of his tools and toolkit. He just needs to bulk up, add some more core strength and he's good to go — he's got true top-six potential. Farrell's an insane playmaker and is probably the smartest Habs prospect not named Lane Hutson.
Sebastian High: Farrell can already outthink most NHL players. His playmaking and intensity will also really ease his transition to professional hockey. His skating remains a work in progress, if he improves upon his skating this summer, he could be a top-nine contributor right out of the gate in the Fall, but if it doesn't, acclimating to pro hockey and its pace in the AHL for a season would likely be beneficial.
Strengths
Farrell is an incredibly smart player. His vision and anticipation allow him to create chaos in the offensive zone, which leads to high-danger scoring opportunities for his linemates.
He approaches every shift as if it is his last, which served him incredibly well in the NCAA, and should continue to help him as he acclimatizes to professional hockey.
When the game is on the line Farrell is at his best. He constantly pushes the play to the offensive zone and is quite skilled in transition. Having a player like Farrell in the lineup ensured that Harvard rarely had to spend their precious energy defending.
He's also quite elusive, which often led to powerplay opportunities for his team as opposing defenders were forced to cheat if they wanted to slow him down.
What a pass by #GoHabsGo prospect Sean Farrell👀👀
PPG goal!!!
Havard 1 Northeastern 1 https://t.co/jn0mMObqNf pic.twitter.com/O2K4CpTfUJ

— Florence Normand (@Florence_1553) February 14, 2023
His playmaking is his greatest asset, as he has a penchant for creating time and space and then using the passing lanes he created to find his linemates with perfect passes.
Lane Hutson is getting all the love, which I'm obviously all here for, but what about this pass by Sean Farrell on the 4-2 goal for USA?

The vision on this kid is exceptional. #GoHabsGo pic.twitter.com/GJ3qgqX82t

— Hadi Kalakeche (@HadiK_Scouting) May 9, 2023
Weaknesses
Farrell's skating is far from elite. It's not necessarily poor, but he will need to improve his first stride if he's to produce beyond the NCAA.
His size did not hold him back in the NHL, but at 5'9″ and just 175 lbs, he could stand to add muscle mass to his frame if wants to continue to thrive in a professional hockey setting, especially if he wants to reach the 'dirty' areas of the ice to take advantage of second-chance scoring opportunities.
As for his shot, I wouldn't say it's a weakness. It's above average, but at times Farrell defers to his teammates when he's in a good shooting position. It's not a significant weakness, as Farrell takes his fair share of shots, but he does overpass at times.
Defensively, Farrell is rather hard to judge, given that Harvard rarely played in their own zone. His defensive play isn't poor, but it isn't polished, either.
What's Next
Farrell signed his entry-level contract with the Canadiens once Harvard was eliminated from the NCAA tournament, and played a handful of games with the Canadiens, scoring his first NHL goal in the process, but we shouldn't expect him to earn a job in the NHL lineup next season.
First ever NHL shot, first ever NHL goal for Sean Farrell! #GoHabsGo
pic.twitter.com/aKw4ymJyBv

— Nathan "Grav" (@NathanGraviteh) March 30, 2023
What this particular Canadiens prospect lacks most is experience, and he will get that experience by playing meaningful minutes in the AHL with the Laval Rocket. Ideally, the Rocket would use him in every possible situation, including heavy use on the first powerplay unit.
Farrell will also have to adapt to the lack of time and space in professional hockey. It was apparent that he was a half-second behind the pace in his few games with the Canadiens. The AHL is easily the best avenue for gaining that type of experience.
Regardless of where he starts the season, with the Canadiens or the Rocket, it would be unwise to bet against Farrell's eventual ascension to the NHL.
He's proven that he can adapt to every situation in which he's placed, and what's more, once he finds his rhythm, he is the type of player that quickly stands out as an offensive dynamo.