Canadiens: Comparing Bergevin and Hughes Draft Pick Value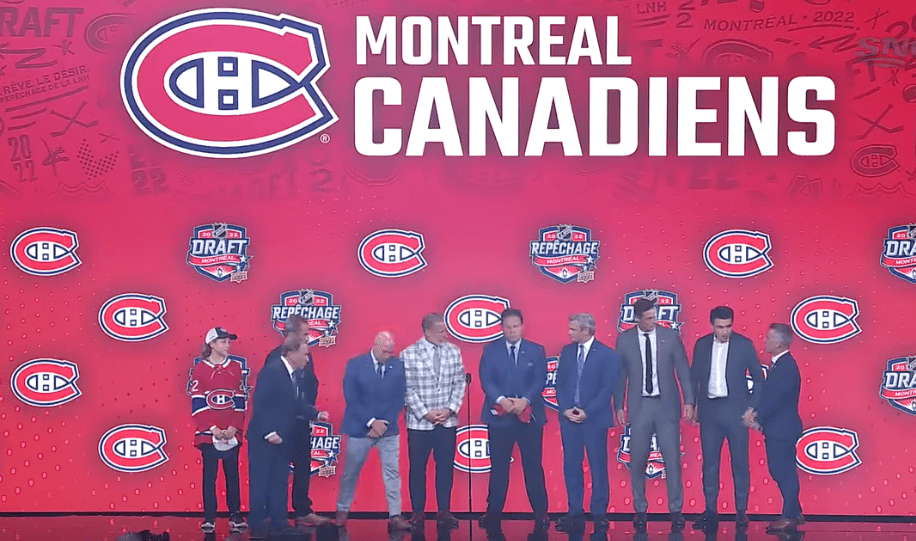 The Montreal Canadiens have a well-documented history of questionable prospect development.
For roughly a decade, the team's AHL affiliate managed to graduate one roster player: Jake Evans.
Recently, we've seen players such as Rafael Harvey-Pinard, Justin Barron, and Jesse Ylonen make their way to the NHL and enjoy some success, but for the most part, the pre-draft value has not translated into very many tangible assets for the organization.
It's an issue that general manager Kent Hughes quickly addressed by revamping the development team personnel and improving the team's yearly pre-draft value.
Before we start to take a look at the pre-draft value of the picks owned by the team during Hughes and Bergevin's tenure, we must remind ourselves that they were working with a different set of circumstances.
Bergevin was focused on pushing the team from being a pretender to a contender, while Hughes has started the organization's rebuild in earnest.
To understand the value of the picks under both general managers we will cross-reference them with Michael Schucker's draft value chart, which assigns a pre-determined value to every pick in the NHL's Entry Draft.
If you'd like to get a better idea of how draft-pick value charts work you can check out our recent deep dive into the world of draft-pick value by clicking here.
New Horizons
As you can see in the chart below, relative to his predecessors Hughes had done a fantastic job improving his team's overall draft pick value.
Of course, owning the first overall pick in 2022 certainly helped his case since it held significantly more value than any other pick, but he also added value by acquiring an additional first-round pick.
This year the Montreal Canadiens own the 5th, 31st, 37th, 69th, 101st, 110th, 128th, 133rd, 144th, 165th and 197th picks in the Draft, which isn't quite as appealing as their pick value the previous season, but it still eclipses every other draft year we've evaluated by a wide margin.
Bergevin vs. Hughes
Berevin's two best seasons took place in 2012 and 2018, powered by owning the third-overall pick at the Draft. Neither Alex Galchenyuk nor Jesperi Kotkaniemi worked out for the team, which once again reminds us of the importance of establishing a proper development program.
2018 also had the added benefit of featuring several second-round picks as Ylonen, Alexander Romanov, and Jacob Olofsson made their way to the Canadiens. Not to mention, a pair of third-round picks that ended up being Cam Hillis and Jordan Harris.
However, there were some very lean years as well.
Even if we combine the value of the 2014, 2015, 2016 and 2017 drafts, they still pale in comparison to 2022, when the Canadiens picked such players as Juraj Slafkovsky, Filip Mesar, Owen Beck, Lane Hutson, and Adam Engstrom.
Brass Tacks
Again, these are pre-draft values, which means a player like Hutson (62nd overall) holds much less value than a player like Ryan Poehling (25th overall).
With that in mind, it's clear to see that Hughes hasn't just improved the quantity of first-round picks, but he's also improved the overall quality of his picks.
The development of the picks will always play a big part in determining the success of a draft class, but for now, Canadiens fans can rest easy knowing that the current general manager of the Montreal Canadiens has accumulated historical levels of pre-draft value.
---
Draft pick value chart via Michael Schuckers.