Habs Mailbag: Xhekaj's Future, Chara vs Ivanans, Gallagher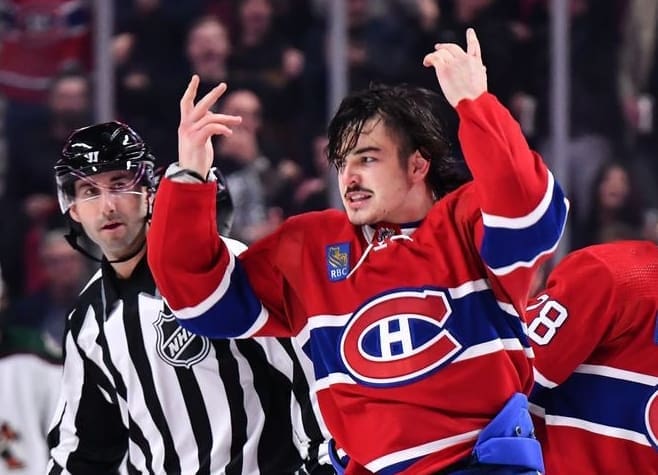 Welcome back to another off-season edition of the Canadiens Mailbag!
This week we cover Arber Xhekaj's place in the lineup next season, Brendan Gallagher's future, drafting goaltenders, and a look back at (one of) the dirtiest things Zdeno Chara did to a Canadiens player.
Let's dive right into it.
---
Two questions, please. Serious ones.

1) Has Raitis Ivanans ever bumped into Zdeno Chara after the incident?

2) What % of current Habs fans even know what the hell I'm talking about, and how bad is it if that item gets totally forgotten?

— Rather Gingerly (Joe) 🙈🙉🙊 (@WinterLions) June 16, 2023
The Raitis Ivanans versus Zdeno Chara fight took place almost 20 years ago, which means there's an entire generation of Canadiens fans that probably have no idea what we're discussing.
And they're lucky.
The early 2000s were truly the dark days for the Montreal Canadiens.
By the time the Canadiens added slightly more talent to the lineup, players such as Alex Kovalev and Michael Ryder, general manager Bob Gainey was convinced the roster was missing one crucial element: toughness.
Enter Ivanans, a six-foot-six forward hailing from Riga that had earned a grand total of two goals in 75 games with the Hamilton Bulldogs the previous season.
The fight itself was a nothing burger, but once Ivanans was tied up by the linesmen Chara decided it was the perfect time for a cheap shot.
And as cheap shots go, it was about as cheap as it gets. And it broke Ivanans orbital bone, which is incredibly painful. If you haven't had the pleasure, let me just say a broken orbital bone feels like you're being attacked by thousand angry elves armed with blowdarts that contain bullet ants.
The injury took a month or two to heal, and the moment Ivanans was deemed healthy he was re-assigned to the AHL.
Chara didn't receive much flak for his incredibly dirty punch, though, as Canadiens fans know, it wouldn't be the last time the hulking defenceman would go out of his way to injure a member of the organization.
---
Lots of talk about Arber Xhekaj not making the team this season. (Which is bullcrapppp)

Thoughts on why he wouldn't? If he does and we need sit someone out, who do we sit?

— Annik Lemire (@alemiredesigns) June 16, 2023
At the risk of further igniting Annik's ire, I wouldn't be surprised if Arber Xhekaj ends up starting the season with the Laval Rocket in the AHL.
That's not to say his rookie season was a flash in the pan.
He proved a lot of people, including myself, wrong.
And for a significant portion of the calendar, he was much more than just one of the scariest players in the NHL. He was producing very encouraging underlying numbers.
But the unreasonable number of fights in which he took part clearly took a toll on his body, and consequently, his stats.
Personally, I'd prefer if Xhekaj cut his fight card in half next season, or more. The Canadiens should make it clear that his position in the lineup is not dependent on facing the toughest players in the league every night.
Beyond the physical strain, there's also the psychological strain. Ask any enforcer and they'll tell you how difficult it is to fall asleep prior to a game in which they know they'll be engaging in bare-knuckle fighting with someone who appears to be able to deadlift a bison.
As for his place in the lineup, some options lead to Xhekaj starting the season in the NHL, but it will be hard to squeeze him in if every player is healthy.
Players like David Savard and Joel Edmundson are likely to be given priority due to their veteran status, while Kaiden Guhle, Jordan Harris, Justin Barron, Mike Matheson, and Jonathan Kovacevic all produced much better numbers than Xhekaj in 2022-23 while facing a higher quality of competition.
That being said, Xhekaj certainly played an important role for the Canadiens last season, not only because it's fun to see him steal a soul, but also because he tends to add a certain level of excitement to every matchup, regardless of the opponent.
He may end up starting the season as the seventh defenceman, but I think it's probably best if he's assigned to the AHL if Kent Hughes does not manage to trade either Edmundson or Savard.
And it's not a punishment, either.
It would benefit his development and allow him to work on some details of his game that could stand to be improved, such as his gap control off the rush.
If he did not have any potential, I'd suggest keeping him in the NHL as a reserve, but Xhekaj provides more than just entertainment, he has shown he can be great in transition and he does possess a heavy shot.
He's had to fight for every opportunity in his young career, but I don't think it's necessary to make him fight for ice time next season.
---
When does coffee stop becoming coffee? Like lattes and cappuccino are forms of coffee, but at what point is it not coffee?

— Melissa Leigh (she/they) (@MochiMayhem89) June 16, 2023
Coffee is life, this much we know.
At the risk of being a curmudgeon, I don't get why people put so much crap into their caffeine water.  I'd argue anything that has roughly 32,000 calories in it should be labelled as a milkshake, not a coffee.
That's why you feel so full after drinking an extra-large triple-triple, you've just absorbed more calories than most anacondas do in their lifetime.
That being said, I'm not sure everyone would like my approach to coffee. I refuse to pay $6 for a coffee, and Tim Horton's coffee tastes like gutter water filled with batteries, which means I make my own at home.
And it's strong.
To the point that my good friend, who happens to be half Italian and half Columbian, told me I need to tone things down.
When someone from the Cinanni family tells you that your coffee is too strong, there might be a problem.
---
Understanding that there will be FA signings to fill out the roster, what do you anticipate the Laval lineup looking like with all the prospects expected to turn pro this year?

— NeilT (@biliousbarnacle) June 16, 2023
It's still too early to project a lineup for Laval. There's simply too much turnover year-to-year to get a good idea at this point.
However, we do know there should be a significant influx of legitimate prospects joining the fold. Players like Riley Kidney, Jared Davidson, Joshua Roy, Sean Farrell, Jayden Struble, Miguel Tourigny, and Emil Heineman.
Of course, Heineman already spent some time in the AHL and actually provided the team with a significant offensive boon, but it will be interesting to see what he can do in Laval with the benefit of not having to cross the Atlantic prior to donning a Rocket jersey.
We could also see a player such as Filip Mesar make his way to the AHL, but I get the sense the Canadiens want him to spend another year in the OHL, preferably on a team that doesn't rhyme with Christopher Dangers.
---
Mariusz Czerkawaki, great Polish hockey player or the greatest Polish hockey player?

— Ryan Lee 🇺🇦 (@rylee_mtl) June 16, 2023
Tak dla obu.
---
Drafting a goaltender (when able) seemed to be a good rule of thumb, no matter a team's depth. Does that still hold true?

Aside: could a netminder appear on the Habs scorecard for pick no. 31 or no. 37?

— J (@JMcinthe613) June 16, 2023
I have a rather extreme opinion when it comes to drafting goaltenders: just don't do it. There are so many good goalies available around the league that you can find talent that falls through the cracks.
However, if a team is hellbent on drafting a goalie they should follow two key rules.
1- Draft the goalie from the NCAA or Europe, which gives the team four years to evaluate their progress. It's not enough considering how slowly netminders develop, but it's a much better option than having just two seasons to evaluate a CHL goaltender.s
2 – Draft the goalie in the later rounds. I know this sounds funny from someone who covered Carey Price for over a decade, but there's little to no value in spending a good draft pick on a goaltender. That's what the fifth, sixth, and seventh rounds are for.
3 – Don't skip math class.
---
Marc, I've had enough! This has gone on far too long. I'm sick of the delay. He wants out of Winnipeg, he fills a need the Habs have… Let's make the deal!

How do we bring Logan Stanley to Montreal?

— Tristan Tapscott (@automaticbzooty) June 16, 2023
Jaroslav Halak, Michael Ryder, and a second-round pick.
Final offer.
---
Happy Friday Marc – after the injur-pocalypse last year, who are you expecting to have the best bounce back season, and if not the same person, who are you most excited to see back on the ice for a full season after injury last year?

— Carlo Lepage (@CLepage13) June 16, 2023
I know people will roll their eyes when I say this, but Brendan Gallagher is primed for a return to his former glory based on his underlying numbers once he had finally healed his foot.
Perhaps former glory is pushing it, but when Gallagher isn't dealing with a hand that's been shattered into a thousand pieces or a foot that is being held together by scotch tape, bubble gum, and hope, he's a very, very good player for the Canadiens.
---
Playing some video games in your spare time ? If so, what are your current games right now ?

— PL Fontaine (@PLFontaine) June 16, 2023
When the pandemic hit I started playing a game called Star Trek Fleet Command.
It was nothing but a time killer, and frankly, I had very little interest in Star Trek.
Growing up either you liked Star Wars (the cool nerds) or Star Trek (the less-cool nerds), and obviously, I sided with the cool nerds.
I was obsessed with everything Star Wars. I read hundreds of books, memorized details from ships that never existed, and I even wrote my own 400-page Star Wars story on the family's reliable 286 computer.
However, I ended up really liking the game, not just because of the mechanics involved, though exploring the galaxy and blowing up spaceships is certainly entertaining.
More than anything, I ended up forging real friendships with the people in my alliance. I would have quit the game a long time ago if not for the goofs that I communicated with endlessly throughout the pandemic.
Since then, I've watched every Star Trek show, and I have to say…for the most part, they're awful.
I couldn't stand The Original Series or The Next Generation, but I did enjoy Deep Space Nine and some parts of Voyager, which is probably a sin when it comes to Star Trek fandom.
If you could choose anywhere in the world to visit, which place would you pick?

— Casey Leigh (@Casey_LeighD) June 16, 2023
Anywhere I haven't been before is a perfect choice.
But there's something incredibly appealing about desert blooms. If I had my choice, I'd be in South Africa once the millions of flowers add a beautiful tapestry of colours to the golden background provided by the sun-soaked sand.
Though I'd also love to hike a volcano.
Or dive with great white sharks.
Or try hunting with a golden eagle in Mongolia.
Or explore the Marina Trench.
Or visit the location of every significant battle in human history.
Or buy a seaplane and fish in every lake imaginable.
Or check out the Komodo dragons in Indonesia.
Or…