Canadiens Prospect Watch: Dobes, Farrell, Hutson On Fire (NCAA)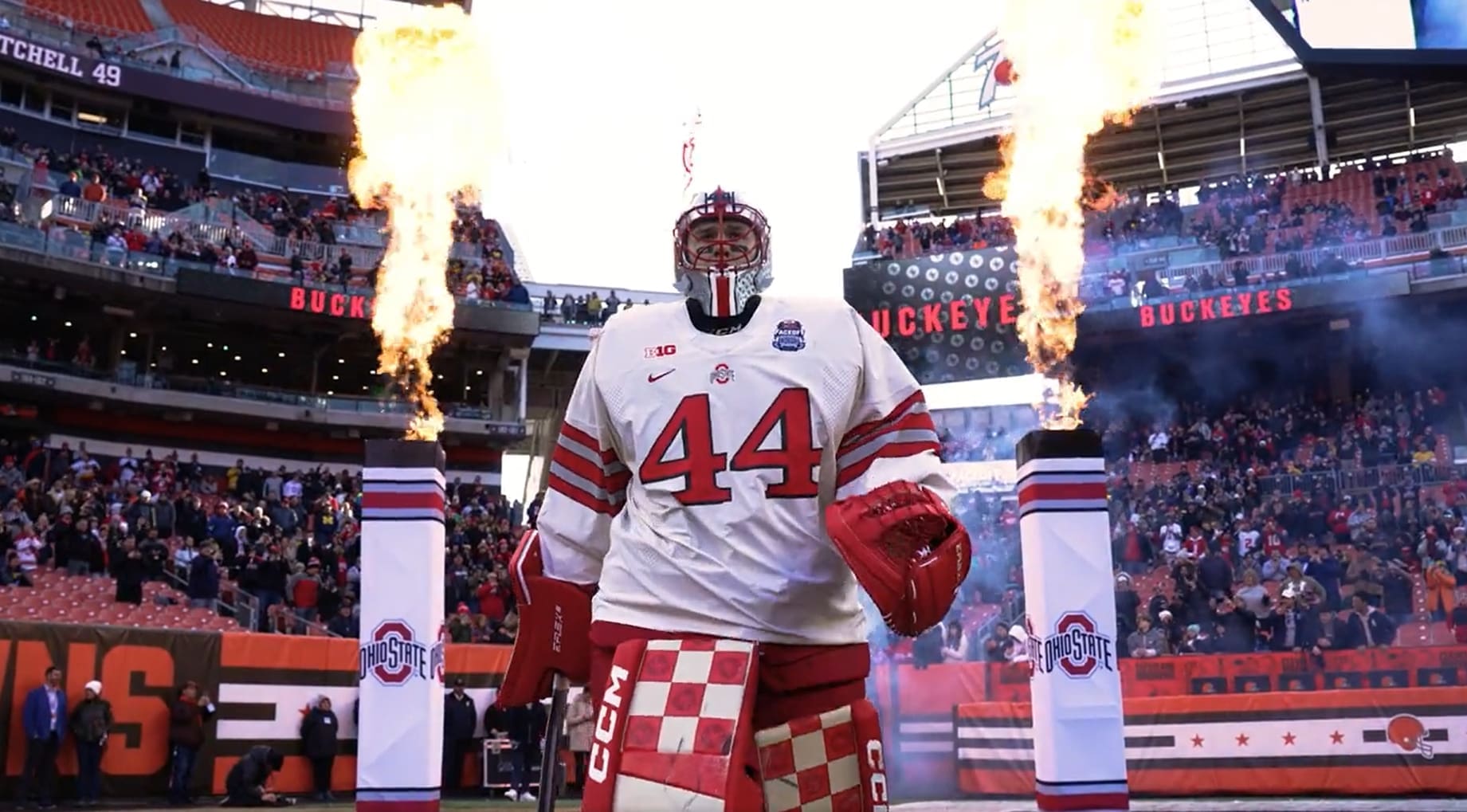 Jakub Dobeš
Much has been made of the lack of talented goalies in the Canadiens prospect pool.
There's some merit to the complaints given goaltending is arguably the weakest position in the organization, but Ohio State Buckeyes netminder Jakub Dobeš should not be overlooked.
The 2020 fifth-round pick is enjoying yet another great season in the NCAA and is coming off back-to-back wins against the Michigan University Wolverines, one of the best teams in the country.
The first game will officially count as a tie on his record, but it included shootout saves over such players as Adam Fantilli (2023 top prospect) and Frank Nazar (13th overall, 2022).
It wasn't Dobeš best game from a statistical standpoint, but it's also fair to point out Ohio State's defence had a hard time containing Michigan's explosive offence and had to rely on Dobeš to hold the fort on several occasions.
Dobeš earned his 18th win of the season a couple of days later, beating Michigan State at the first ever 'Faceoff on the Lake', an outdoor game that took place at FirstEnergy Stadium in Cleveland.
He saved 35 of the 37 shots sent his way, and he did it without wasting an ounce of energy, which, combined with his 6'4 frame, was reminiscent of a Canadiens goalie who also has a fantastic wingspan and rarely panicked during his 14 years with the team.
That's not to say Dobeš is ready to make the jump to the NHL and become a dominant goalie, but he's not too far off from starting his professional career either, especially when you consider the dearth of talent among goaltenders in the organization.
Thanks to a 0.917 save percentage, the 2023 Hobey Baker nominee is the driving force behind Ohio State's country-wide ranking (10th), and is the only goaltender the team trusts, which is not hyperbole. Dobeš has logged 1818 minutes of ice time this season, whereas his backups have been counted upon for a grand total of 37 minutes, combined.
How awesome is this setup? Ohio State goaltender Jakub Dobes looks ready for Faceoff On The Lake!

📸:@OhioStateMHKY | #GoBucks pic.twitter.com/cWj0secNfq

— GearGeek.com🏒🤓 (@geargeekhockey) February 18, 2023
Hutson And Farrell Continue To Dominate
For the second time this season, Lane Hutson suffered a devastating series of games, going two long games without scoring a point for Boston University in a loss to Boston College at the Beanpot, and Merrimack on Friday.
He quickly put an end to his version of a scoring drought the next night by scoring a goal and adding an assist in the Terriers' 4-3 OT loss during the second leg of their matchup against Merrimack.
His goal was yet another buzzer-beater that was set up by some slick skating and a few fancy dangles. Hutson returned to his spot as the top-producing defenceman in the league with his two-point effort, with 10 goals and 28 assists in 29 games, one of the most impressive production rates for a freshman defenceman in NCAA history.
Then, for the second time this season, Lane beats the buzzer to give us the lead!

Watch on ESPN+: https://t.co/x39Oj2rUN5@hockey_east | @espn pic.twitter.com/Vh3zyATEoB

— BU Men's Hockey (@TerrierHockey) February 19, 2023
Not to be outdone, Sean Farrell scored in back-to-back games for the Harvard Crimson, including a two-goal, three-point effort against RPI.
His first goal was rather lucky, finding the back of the net while Farrell was trying to set up his linemate, but the second goal was pure skill, a one-timer that left the Rensselaer goal no chance.
On an interesting note, the defenceman that set up Farrell's goal, Henry Thrun, recently announced he would not be signing with the team that drafted him, the Anaheim Ducks.
Thrun has five goals and 20 assists in 26 games this year as the team's captain, and will surely be on the Canadiens' radar given how often they tune into Harvard games to watch Farrell put together one of the best points-per-game scoring rates in the NCAA (1.7 PPG)
Thrun ➡️ Farrell

What pass and what a finish! Crimson up 4!
📺ESPN+ #GoCrimson | #OneCrimson pic.twitter.com/sJCSPe9qEy

— Harvard Men's Hockey (@HarvardMHockey) February 19, 2023
Other Canadiens Prospect News and Highlights
Riley Kidney had his second 5-point game since joining the Gatineau Olympiques. He now has a ridiculous nine goals and 25 assists in 14 games.
𝐑𝐄𝐂𝐎𝐑𝐃 𝐃𝐄 𝐅𝐑𝐀𝐍𝐂𝐇𝐈𝐒𝐄 [𝟏𝟏𝐞 𝐣𝐨𝐮𝐞𝐮𝐫 𝐝𝐞 𝐧𝐨𝐭𝐫𝐞 𝐡𝐢𝐬𝐭𝐨𝐢𝐫𝐞 𝐚̀ 𝐫𝐞́𝐚𝐥𝐢𝐬𝐞𝐫 𝐥'𝐞𝐱𝐩𝐥𝐨𝐢𝐭]

SON 🖐️ BUT DU MATCH‼️

🗣️ ALEEEXXIIIS GEEENNDDRROOON! | @NHLFlyers

🍎 Riley Kidney | @CanadiensMTL
🍏 Tristan Luneau | @AnaheimDucks #goOLgo♠️ pic.twitter.com/uNE4EyNZTr

— Olympiques de Gatineau (@OlympiquesGAT) February 18, 2023
Canadiens prospect Joshua Roy also enjoyed a five-point game, and he followed it up with a three-point effort against the Moncton Wildcats the following night. He now officially has a nice 69 points on the season in just 41 games.
Defenceman Adam Engstrom earned his 13th point of the season in Rogle's 7-6 loss to Frolunda.
#Habs prospect Adam Engström gets his seventh assist with this shot, a rocket that the goalie couldn't hold and the rebound is put in with some skill.
More about Adam Engström tomorrow at @HabsEOTP pic.twitter.com/VXZru8qA46

— Patrik Bexell (@Zeb_Habs) February 18, 2023