Canadiens Mailbag: Trade Deadline, Draft Options, Harvey-Pinard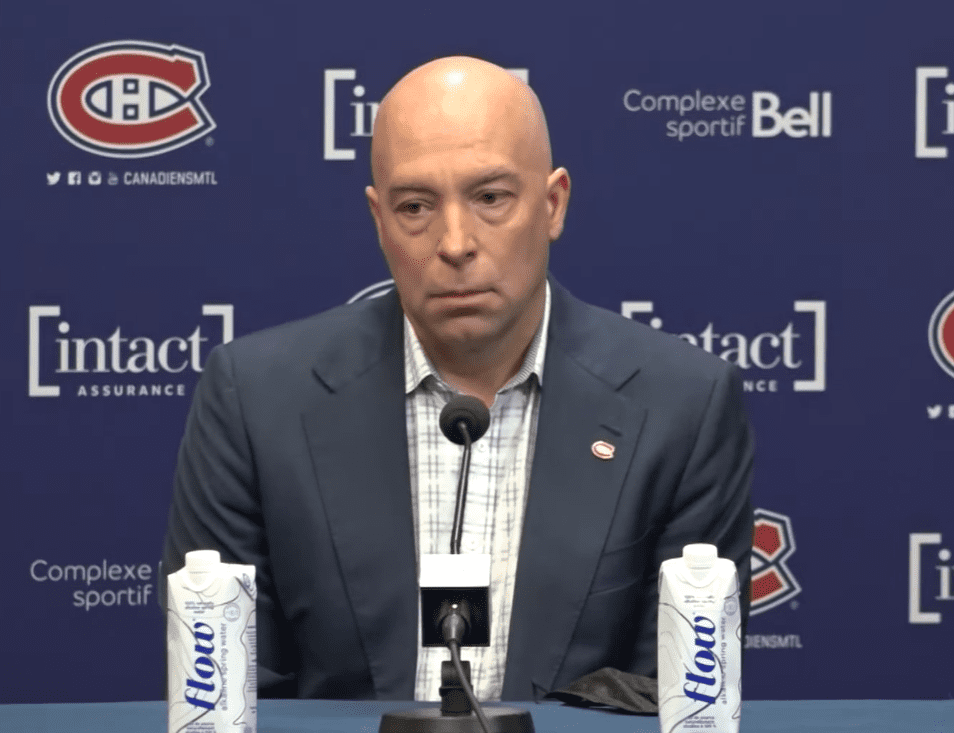 Montreal Canadiens fans are passionate, that much we know.
Thanks to popular demand, we're back with the Friday edition of the Habs mailbag.
This time around we cover injuries, Saku Koivu, Rafael Harvey-Pinard, the 2023 NHL Trade Deadline, exciting prospects, trade options, and much more.
If you'd like to have your question answered in the next edition make sure to leave your query in the comments below the article.
Injury Investigation
What is with all of the injuries that the habs have suffered the last few years (Other than Covid)?

— Phil. T. (@Corporate18) February 14, 2023
Much has been made about the Canadiens' injury woes, and with good reason.
Combined with last season, the Habs have suffered roughly seventeen thousand injuries.
And as it stands, the team has a laundry list of injured players.
Like all of you, I have a hard time understanding exactly how they've managed to eclipse all other NHL teams when it comes to their infirmary's popularity.
But at the same time, given the topic, it's very difficult to discuss the potential issue with any semblance of legitimacy.
Health comes down to a player-by-player basis. Every case is different, and though that may sound like a convenient excuse to avoid giving you an answer, the very nature of medicine comes with a very important clause: privacy must be maintained at all costs.
Professional sports eschew some of that privacy, but we're simply not in a position to demand answers.
With that in mind, Canadiens management is in a position to demand answers and may want to review some of the changes over the last year or two that possibly influenced the team's penchant for leading the league in man-games lost.
In all likelihood, it was a bad streak of luck, but like everything else in a billion-dollar business, the process is worth re-evaluating, especially when we're discussing multi-million dollar assets such as hockey players.
Hero's Homecoming?
Is there any chance the new brass can cajole Saku into taking some (any) form of leadership role with the team? Super happy about Marty, Vinny et al. But they weren't le coeur de l'equipe (and never played for the CH). I gather he's trying to just live his life, but… please?

— CH (@Hab514) February 14, 2023
As much as it would please many, including myself, I get the sense Saku Koivu is perfectly happy spending his time relaxing by the lake in Finland when he's not busy with ownership duties for TPS Turku.
The Canadiens were recently looking for new ambassadors, and though I cannot confirm it he wasn't involved in the process, his name was not brought up in my presence.
Seeing as the Canadiens would probably love to have him back in the mix, that leads me to believe he's at peace with his current life in Finland.
It would, however, be fantastic to see him honoured at some point.
Koivu represented the best of the Canadiens during some of their worst years, providing a crucial element of entertainment and inspiration for the Habs faithful that were not blessed with a Stanley Cup parade every summer.
Ignoring his time in Montreal would be a disservice to an entire generation of Canadiens fans.
But that's a topic for another day.
Harvey-Pinard's Heap of Potential
What do you see RHP's ceiling as, considering he's done very well in a short amount of time this season?

— zk97 (@zk97__) February 14, 2023
Leaving emotions out of the equation, I think Rafael Harvey-Pinard can become a very good third-line player who can also fill a gap in the top six whenever necessary.
And I'm not simply basing it on his great production this year, though seven goals in 11 games are certainly worth celebrating.
His tireless effort combined with his cerebral approach is a coach's dream, not to mention, a centre's dream.
There are very few situations in which I'd hesitate to try Harvey-Pinard.
I've waxed poetic about his journey ad nauseam, but now it's time to focus on the next chapter, and it's become apparent that Harvey-Pinard has long-term value for this team.
At the very least, you're guaranteed to receive an honest effect whenever he's open the ice, which is an important factor on a rebuilding team.
Preferred Pick
In a trade right now, what would the Habs prefer :
– A late 2023 1st pick (like Boston's)
– An early 2023 2nd + 2023 4th
– An unprotected 2024 1st pick (from an actual playoff team).

— PL Fontaine (@PLFontaine) February 14, 2023
I think the honest answer is yes, to all of the above.
But if it came down to it, I wouldn't be surprised if Kent Hughes would opt for an unprotected 2024 first-round pick, as to stagger some of his prospects and avoid overcrowding a certain age range with too many players necessitating development focus.
That being said, it depends on who is on the board. That late first could end up being the type of player that would have gone between 10 and 15 the previous year.
Simply put, it's a rather ridiculous draft. All bets are off.
Forward Fixation
Who are they drafting TODAY if they stay at this #6-8 spot ?

— Cedric (@CedCp3) February 14, 2023
I'd suggest either Will Smith or Dalibor Dvorsky would usually be in the top five of any normal draft, but given the quality, they're set to fall into the Canadiens' current range.
Ideally, Smith would be the target. In a lot of ways, I see him as the playmaking version of Cole Caufield. He's brilliant with the puck and does a great job creating time and space for his linemates, which, of course, would be a great stylistic fit with the Canadiens' sniper.
Also, we shouldn't underestimate his shot.
To get a better idea of the potential targets in the 6-8 range, check out this interview with NHL analyst Mike Morreale.
Fantastic Fifth
If Habs get the 5th pick, whis should they select?

— Alex (@Laflamme911) February 14, 2023
Assuming Connor Bedard, Leo Carlsson, Adam Fantilli, and Matvei Michkov are off the board, I would not even hesitate to pick Zach Benson.
Sure, he's not the biggest player, but his offensive prowess is off the charts. He's flat-out dominant when he has the puck.
On that note, if Michkov happens to slide to fifth, I would not worry about the Russian factor whatsoever. His raw talent is simply too much to ignore.
Deadline Deals
Ron Barry asked the following question in the comments:
I'm curious about your thoughts on whether the improved play of Drouin could lead to a Monahan/Drouin package (50 percent retained on both players) to Colorado? "Ifs" aside, it could potentially net a decent return based on a healthy Monahan and an improved Drouin.
As you all know by now, I'm absolutely awful at gauging trade value, but I don't get the sense there's much of a market for Jonathan Drouin at the moment, despite his recent resurgence.
Let's face it, fans, the media, and the former management team cratered any opportunity for Drouin to rehabilitate his image, which has been sullied on a daily basis since he arrived in Montreal.
On that note, I could be and often am, wrong.
Drouin would be quite an ace in the hole for a team that needs offensively-inclined depth and second power-play unit reinforcements.
Before anyone mentions it, I'm aware Drouin is yet to score this year.
But he's on pace for a 32-point, 56-game season, which is very respectable given his usage.
I could see him fitting perfectly with his old buddy Nathan MacKinnon in Colorado, and the Avs have been linked to Monahan in the past.
So, I'm going to do a complete flip-flop here and say yes, why not.
Damn the torpedoes.
A package deal including Drouin and Monahan could very well work.