Joshua Roy Tailor-Made for the Montreal Canadiens- Part 1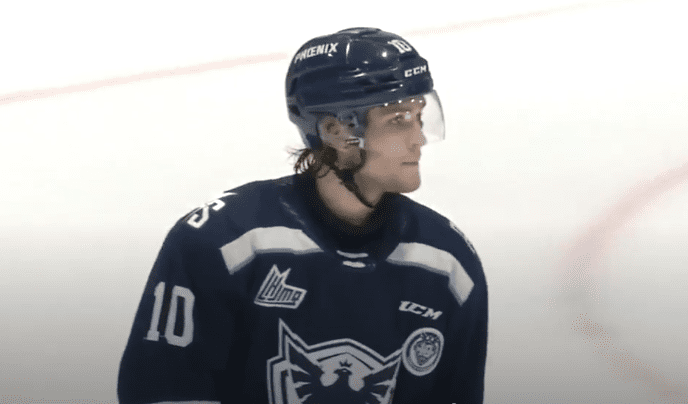 Joshua Roy, perhaps the most underrated Montreal Canadiens prospect, has wowed fans on the ice all season in the QMJHL, but it's his off-ice attributes that make him a tailor-made player for the rabid Montreal market.
The 18-year-old possesses a level of humility, the kind of maturity that is rare to find in skilled players of that age, and his ability to channel pressure into success make him tailor-made to be a member of the Montreal Canadiens down the line.
Roy's journey has been full of ups and downs in his young career. Going from being selected first overall by the Saint John Sea Dogs in the QMJHL Draft in 2019 to playing third-line minutes as a 17-year-old, to being traded to a new club before his 18th birthday; Roy has had to surmount a ton of expectations, criticism, and obstacles on his way to becoming a top player in the QMJHL. The youngster didn't make any excuses when he sat down with Montreal Hockey Now to talk about his journey so far; he focused on the present and completed the next task.
He hasn't backed down from the added pressure that was thrust onto him, being a Quebec-born prospect of the Montreal Canadiens. In fact, Sherbrooke Phoenix head coach and general manager Stéphane Julien believes that Roy's ability to continuously overcome adversity and feed off the pressure he faces make him a perfect fit as a member of the Habs down the road.
"He feeds off pressure; it gives him energy during a game," said Julien on Roy's ability to elevate himself in the face of adversity. "That's why I think Joshua will fit well in Montreal. He doesn't crumble under pressure. In the most critical moments, you need players like him. He's the guy that's going to score you that golden goal."
Roy has quickly become one of the Montreal Canadiens' most promising prospects, but his story is one of humility and hard work, two attributes that go a long way in preparing you for a career as a pro athlete, especially in Montreal.
The Trade that Changed Everything
There were a lot of expectations put on Joshua Roy as at 16 and 17 for a rebuilding Saint John Sea Dogs, being a former 1st overall pick. The talent was clearly there, but there seemed to be something inhibiting him from taking the next step in his development; to truly become the dominant offensive player that terrorized teams in Quebec's Midget AAA system. Despite a very respectable 44-point rookie season in the QMJHL as a 16-year-old, the Saint-Georges-de-Beauce native didn't have the same kind of pace to his game that he had had in lower levels.
After just 15 games played through his second season with the Sea Dogs, Saint John decided it was time to make a move. On January 25, 2021, the Sea Dogs completed a blockbuster deal with the Sherbrooke Phoenix, sending three 1st round picks and a 2nd round pick in return for Roy.  The Sea Dogs were looking to recoup some assets by trading Roy to improve their team at other positions, while Stéphane Julien and the Sherbrooke Phoenix were looking for the missing piece to make them contenders moving forward.
"Our goal was to be a competitive team as soon as next season, and we looked into the best 17-year-olds in the league at that time, and Josh was at the top of our list," said general manager and head coach of the Sherbrooke Phoenix Stephane Julien about the blockbuster trade that sent Joshua Roy from the Saint-John Sea Dogs to the Phoenix in January of 2021. "We did our homework on him to see what kind of person he was and if he could fit in our organization. We heard nothing but good things about him"
The deal made shockwaves across the QMJHL circles, as it is rare to see a 1st overall pick traded with less than 80 games played for their respective club. Julien and the rest of the Phoenix organization were more than happy to pay the high price put in front of them to acquire a player they believed could put them over the top.
"We knew we were acquiring an exceptional player. You need players like that if you want to go all the way, and we were more than willing to pay the price to acquire him," said Julien regarding the astronomical price he paid to acquire Roy.
The move from Saint John to Sherbrooke was the most significant turning point in Joshua Roy's young career, as the Phoenix quickly went to work on trying to help him improve as a player, both on and off the ice.
A Much-Needed Fresh Start
Unlike most at his age, Roy took the trade in stride, looking to use it as a motivation to improve himself and prove the Phoenix right for having him in such high regard. The team quickly set up a plan to help Joshua get into the best shape of his life.
"When he got here, we gave him a plan. He knew he had the talent, but he was hungry to improve the other facets of his game on the ice or in the gym," said Julien of Roy's commitment to continuously improving. "What impressed me was his ability to do things one step at a time and respect the process."
And that's precisely how Joshua tackled the challenge laid in front of him, step-by-step. It took some time, but you could slowly see the benefits of his new training and nutrition plan starting to pay off. He was far quicker on the ice and seemed more agile with the puck. It was reported that the Sherbrooke Phoenix's plan helped him lose over 20 lbs in the first half of 2021, which likely helped Joshua's conditioning down the stretch. His confidence had slowly begun to flow back, and he was really feeling the team culture in Phoenix, as they made a late push for the 2021 QMJHL Playoffs.
Roy finished the season with 13 goals and 5 assists in the 20 games he played for the Phoenix, a 40-goal pace over the course of a full season. Roy, who had mostly played a perimeter game before coming over to Sherbrooke, was now able to get to open ice much faster and with more authority, allowing him to utilize his shot more effectively in high-danger situations. He carried that momentum with him was the most dynamic player for the Phoenix in the playoffs.
"He remained motivated; it paid dividends for him, as he had a really good end to that season and a solid showing in the playoffs for us as well," said Julien of Roy's improved level of conditioning and on-ice play down the stretch.
One of #2021NHLDraft prospect Joshua Roy's two goals on the night: pic.twitter.com/9Ad0DFiITb

— Nick Richard (@_NickRichard) February 3, 2021
Despite ultimately losing in the first round to the Chicoutimi Sagueneens, Roy was the best offensive player on the club, posting 4 points in 3 games in a losing effort. Things looked extremely promising for him headed into the offseason after such a strong finish, but it was all part of the process for Roy. He went into the summer of 2021 not knowing what the future had in store for him, only that he had a ton of work ahead of him in order to prepare for the 2021-2022 season. That change in mentality would pay dividends for him in very short order.
Stay tuned for the second part of our story with Joshua Roy, as we follow his experience from the 2021 Draft to the Montreal Canadiens Rookie Camp and into his historic QMJHL season.